Breakfast bars a delicious snack for children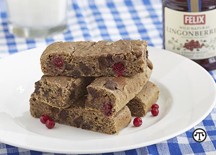 Here's news many families may consider a wake-up call: Studies show that children who eat breakfast have better concentration and more energy.
Yet roughly 8 percent to 12 percent of all school-age children skip this important meal. Here's a look at what the researchers discovered:
• The University of Pennsylvania found that children achieve higher IQ scores if they eat breakfast.
• Yale scientists found that students who participated in school breakfast programs were less likely to become overweight even if they also had breakfast at home.
Fortunately for the many families that don't have the time to prepare a full breakfast, there's a nutritious make-ahead option children love. Flavored with bananas, chocolate chips and tart sweet lingonberries, which have been called a "superfruit," rich in antioxidants, it's a nutritious snack they can eat on the way to school or tuck into their lunchboxes for later.
Lingonberry Breakfast
or Lunchbox Bars
1½ tablespoons ground flaxseeds or flaxseed meal
3 tablespoons water
15 ounces chickpeas
(garbanzo beans), canned
2 medium bananas
¾ cup flour, gluten free
½ cup coconut sugar
1 teaspoon cinnamon
½ teaspoon baking soda
⅛ teaspoon salt
½ teaspoon vanilla extract
4 tablespoons lingonberry jam
¼ cup chocolate chips, dark
Preheat the oven to 350° F. Grease and line an 8-inch-by-8-inch baking pan with parchment and set aside.
Whisk together the flaxseed meal or grind whole flaxseeds and combine with water in a small bowl. Set aside for 5 minutes.
Meanwhile, blend chickpeas and bananas in a food processor until completely smooth.
In a large mixing bowl, whisk together the dry ingredients, reserving the chocolate chips. Add the chickpea puree to the dry ingredients along with the vanilla, lingonberry jam and flaxseed mixture and mix to combine. Then fold in the chocolate chips.
Pour the batter into the prepared pan. Bake on center oven rack for 24 to 26 minutes until a toothpick inserted into the center comes out clean. Let cool in the pan for 10 to 15 minutes, then transfer bars to a wire rack and cool completely before slicing — this is important.
Slice into 12 to 16 bars. Store on the counter for a few hours if they seem too moist; otherwise, put them in an airtight container and store for two to three days.