Boil order lifted immediately for parts of South County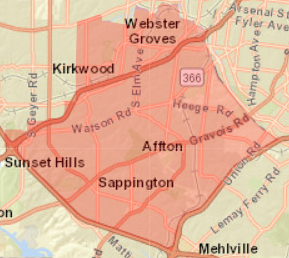 The precautionary boil order issued yesterday for a portion of St. Louis County has been lifted effective immediately, Missouri American Water said Sunday.
Customers in the affected area are being contacted by the company's reverse 911 system now. The affected area includes Crestwood, Affton, Green Park and parts of Sunset Hills and Concord, as seen in the pictured map. It ran roughly from Glendale, Shrewsbury and Webster Groves south to the intersection of Interstate 270 and Interstate 55, east to the St. Louis city border, west to I-270 in Sunset Hills.
Water quality tests completed Sunday confirmed that the water is safe for consumption, after a water test in Webster Groves failed Saturday. Originally Missouri American had projected the boil order would last at least 48 hours.
The advisory affected approximately 59,000 customers, a mix of residential and commercial, as well as multiple schools.
It is no longer advised that customers in the affected area boil their water before drinking or cooking.
Customers are being notified via Code Red, as well as social and traditional media.