Blunt donates $11,635 to tsunami relief effort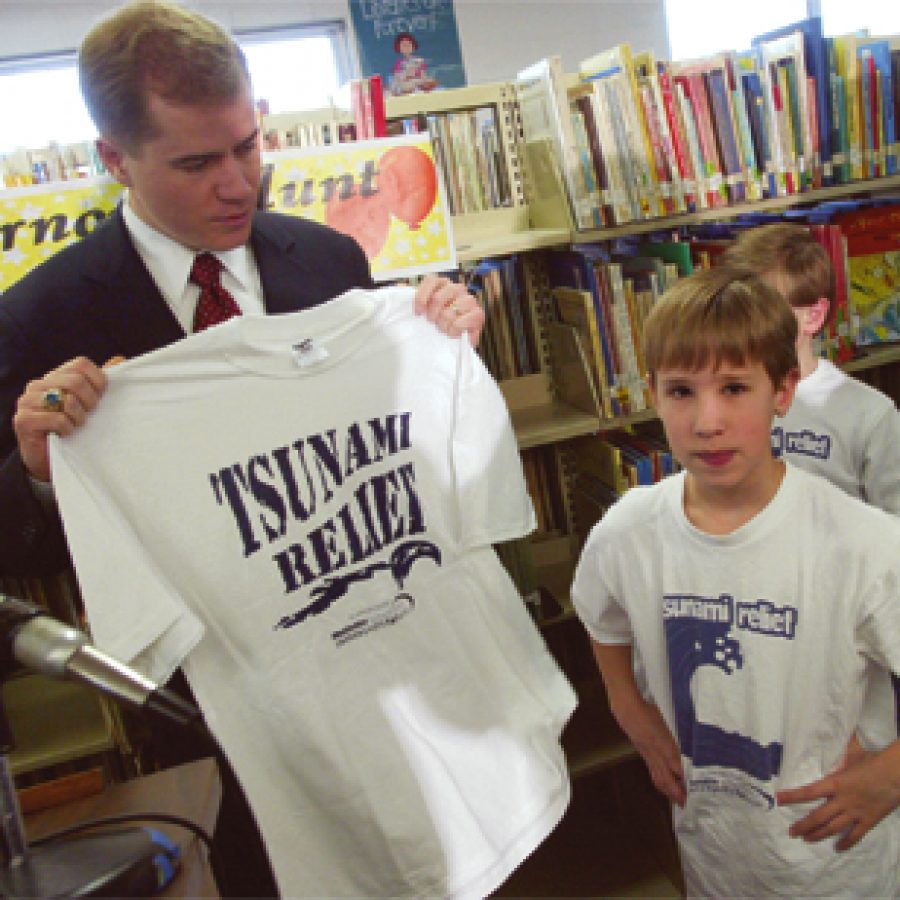 By SCOTT MILLER
Staff Reporter
Gov. Matt Blunt last week donated $11,365 to support the Mehlville School District's tsunami relief effort.
Blunt hand delivered the check to Trautwein Accelerated School Feb. 1, saying, "Certainly there are school districts all across the state that have worked together to provide assistance and relief to tsunami victims. I was particularly impressed though when I learned about what the Mehlville Public School District had done, and again I think their good work is somewhat symbolic of what lots of other young Missouri-ans have done to provide relief for people that really are in tremendous need."
Mehlville pupils helped sell $6 tsunami relief T-shirts and raised $14,500 to support victims of the mammoth wave that crashed onto the Asian Pacific coast. In-cluding Blunt's donation, the school district will donate $25,865 through the American Red Cross.
"I think it's exciting that these young people have demonstrated to all of us, child and adult alike, that one of the most important things you can do with your money is to help your fellow citizens," said Blunt, who purchased a T-shirt during his visit with a fifth-grade class.
"The fact that (the governor) thought enough to come to the Mehlville School District and present (the check) for our efforts was phenomenal," Superintendent Tim Ricker told a group of reporters after the governor's press conference. "But whether it was our school district or any school district, I think it's great that we're helping our fellow man."
The district got the idea to sell the shirts from a district resident, he said. Shirts were sold at school and students took fliers home to sell to parents.
More than 4,000 shirts were sold, Ricker said, and pupils got an education at the same time.
"The T-shirt itself shows the wave on it and obviously it becomes an educational experience on the science aspect of it," he told reporters. "It becomes a human experience in how others can help each other. We heavily are into character education and responsibility. So (the fund-raiser) provides that aspect as well. We can teach people how to help each other out and do good for mankind."
Blunt's donation came from excess contributions that weren't spent on his inauguration ceremony.
"None of us will really ever forget where we were when we learned about the tsunami, a devastating tragedy, one of the greatest natural disasters in the history of man-kind or at least recorded history," Blunt said.
"Clearly none of us can do anything to roll back the tide or to roll back time so that event would not occur, but so many Americans have wanted to help with the suffering," the governor added.