Bell accepts challenge from Boston prosecutor over Blues-Bruins battle
With the St. Louis Blues facing off against the Boston Bruins in the Stanley Cup Finals, St. Louis County Prosecutor Wesley Bell accepted a good-natured challenge from a Boston-area prosecutor over whose team will come out on top in the series.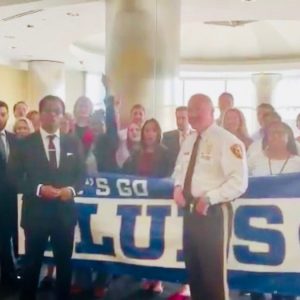 The Blues could win the Stanley Cup in Game 6 in St. Louis Sunday night. The team leads the Bruins 3-2 in the series. If Boston wins, the series will go to Game 7 Wednesday night in Boston.
Suffolk County District Attorney Rachael Rollins, a self-described progressive prosecutor like Bell, challenged Bell May 27 to a Blues-Bruins bet. The loser has to stock the shelves of a food bank in the winner's city.
Bell accepted Rollins' challenge the same day, noting that "for St. Louis this is personal" and even name-checking Blues 11-year-old superfan Laila Anderson, who has been attending the playoff games after receiving a bone-marrow transplant at St. Louis Children's Hospital.
Bell posted a note that said, "The great Bobby Orr isn't there to save the Bruins this time! We've been waiting 49 years for another showdown and revenge. We have not forgotten the stolen Super Bowl #SpyGate or the 2004 World Series (although that one was on us for continuing to pitch to David Ortiz). We did take Boston down in the 1967 World Series (but I wasn't around, so harder for me to get excited about it). This is St. Louis' time and this one is for Laila! It's on — Let's Go Blues! #LGB! – Wesley"
"Boston & St. Louis meet again!" Rollins tweeted. "With history on our side, let's make a friendly wager w/ @Bell4STL… We look forward to stocking our shelves and our trophy case here in Title Town!"
Bell has been staying up-to-date on his Blues bet, tweeting since the challenge that he stayed up late to watch a Blues game.
He also tweeted a grainy photo that shows him and St. Louis County Police Chief Jon Belmar with Bell's staff and a Blues sign.