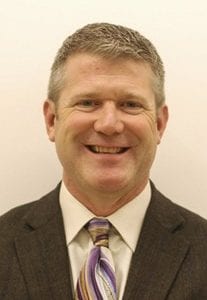 Rep. Doug Beck, D-Affton, announced Wednesday that he will be seeking the Democratic nomination to run for Senate in the 1st Missouri Senate District in 2020.
The district is currently represented by Sen. Scott Sifton, who is term limited.
Beck was first elected to the Legislature in 2016 to represent the 92nd District, which is comprised of Affton and Concord Village.
In making the announcement, Beck said in a news release that he believes the best way he can continue to stand up for the interests of working people is in the Senate.
"An individual can make more of a difference as a state senator where, with just 34 members, more time can be devoted to serious debate and finding areas of bipartisan agreement where progress can be made," Beck said in the release.
Beck said in his statement that his past service on the Affton Board of Education has allowed him to be an effective advocate for public education and preparing today's young people for the jobs of tomorrow.
Beck said he "has been an outspoken defender of the middle class and the rights of working men and women."
He added, "I also want to stand up to those who would ignore the will of the people. I will respect and defend the right of Missouri citizens to have their vote stand on initiatives and Constitutional amendments and not ignored or overturned by those in Jefferson City. I will continue to fight for openness and transparency in our government, for smart solutions, and promoting entrepreneurship and business startups," Beck said.
Beck was elected in November 2016 and re-elected in 2018.
He serves on the following committees of the House of Representatives: Economic Development,
Ranking Minority Member, Workforce Development Ranking Minority Member and
Veterans. He also served as a member of the Affton school board, a position he held for nine years, including two years as president.
Beck is a 31-year member of Plumbers and Pipefitters Local 562.
Beck has been married to his wife, Marilyn, for 34 years. They are the parents of two children with three grandchildren.
Doug was born and raised in St. Louis County, graduated from Lindbergh High School in 1983 and attended St. Louis Community College.