Baer says Metro working hard to restore its credibility, image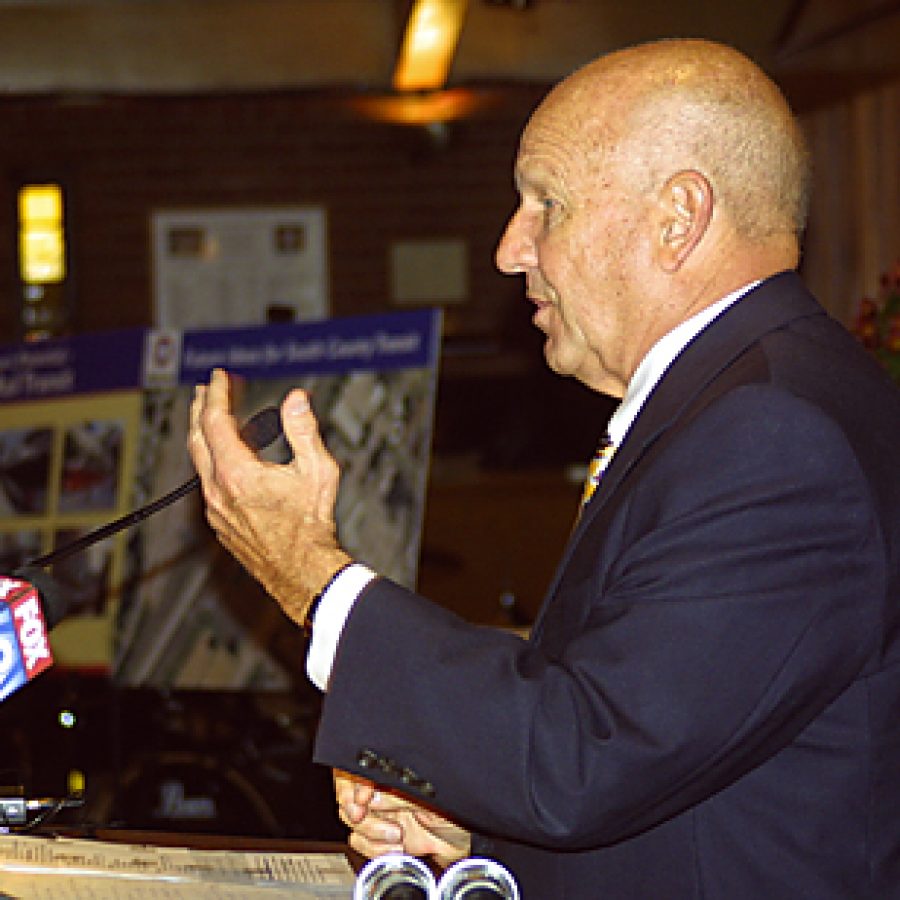 The Metro transit agency's leader says he knows south county. He lives here.
But Metro President and Chief Executive Officer Bob Baer also admits his agency hasn't made good on a number of promises to the community regarding public transportation.
"I don't know why they weren't kept, but they weren't kept," said Baer, a Sunset Hills resident, during a public transit forum Saturday at Zion United Methodist Church. "That would leave a bad taste in my mouth like it probably does yours. I can only apologize for that."
Baer and several other local, state and federal leaders met with residents and members of Metropolitan Congregations United over the weekend to discuss the need for a comprehensive, sustainable public transportation system in the region.
MCU, a faith-based coalition of 50 area congregations, is conducting a transit campaign to garner public support for such a system.
Its campaign runs parallel to Metro's own effort to develop a community-driven, long-range vision for public transportation.
Using new modes and technology, the agency hopes to meet five-, 10- and 30-year benchmarks to expand and enhance transit service. Metro's plan will go through two rounds of public engagement before being unveiled next spring.
Baer said Metro — a taxpayer-funded entity often criticized for being fiscally irresponsible and surreptitious — is working to become just the opposite in the public's eye. He said the agency had implemented all 20 recommendations from a 2008 state audit and was living within its means.
"It is not a bad agency. It is not an agency where people are slouching at their desks. People are working hard. There is a new attitude at Metro, and hopefully I've been a part of it," said Baer, who was named the agency's permanent executive leader Sept. 25 after 22 months as the interim head. "There is a new commitment to fiscal responsibility and fiscal integrity … And we are operating in a transparent fashion. Everything is open.
"We clearly realize that we have to work hard to restore your support. We have to restore our credibility. We have to restore our image. We can't do it by talking about it. We have to show you by deed."
It appears the first step in Metro's plan is to find enough funding to sustain the MetroBus and corresponding Call-A-Ride paratransit van services it temporarily restored in August after making significant cuts last spring.
Facing a budget shortfall, the Metro board in December voted to eliminate more than 500 jobs and discontinue one-third of its MetroLink light rail, MetroBus and Call-A-Ride van services.
Those cuts took effect March 30, but several discontinued bus routes subsequently were restored Aug. 3 after Metro received $12 million in one-time federal stimulus funds and roughly $7 million over two years in Federal Congestion Mitigation and Air Quality grant money from the Federal Transit Administration.
However, Metro's restoration plan will end in May unless the agency secures permanent and stable funding.
Besides financial support from its riders and the Missouri and Illinois state governments, Metro annually receives funding from transportation sales taxes collected by St. Louis city and county.
In the county, the agency receives 50 percent of the revenue from a half-cent transportation sales tax, which dates back to 1973, and revenue from another, quarter-cent sales tax that county voters approved as Proposition M in 1993, half of which is used for operation of MetroLink and half is set aside for future MetroLink construction. The other 50 percent of the 1973 half-cent sales tax funds road repairs.
Metro had hoped to boost its county revenue stream last November with the passage of a second, half-cent transportation sales tax ballot measure — also called Prop M.
However, 51 percent of county voters rejected the proposal, which would have generated $80 million a year to be split evenly to fund maintenance of current Metro transit systems and construction of new projects.
"We could've won that thing with a little more hard work, and hopefully this time around we will make it work," Baer said, referring to Prop M's possible reappearance on next April's ballot. "We want to have (the long-range plan) finished before there's a new proposition placed before voters in the county."
The St. Louis County Council has yet to receive legislation calling for a transportation sales tax ballot measure in April.
Metro officials also want to obtain additional funding from state and federal sources. U.S. Rep. Russ Carnahan, D-St. Louis, said he was trying to convince his fellow legislators to do just that.
"I believe we have to have a federal transportation policy that clearly defines our objectives so we can move to a performance-based transportation system," Carnahan said. "And earlier this year, I introduced legislation that would do that, to set national transportation objectives, to be more multi-modal. We are working actively to get those objectives included in the transportation bill before Congress."
Carnahan also touted legislation he is sponsoring that would allow public transit agencies to use part of their federal funds to offset operational shortfalls.
"The restrictions now are too severe, and we need to have flexibility in order to do that," he said.
However, state Sen. Jim Lembke, R-St. Louis, predicted that it would be a couple of years before Missouri legislators threw substantial financial support behind public transit.
He cited Gov. Jay Nixon's decision last week to borrow $150 million from reserves to keep the state government afloat.
"That's now the third time we've had to tap that to make payroll, to the tune of about $400 million," Lembke said. "Our revenue picture is in very, very sorry and sad shape. We are projecting probably a billion-dollar shortfall in this next session.
"Now we have some stabilization money that's going to help us through this next year. But my concern, and just being honest with you, is that it's going to be a battle to try and get any kinds of money at the state level to help us address this in the short-term, as far as public transportation."
But Lembke, who admitted he was a "doubting Thomas" about public transportation until he saw Washington, D.C.'s transit system, said support should begin at the local level.
"The education process for our whole community needs to be intensified," he said. "We need to convince our neighbors that this is a good investment."
As MCU and Metro continue their respective campaigns for public transportation, Baer said he expects to hear some people argue, "I don't use it. Why should I support it?"
"Well, why should you support parks, libraries, fire departments, police departments, schools?" he asked. "You can rationalize that you may not use it, but this community, for the quality of life, needs it."