Anderson joins Jones Co.'s President's Club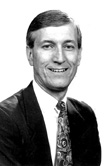 Edward J. Anderson, Investment Representative with the 10017 Watson Road office of Edward Jones in Crestwood has been named to the President's Club of The American Funds Group, one of the nation's leading mutual fund families. Appointment to the President's Club is one of the organization's highest honors for stockbrokers and financial planners.
Anderson has been with Edward Jones since 1998. He has been in the financial services field for five years.
Anderson graduated from the University of Missouri in Columbia in 1974, with a degree in business. He lives in St. Louis with his wife, Barb, and their children, Mike and Jeff.
Amy Schaeffer of 6516 River Farm Drive, Oakville, is a winner in the National Electrical Manufacturers Representatives Association scholarship.
Amy attended Nerinx Hall High School and is majoring in Architecture at University of Kansas.
The following is a partial list of Amy's school and community activities:
• Kappa Alpha Theta
• American Institute of Architecture Students
• Big Brothers' and Big Sisters' of America
• Field Hockey (Captain)
• Who's Who Among American Students
Trane Residential Systems March 8, recognized Crestside Heating and Cooling with a Heartland Dealer Sales Office Top Ten Award.
Crestside, one of the largest Trane Dealers in the region, has a showroom located at 8130 Valcour in St. Louis. Presenting the award to Mike Young of Crestwood, center, is Doug Wilson, right, Central Team Region Manager, and Mark Adams, left, District Sales Manager of the Trane Dealer Sales Office in Bridgeton.
Tony Marchiando, PE, of Concord, has joined Crestwood-based mechanical contractor Condaire Inc. as chief estimator. Making the announcement was Malcolm Sweet Jr., president of Condaire.
In his new position, Marchiando will oversee Condaire's project bidding and coordinate estimating and pre-construction services.
He earned a bachelor's degree in mechanical engineering from the University of Missouri-Rolla in Rolla, Mo. Condaire specializes in the installation and maintenance of process piping, plumbing and HVAC systems in institutional, municipal and commercial markets.
Eagle Hurst Resort, Steelville, has recently been purchased by the Butz family of St. Louis. The resort, opened in 1938, offers food, 30 updated cabins and activities for visitors of all ages.
"Our family is committed to carrying on the long and well-renown tradition of Eagle Hurst Resort and to providing a quality vacation spot in the Missouri Ozarks," says Norbert Butz, co-owner of Eagle Hurst Resort and founder of Crawford-Butz and Associates Insurance Company, located in Affton.
After 40 years in the printing business, 37 of those years with Bernadette Business Forms, Inc. in Hazelwood, Edward C. Fronick of south county retired April 17.
Fronick is Vice President of Sales and Secretary/Treasure of Bernadette. His sales average more than a million dollars of product per year and five years ago co-founded a Sales Manager's discussion group that meets monthly.
Sandra Osiecki, Director of Marketing for The Jones Company, received five marketing/advertising awards at the recent annual Sales and Marketing Council dinner held the end of February at the Ritz-Carlton Hotel.
Ms. Osiecki has been with The Jones Company for 3 1/2 years. She worked with Rich Meehan, free-lance designer on the winning entries. This is the third year she has earned awards in the SMC competition.
In the sales category, Steve Tindall, sales consultant at MeadowView in Jefferson County, walked away with the "Rookie of the Year" award.
Commerce Bancshares, Inc. announced earnings of $.70 per share for the three months ended March 31, 2003, an increase of 8% compared to $.65 per share in the first quarter of 2002.
Net income for the first quarter amounted to $47.2 million compared with $45.5 million in the same period last year. The return on average assets for the three months ended March 31, 2003, was 1.46%, the return on equity was 13.3%, and the efficiency ratio was 61.2%. "Continued low interest rates and weak loan demand hampered growth in net interest income; however, higher total earning assets allowed our net interest income to grow modestly from a year ago," said David Kemper, CEO.
Total assets at March 31, 2003, were $13.4 billion, total loans were $8.0 billion, and total deposits were $10.3 billion.
James M. Pulaski, Concord, has joined Larson, Allen, Weishair & Co., LLP, a St. Louis public accounting firm, as a senior accountant in its commercial services division, specializing in manufacturing.
He earned his bachelor of science degree in 1998 from Truman State University, Kirksville, where his area of study was accounting.