Alderman's trip to conference in Philadelphia totals $977.52
Resident questions how Stadter's trip to Philadelphia conference was funded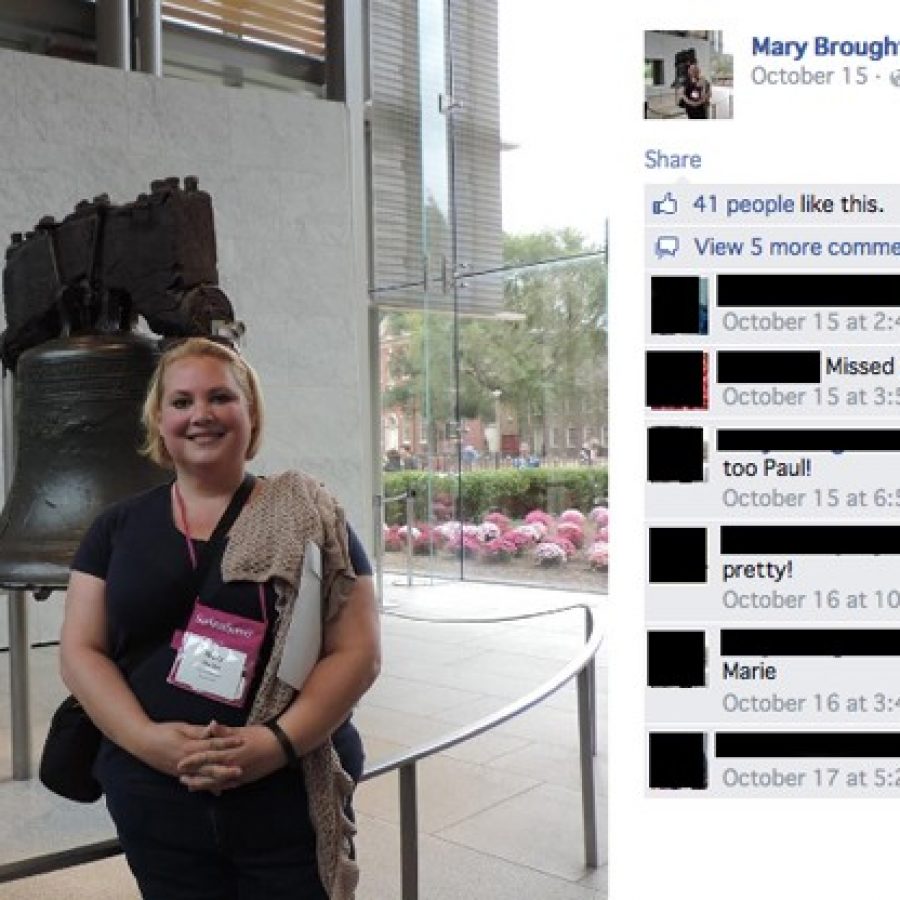 A Crestwood alderman's October trip to Philadelphia to attend a beautification conference cost $977.52.
Ward 2 Alderman Mary Stadter attended the America in Bloom Symposium and Awards Program, joining nearly 200 other people at the event. Stadter flew to Philadelphia on Oct. 2 and returned to St. Louis on Oct. 4.
Mayor Gregg Roby told the Call that Stadter attended the event at his request. For her trip, airfare cost $342.20, lodging at the Philadelphia Marriott Downtown cost $320.76, car rental cost $80.30, the symposium registration fee, including a meal, totaled $150, parking cost $70, two doughnuts cost $1.78, two sodas cost $5.79 and a China Express meal cost $6.69.
Since being elected in April, Roby told the Call that he has not been collecting a salary. Instead, the money allocated for his salary has remained in his budget. To fund Stadter's trip, Roby said he transferred the money from his salary account to his public relations and promotion account.
"Because I was not taking a salary this year, I took some of the funds that were allocated in my budget for salary. I transferred those to public relations and then I asked Mary Stadter if she would go to that conference, as my representative," he said. "… These were not dollars taken out of any other account or any other fund. They were just basically dollars that were attributed to my budget and had been designated as my salary for this year, and that's what I did."
Stadter first proposed establishing a Beautification Committee in late October. Aldermen discussed the committee at their Nov. 25 meeting and adopted an ordinance establishing the committee on Dec. 9.
The city's 2015 budget, adopted in December, includes a $10,000 appropriation for the committee.
When aldermen discussed establishing the committee in November, a resident questioned the need for the panel.
R. Hahn asked if the city planned to spend $10,000 for "a beautification initiative," adding he used the term "initiative" because the committee had not yet been approved.
"… Having done a little research and asked some questions, I understand that perhaps $10,000 is being spent of the taxpayers' money on an unofficial committee … Is that true?" he asked.
City Administrator Mark Sime replied, "There is $10,000 in the budget, in the parks budget. It is for projects, for beautification-type projects. Right now, there is no beautification committee, so the money is not tied to the committee. If a committee is formed, and that is up to this board, whether they form this committee or not, then that committee can make recommendations to the Park Board …"
Citing the projected deficit in the 2015 budget, Hahn said, "I wonder if now is the best time to be spending something like $10,000 of the taxpayers' money on things like beautification. I'm all for flowers … However, I wonder if this is the best use of the public's money at this particular juncture …"
Hahn later asked about Stadter's trip to Philadelphia, resulting in an exchange between the resident and the mayor in which the two frequently spoke over each other.
"… Did the taxpayers pay for Alderman Stadter to attend an America in Bloom conference in Philadelphia recently?"
Roby said, "… No, they didn't."
Hahn asked, "So no taxpayer money was used, as it were?"
Roby said, "No, there (were) moneys used from the mayor's account under salary — you must have been talking with (Ward 4) Alderman (Mike) Tsichlis because he's the one that obviously is not here tonight to address this — but I'll give you the benefit of the doubt, Professor Hahn.
"You know, I'm not taking a salary. I have not taken a salary since I've been elected and there were moneys in my budget which I chose to allocate to Alderman Stadter to attend that meeting because I felt that it was an important enough conference for our alderperson to attend to gain information to bring back to the city to help move our city forward. So those dollars came out of my budget. They were originally dedicated to my salary, which I have not been taking, and so there is a balance of dollars currently in that account."
Hahn said, "… So if you're not taking a salary, what's …"
Roby interjected, "I'm entitled to it — I'm entitled to it. What I use those moneys for is none of your business. It's nobody's business what I use my moneys for …"
Hahn interjected, "… Hold on a second. Did not the taxpayers pay your salary, sir? So when you say it's not my business, do the taxpayers not pay for the mayor's salary? So when you say it's not my business …"
Roby interjected, "It's part of my budget. My budget is set. My budget numbers are set … Those are my dollars to spend. Now if I took my salary and I took my money in a paycheck and I paid my taxes, I could then take that money and do with it whatever I wanted."
Hahn said, "So the public is not allocating any money for you? Is that what you're saying?"
Roby said, "They are. They're allocating my salary …"
Hahn interjected, "But there's no accountability of how it's being spent …"
Roby interjected, "There is accountability about how it's being spent. There's an accountability on how it was spent."
Hahn said, "But you get to choose how you spend it. Is that what you're saying?"
Roby replied, "On these particular dollars, I chose to utilize them for the purpose of sending Alderman Stadter to the America in Bloom conference in Pennsylvania. That's correct."
After a further exchange, Roby told Hahn, "I don't tell you how to spend your paycheck. Correct?"
Hahn said, "… That is correct."
Roby said, "OK. Then that's the end of that."
Hahn said, "But the citizens of Crestwood are not paying my salary …"
Stadter said, "Does the university tell you how to spend your salary?"
Roby said, "… Yeah, does the university of Meramec tell you how to spend your salary?"
Ward 2 Alderman Tim Trueblood said, "Those are tax dollars."
Roby said, "Those are tax dollars."
Hahn noted he teaches at a college, not a university.
Roby said, "I think we've gone far enough with this. I see the point that you're pushing here."
Hahn said, "… I just wanted to be clarified."
Roby said, "Yeah, and I just clarified it for you …"