A look back: Young-adult author shares stories with Truman students
Margaret Peterson Haddix has written more than 25 books for children and teens
Editor's note: During the pandemic, when visitors aren't allowed in schools, we are revisiting some old stories from past years. This is from September 2011. 
Truman Middle School students didn't dare "miss" a guest appearance by award-winning author Margaret Peterson Haddix on Sept. 22 to promote her new book, "Torn," which is the fourth book of "The Missing" series.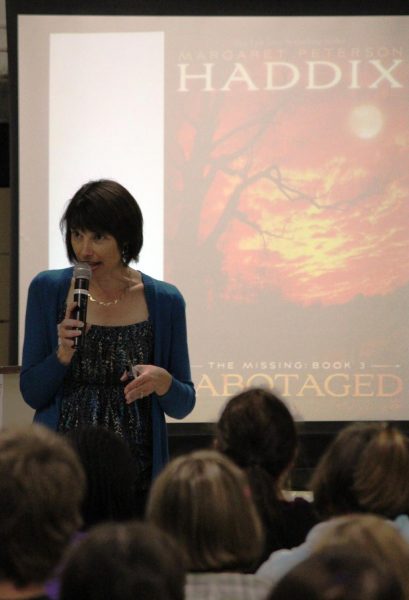 Haddix revealed that she came up with the idea for "Found," the first book in the series, when she awoke from a long nap on a flight home from vacation and could not remember who she was or where she was going. That moment of confusion upon waking sparked her imagination, and she began thinking about what would happen if a plane full of people – babies, actually – arrived at an airport, and nobody knew where they came from or who they were. That unique event begins the fiction series.
"As a kid, I liked to imagine stories and think about them," said Haddix, who noted that her wandering imagination has turned in to plotlines for many of her more than 25 young adult novels. She plans to write seven books in all to complete "The Missing" series.
According to her website, Haddix's books have been honored with New York Times bestseller status; the International Reading Association's Children's Book Award; American Library Association Best Book and Quick Pick for Reluctant Young Adult Readers notations; and more than a dozen state reader's choice awards.
One Truman student asked Haddix what inspired her to become an author.
"I was inspired by loving books myself so much," she said. "When I was young, I used to think a fairy would just wave a magic wand and a new book would appear. When I discovered that writing books was a real job, I thought that must be the best job on the face of the earth, and I knew that was what I wanted to do!"