2014 Football Flyers seeking to soar under leadership of new quarterback
Coach says he's optimistic about football Flyers in '14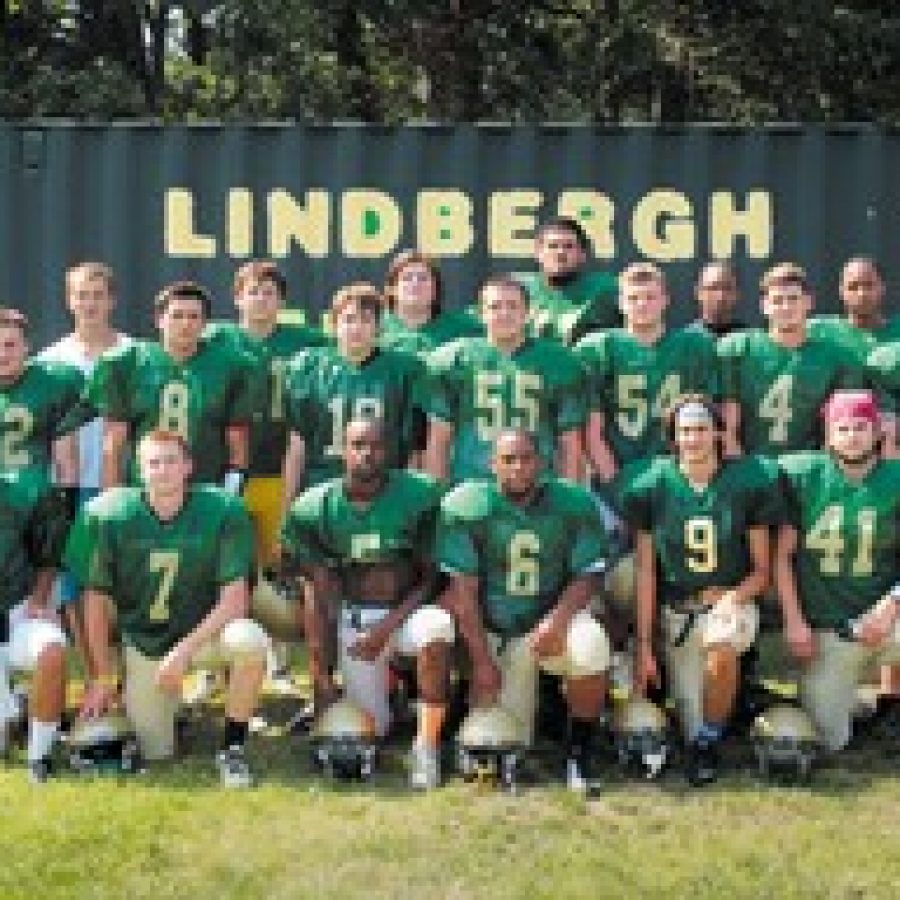 Without Garret Krueger and Chuck Houska, who shared quarterback duties for most of the season last year, the Lindbergh High School varsity football team will be looking for a new offensive catalyst.
Junior Sam Neumeier will start the season as quarterback. And while he has clearly earned the respect of his teammates and coaches, he will have to earn his keep to stay at the position.
Flyers head coach Tom Beauchamp told the Call that Neumeier has a good grasp on what his responsibilities are and the ability to execute them.
"He's got a good arm. He runs the ball really well, and it seems like he administers the offense in a solid way," he said. "He's a junior, so he's young but he's done a lot of camps. He's done a lot of stuff around the area. So we feel like he's got a real handle on things right now."
Football fans know that one of the key components to orchestrating a winning attack on the field is the strength of the offensive line.
The question is: Can Lindbergh's offensive line offer enough protection to give their new quarterback a couple extra seconds of decision-making time?
Beauchamp believes so.
"We actually have a good group back on the offensive line," he said. "We had a few graduate from last year, but most of the kids are back. So it's a good, solid, veteran group coming in. So we got kids that played a lot last year and are kind of savvy, so we'll have a good opportunity to protect the quarterback."
Returning players for the Flyers include Logan Offner, John McNamara, Jacob Huff, Doug Tate, Steven Spoljaric, Will Behrens, Jhavon Graves, Steven Washington and Conner Manley, as well as newcomer Dylan Jones.
The returning leadership could prove to be a factor this season, but there's also a void from the loss of some key players, according to Beauchamp.
"We've got a lot of good kids back … So that gives us a little bit of leadership in that aspect," he said. "And I think we have a good group of guys that are excited about being out there and pumped up.
"On the other hand there are some gaps from losing guys. I mean when you lose a kid like Krueger and (Jay) DuPree, you know, All-State kids, they're hard to replace and so there's a void there (in) leadership as well as athletic ability. And we are hoping we can get those voids filled with some of these other kids."
Flyers fans also will have to consider some other variables when trying to gauge how successful their football team will be this year.
"Our overall goal is to go in there and play as best as we are capable of playing," Beauchamp said. "Sometimes people are going to have more talent than you and that's just the way it is.
"And you've got to play up to the best of your ability and as long as we play to our best ability, I'm going to be a happy coach. And, again, does that translate to a winning season? I hope so and my expectation is to be higher in the win column than in the loss column.
"That's the weird thing about high school. It's not just about what you have coming back, but what everybody else has coming back, too. It's not always as cut and dry as some people like to make it."