Zimmerman appears at third town hall as deadline to appeal assessments nears
By Erin Achenbach
Staff Reporter
eachenbach@callnewspapers.com
As the final July 8 deadline to appeal property value assessments looms, St. Louis County Assessor Jake Zimmerman continued his series of town hall appearances Saturday to take questions from residents about this year's reassessments. 
About a hundred people came together in the gym at the Affton Community Center June 29 to question Zimmerman and express their frustrations with their property's assessed value as well as the appeal process. 
"What I am here this morning to do is to talk to you about how the process works and hopefully make things as straightforward as I can," Zimmerman said in his opening comments. "Accountability, part of that is showing up. It's my job to be here, to answer your questions, to take the heat." 
Before taking questions from audience members, Zimmerman took the time to explain how the assessment process works, telling the crowd that the job of the assessor's office is to estimate what every home in St. Louis County is worth and what it would have sold for on January 1 of this year. 
"The assessor's office does value of real estate and only value of real estate," said Zimmerman. "We don't set the taxes, we don't collect the taxes."   
He was initially tapped by voters as the county's first elected assessor in 2011, then re-elected in 2014 and 2018 to four-year terms.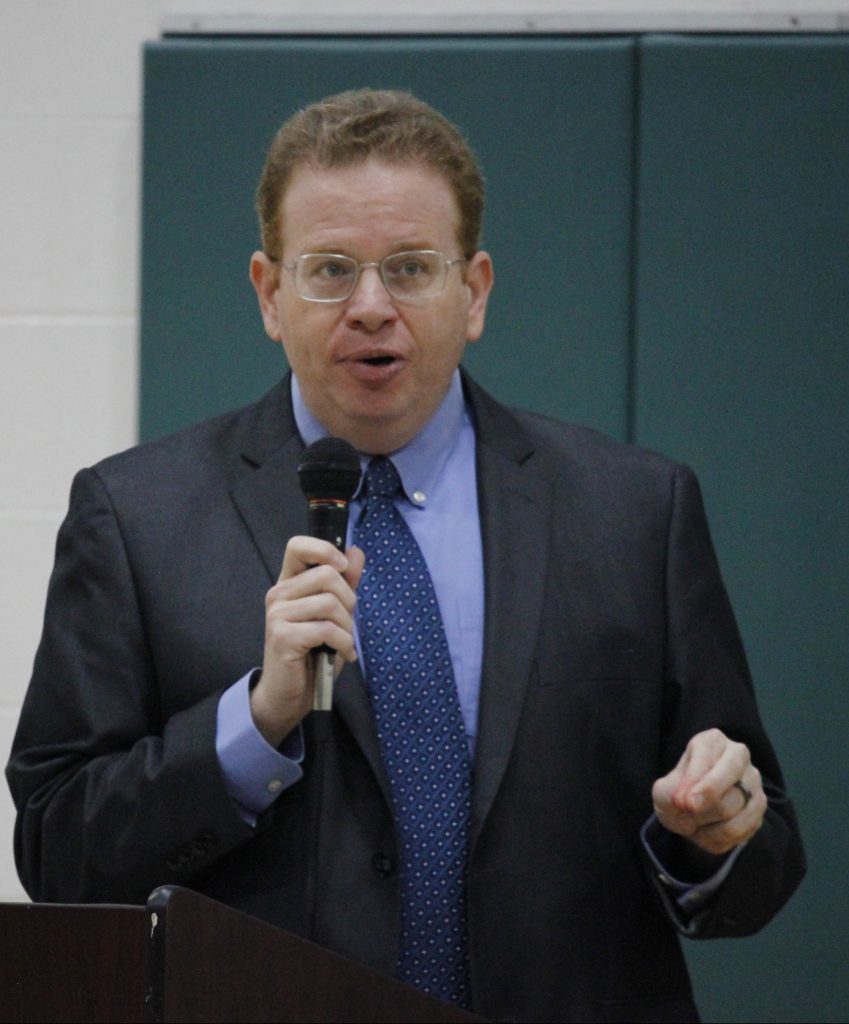 Zimmerman emphasized that his office does not control tax rates set by the school and fire districts, which residents pay most of their taxes too. And even if someone's property value rose significantly, Missouri's Hancock Amendment requires that tax rates be rolled back so that governments can't rake in any more money from high assessments. 
Reassessment happens every two years under Missouri law. 
The town hall was the second assessment town hall co-hosted by 5th District County Councilwoman Lisa Clancy, D-Maplewood, and council Presiding Officer Ernie Trakas, R-Oakville. Also in the audience was Rep. Doug Beck, D-Affton. 
Property values across St. Louis County rose by double digits, including 15 percent in the Mehlville School District, 17 percent in Lindbergh Schools and a staggering 34 percent in the Hancock Place School District. 
Although the July 1 deadline has passed to meet in person with county assessors to protest the assessed valuation at either county headquarters or the assessor's satellite office in Crestwood, taxpayers still have until Monday, July 8, to submit appeals in writing to the county Board of Equalization. 
Appeal forms and instructions for real and personal property are available on the Board of Equalization's form page until the second Monday in July, in this case, July 8. The deadline to file property appeals is set by the state, and the county cannot extend it. Appeals can also be filed online at the Board of Equalization's online property assessment appeal page. 
Zimmerman encouraged anyone at the town hall with personal questions about their property to speak with representatives of the assessor's office who were also in attendance at the town hall. 
A common critique brought up by multiple residents was the method assessors use to value property. Audience members told Zimmerman that the method was outdated and did not work for the typical home or property. One resident told the assessor that the valuation should be more in line with what the actual cash value would be of a home or property if it had to be sold tomorrow as is. 
Multiple other residents took the time to air their complaints about their dealings with the assessors whom they had spoken to in person about their properties, making comments like it was obvious that the assessors didn't want to be there or weren't taking their concerns seriously. Zimmerman has said that his assessors will meet with 20,000 residents about appeals.
"I went to the hearings over at Crestwood… I took my pictures… and what I had happen was, I could tell the one person there did not want to be there and did not want to deal with it and the second person said to me, 'All these things are irrelevant and will not count.' And that is just outrageous," said Green Park resident Fred Hoehn, who attended the informal conferences in Crestwood June 6 for the two properties he owns. "I think what is wrong with your office is lack of leadership." 
Zimmerman said that the complaints about his office were "very, very concerning" but also encouraged residents to "be mindful that you're sitting across the table from a human being, and they might have a bad day just like anybody else."