With Stenger primary victory, Dooley era coming to an end
Stenger, Stream now slated to meet in November election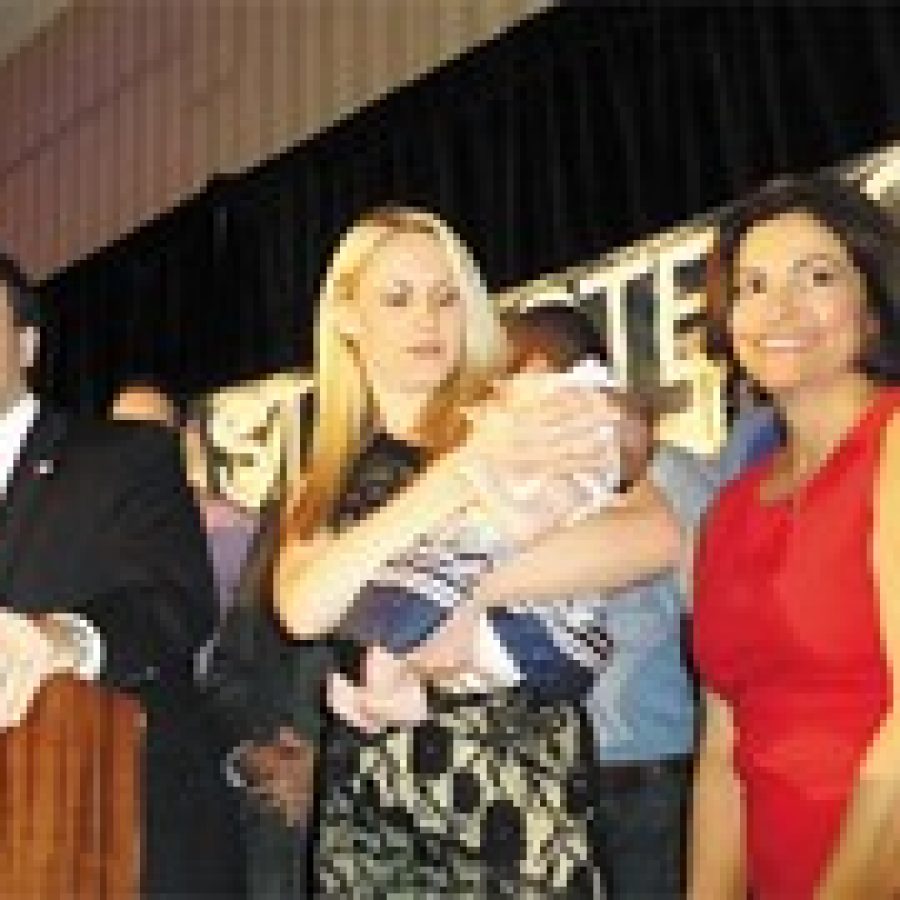 One thing is certain after last week's Democratic primary for county executive: The Charlie Dooley era in St. Louis County is nearing an end.
"Tonight is the beginning of the St. Louis County comeback," 6th District County Councilman Steve Stenger of Affton pledged in his victory speech Aug. 5 after defeating 11-year incumbent Dooley for the Democratic nomination for county executive.
Stenger will face Rep. Rick Stream of Kirkwood in the November election. Stream defeated Green Park Ward 1 Alderman Tony Pousosa in the Republican primary, with 34,765 votes to Pousosa's 16,433.
Although some political pundits had predicted a Stenger win, the extent of the landslide surprised Stenger, Dooley and nearly everyone watching: Stenger took 84,980 votes to Dooley's 39,027 and Ron Levy's 3,881, a two-to-one victory for Stenger.
"This has been a highlight of my life, serving St. Louis County," Dooley said in his concession speech in Berkeley. "We believe we have a lot to be proud of, a lot of accomplishments — but again, the people of St. Louis County have spoke, I respect that, and I wish Steve Stenger well … We just couldn't pull it across the finish line this time."
In Stenger's victory speech in Clayton, he thanked the voters and pledged to turn the county around.
"We can be a county free of embarrassments and scandals," he said. "So let's go forward, understanding that while St. Louis County has seen better days, it has yet to see its best days."
Stenger thanked a long list of contributors and supporters for his landslide victory, singling out county Prosecuting Attorney Robert McCulloch and police officers and firefighters who supported his campaign, along with the many labor groups that switched their allegiance to Stenger from Dooley last year.
Without McCulloch, the victory would not have been possible, Stenger said. McCulloch appeared in Stenger's television ads, saying, "I'm supporting Steve Stenger for county executive because this corruption is a disgrace. Ten years is long enough."
Stenger's victory party was also McCulloch's, since he defeated his own primary challenger, Leslie Broadnax. In his first primary challenge since 1998, McCulloch received 84,010 votes and Broadnax received 33,712 votes. He has been in office since 1991.
Statewide, voters also rejected Constitutional Amendment 7, a three-quarter-cent sales tax that would have funded $6.1 billion in road and infrastructure improvements over 10 years.
After polls closed, absentee ballots gave Stenger a commanding lead, which held as precincts were released in batches over the span of several hours. At that point, Dooley conceded, since his campaign's hope that late-reporting north county precincts would come through as they did in the 2010 general election did not pan out.
Voter turnout in the county was roughly 30 percent of registered voters, much higher than a typical August primary election.
Although they each wished the other well in their respective speeches on election night, the campaign between Dooley and Stenger was blistering. Both raised roughly $1.4 million that was largely used to run television commercials attacking each other, and both accused the other of ducking a debate and sidestepping the real issues facing the county.
"(The campaign has) been silly," Dooley told the Call the week before the election. "It has not talked enough about the issues that challenge this county, that the county has to address moving forward. Again, I tried to address those issues, and I'll continue to address those issues."
In the last few weeks of the campaign, Dooley's campaign made an issue out of Stenger's representation of a sex-trafficking kingpin in 2000 and linked routine zoning legislation Stenger sponsored for a new Hobby Lobby store to the craft store's June U.S. Supreme Court win on contraception for its employees.
At a July League of Women Voters forum, Dooley said repeatedly that things in the county are "simply outstanding."
But in the end, Dooley admitted that he could not convince voters to give him another four years.
"The voters of St. Louis County have spoken, I accept it and we're going to move on," he told his supporters. "I'm still going to come to work every day and do my job, but I want to be helpful as best I can (in the transition)."
Although Stenger promised to get back to work with Dooley as scheduled at the County Council meeting the next night, Chairwoman Hazel Erby, D-University City, Dooley's sole ally on the council, canceled that meeting the morning after the election.
Dooley will leave office Jan. 1, when the new county executive is sworn in.
When he leaves, many members of his administration familiar to county residents for the past decade will most likely leave, too, including department heads, political appointees and advisers.
Besides Stenger and Stream, Libertarian Theo "Ted" Brown Sr. of north county and Constitution Party candidate Joe Passanise of Creve Coeur also are seeking the county executive's post in November. Both were unopposed in the primary.
Although some Republicans took Democratic ballots to vote against Dooley, Stream defeated Pousosa with the help of a television ad he ran in the last week of the race.
"The campaign's over, but the fight's not over, and now we've added more people to the cause," Pousosa told the Call, adding that he was surprised by the extent of his support in north county, where he saw more Pousosa signs than in south county.
In Stream's victory speech in Kirkwood, he said that voters are looking for change in this election, and they won't find it by choosing the Democratic Party again.
If elected in November, Stream would be the first Republican county executive since Gene McNary, more than two decades ago.
The state legislator far outpaced Pousosa in fundraising, including a last-minute $100,000 donation from Rex Sinquefield, who also gave hundreds of thousands of dollars to Dooley.
That donation tripled the money Stream had in the bank for the contest.
"I forced the hand of a billionaire," Pousosa told the Call about noted city-county merger proponent Sinquefield's donation to Stream.