Maloney's Lawn & Landscape Services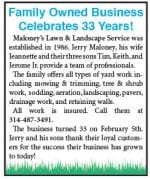 About
Family Owned Business Celebrates 33 Years!

Maloney's Lawn & Landscape Service was established in 1986. Jerry Maloney, his wife Jeannette and their three sons Tim, Keith, and Jerome Jr. provide a team of professionals. 
The family offers all types of yard work including mowing & trimming, tree & shrub work, sodding, aeration, landscaping, pavers, drainage work, and retaining walls. 
All work is insured. Call them at 314-487-3491. The business turned 33 on February 5th. Jerry and his sons thank their loyal customers for the success their business has grown to today!