Lemay Concrete Block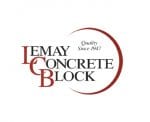 About:
Local Manufacturer Celebrates Over 70 Years!

 There is an old saying: "Necessity is the mother of invention"… In 1947, Leonard Fred Detmer decided to build a concrete block wall at his home in Lemay. When he discovered a six month waiting list, he decided to make his own with a hand crank cement mixer and a block mold. 
People driving by saw the concrete blocks in the yard and stopped to inquire about purchasing them. He sold the blocks as fast as he could make them. Leonard was never able to build his wall but did start his own company, Lemay Concrete Block. 
70+ years later his family is proud to carry on his creation, expanding in both size and products manufactured on site. 
Lemay Concrete Block offers ready mix concrete, masonry block, retaining walls and pavers. In recent years they have added outdoor living kits such as fireplaces, bars and firepits. Pizza ovens are a new addition to their line of products manufactured on site. 
"Whether it's pouring ready mix concrete, building a retaining wall or creating an outdoor living area; helping home owners to become do-it-yourselfers is the most rewarding part of each day." 
For information on your next outdoor project, visit their large indoor showroom located just a mile from the River Des Peres at 326 E. Courtois.