Nottelmann Music Co.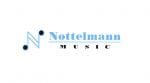 About:
Nottelman Music – Now in 68th Year. The Best Brands, the Best Quality, the Best Customer Service
 The original location is at 1590 Lemay Ferry Road, St. Louis and a second location is at 714 Jeffco Blvd., Arnold, MO. 
The music store was started by William "Bill" Nottelmann in June 1953. Bill retired in 2000 at the age of eighty one. Bill's daughter and son-in-law, Jan and Dennis Gerfen, joined Bill at Nottelmann Music Store. 
Dennis started working at the store in 1971 and married Jan in 1972. They bought the store in 1984. 
Now that the business is celebrating its 68th anniversary and Dennis is in his 50th year, he is happy the third generation is onboard – Michael and Jennifer, the Gerfens' children. 
Specializing in school music education, Nottelmann Music serves over eighty schools. 
"Five representatives call on schools weekly in a broad bi-state area. They travel to Ste. Genevieve, North County and into the city. They spend three days a week traveling in Illinois. We are proud to support music education in schools and school districts with clinics, workshops, special events, and consultation services. Serving our customers with quality products and unequaled customer service is what we at Nottelmann Music are all about," said Dennis. 
Nottelmann Music provides students and schools with instruments, rentals, accessories and repair service. 
In store lessons are also available. 
1590 Lemay Ferry Rd.
St. Louis, MO 63125
314-631-1486
714 Jeffco Blvd.
Arnold, MO 63010
636-296-3780