Webb returns to south county to head Affton police precinct
Webb makes history as first female precinct commander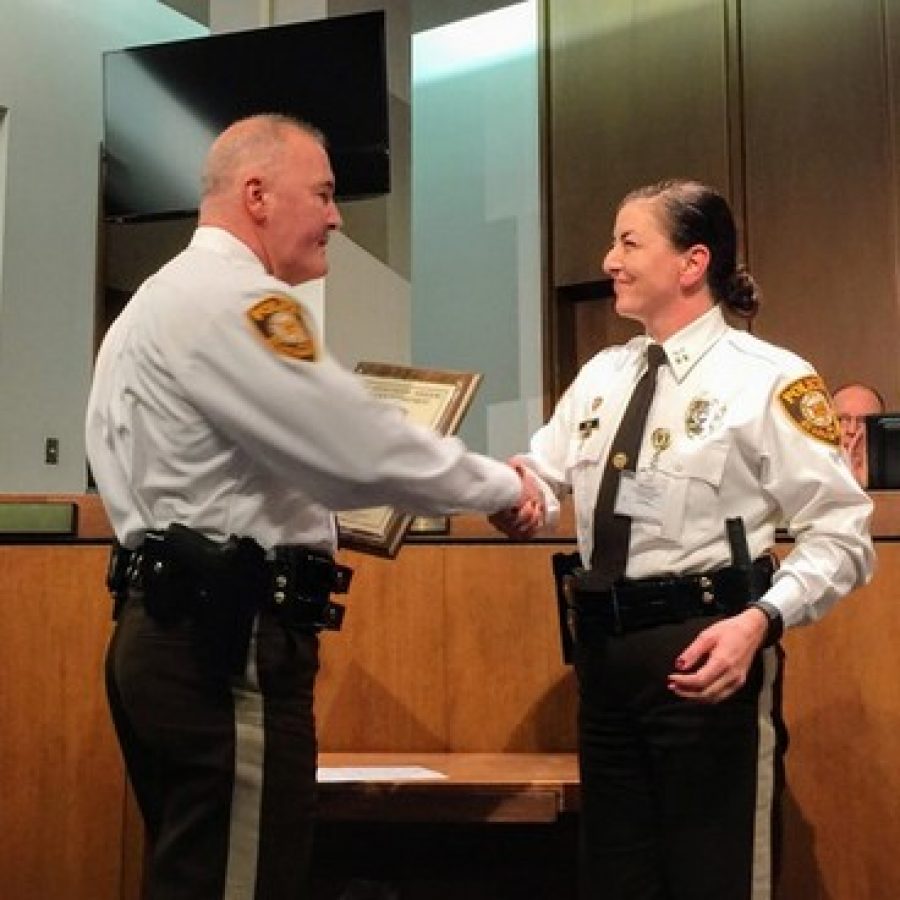 When St. Louis County Police Chief Jon Belmar promoted Capt. Melissa Webb to her new rank in December, she thought she couldn't be happier — until he told her she was headed to Affton.
Webb took over as commander of the Affton Southwest Precinct at the end of the year, replacing outgoing Capt. Jeff Fuesting. He was hired as police chief in his hometown, Effingham, Ill., after 20 years on the county force.
"To me it's the pinnacle, because this is where I grew up," south mand. "These are the streets that when I was a teenager I drove these streets, and I was in these schools. And I was just so excited to know that he was going to put me down here. And to be in the precinct that I grew up in is pretty amazing."
Webb started her career as a patrol officer in Lemay in 1995 and at the time of her promotion was the commander of the Bureau of Crimes Against Property. In between, she served in Affton as a sergeant and also in the Bureau of Crimes Against Persons, communications and the West County Precinct. She has received 33 awards, commendations and letters of appreciation.
Although Webb's move to Affton has been relatively low-key, her promotion made history: She is St. Louis County's first female precinct commander.
Webb, however, downplays the importance of that milestone.
"It's interesting to be the first, but I've never looked at myself as a female, I just look at myself as an officer," she said. "People were always like, 'You're the first of this,' and I don't really look at it like that. I look at it as I'm an officer, and I'm here to work hard and do the best I can for my community."
Women were few and far between on patrol when Webb started, but it was a different story when she walked into the Affton precinct the first time as commander.
"I saw all these females out here, and I realized how different it was for me," she said. "Because when I was a young female officer that started back in the day in Lemay, you rarely saw any other females. Now you walk in, and there's females everywhere."
Webb attributes the fact that the entire Bureau of Crimes Against Property showed up for her promotion to the emphasis she has placed on mentoring. She realized its importance because she had so many mentors as a young officer.
Service runs in family
Like many who go into law enforcement, serving as a police officer is a way of life in both Webb's family and that of her husband, Lt. Jack Webb, who oversees a platoon in the West County Precinct.
The new Capt. Webb is not even the first in the family to hold that name — her husband's now-retired father, Capt. Jack Webb, commanded the Fenton Precinct.
Although Webb's uncles were police officers, she sees the origins of her future career in the community service of her father, Ralph Wahby, a Mobil gas station owner.
"People would show up at the station who didn't have any money, and my dad would just take care of their car, you know, 'Pay me when you have money, that's fine, just go,' because he knew that they needed their vehicles to get to work," she said. "So he was just an amazing, amazing human being."
The family moved from north county to south county, and Webb attended Traut-wein Elementary, Washington Junior High and Ursuline Academy, where service was ingrained in her through service hours and working in shelters for homeless women.
"That obviously guided me into the career path that I am now currently in because I feel like as a community, we really have to take care of one another," she said. "And my parents live here in this precinct, I grew up here, so I feel like I've come back home."
Webb has already started reaching out to various community groups around Affton, Concord and Green Park, and the community has welcomed her, too: On a recent trip to the grocery store, she was stopped 10 or 15 times as people asked her how they could help her out in her new post.
Webb takes over in the wake of one of the most tragic events in the precinct's history, the line-of-duty death of Officer Blake Snyder as he responded to a call in Green Park in October.
The community's outpouring of support to Snyder's family still continues. Webb lives in Ballwin and saw a similar show of support there for paralyzed Officer Mike Flamion, who was ambushed during a July traffic stop.
"It makes the officers here feel so much better about what it is they have to go and do when they know the community appreciates them so much," she said. "The signs, the blue lights, the ribbons, they're still up. It's absolutely, utterly outstanding."
As for the officers in the precinct and how they continue to face their jobs every day in the face of tragedy, Webb said the department has programs in place to ensure that if officers or their families need any assistance, they will receive it.
"We're going to make sure all these folks are OK and they're healthy, that they have what they need to do their job," she said.
Capt. Chris Stocker, who retired last year, started a memorial wall in the precinct's roll-call area that now has framed pictures of the 10 officers the department has lost in the line of duty. The reminder of the fallen officers at the beginning of their shifts helps officers keep their safety at the forefront, Webb said.
The new commander is sprucing up the precinct's outdated lobby area, and as part of the renovations, a similar wall will be painted in the lobby so that the public can see the fallen officers' pictures.
She also hopes to bring programs to Affton that proved successful when she worked in the Jennings Precinct.
One of those programs, the Compliance and Accountability Program, or CAP, is a personalized approach to keeping residents on probation out of future trouble, with officers going into their homes.
"I was lucky enough to assist in that program in Jennings when I was a bureau commander, and it was just utterly amazing what we saw and the relationships that got forged with the officers and these families," Webb said. "These were young men and young ladies that may have gone down that wrong path, but because of everybody, kind of like the village raising the child, because there were so many people involved in that young person's life they were able to stay on the straight and narrow. That's something that I'm going to bring down here."