Wagener to seek Democratic nomination to 85th District Missouri House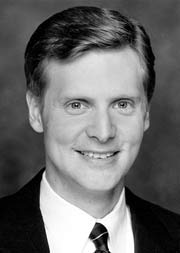 By MIKE ANTHONY
Executive Editor
South county resident Jeff Wagener will seek the Democratic nomination to the 85th District Missouri House of Representatives seat currently held by Republican Jim Lembke of Lemay.
Wagener, who served on the County Council for four years, told the Call he is committed to running in 2004 and believes he shares the vision and values of south county residents.
"I've been exploring what I wanted to do next year in terms of running for office and obviously been encouraged by a lot of people to run for County Council," Wagener said. "I still get phone calls asking me to consider that, but I just basically came to the conclusion that it was time to move on to other challenges in life.
"I was proud of what I accomplished on the council. I think I have a very good legislative record and I think I proved myself as an effective legislator," he continued. "I felt like I needed a new challenge and I think I can do more at a higher level of government …"
Wagener, an attorney, said he has been out in the community, talking with residents about seeking the Democratic nod for the 85th District seat.
"I've been talking to a lot of people. The support's far exceeded my expectations in terms of people are really encouraging me to run …," he said.
Among the support Wagener said he can count on is the endorsement of the Carpenters' District Council of Greater St. Louis and the endorsement of the Building and Construction Trades Council of Greater St. Louis.
"Everyone I talk to seems real positive and so I'm excited about the opportunity. There are some extremely important issues that face us in state government and I think that my experience on the council will serve me well…," Wagener said.
A lifelong south county resident, Wagener noted that he has deep roots in the community. "My whole family's been here for a long, long time, so I think I share the vision and the values of the people in south county," he said.
Wagener was elected to the 6th District County Council seat in November 1996 and served until December 2000. In November 2000, he was defeated by current Councilman John Campisi, R-south county.
In that race, the Carpenters' District Council endorsed Campisi, citing his opposition to proposed changes in the county's mechanical code, which were supported by Wagener.