Volunteers revive Oakville locker rooms
'Whole community of people chipping in,' Conners notes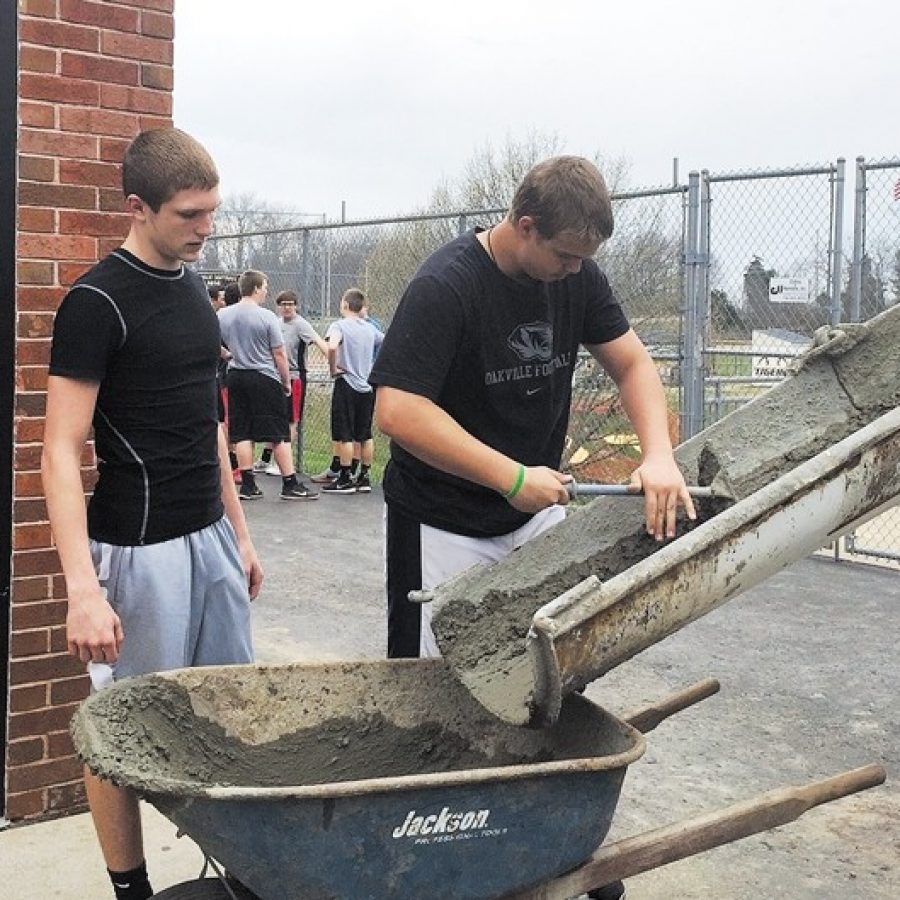 Students, parents, coaches, residents and local business owners are collaborating in an all-volunteer effort to renovate the Oakville Senior High School locker rooms so that they are "something to be proud of."
Business owners have donated their time and materials, and community volunteers have donated their time and labor over several months of Saturdays to pour concrete, paint and do what they can to build the football team new custom-built wooden lockers comparable to those used by colleges and professional teams — and, for the first time, Oakville girls' teams will have their own dedicated locker room.
Although many of the project volunteers come from the football team and the Tiger Tailgaters football booster club, the renovated locker room will help all of Oakville's athletes, including the basketball, wrestling, baseball and volleyball teams.
"We're trying to give Oakville something the community can be proud of," football coach Arlee Conners told the Call. "These are kids who live in this area, and we try to do the best job we can with them. We just wanted to touch it up and give our guys more of a sense of pride where they start their day off, and parents and community members offered to help. It's not one person — it's a whole community of people chipping in."
At a time when the Mehlville School District faces millions of dollars in budget deficits, the project uses no tax dollars and is only possible through donations from community members and local businesses like Lemay Concrete Block and the south county location of Home Depot.
"They take their time out to help us do it for free, with good, quality labor," Conners said of the all-volunteer community effort. "That's hard to beat."
Any donations of time, money or materials are welcomed, but right now the group especially needs the help of a master carpenter and a cabinetmaker, Tiger Tailgaters organizers said. They also could use the help of electricians, steelworkers, AC&R specialists, welders and tinners for work on the air ducts.
Future phases could include exhaust fans for ventilation, new flooring, paint and other renovations to the athletic offices, a new laundry room or "wet room" where athletes can wash their uniforms, and a junior-varsity locker room.
Before this project, the locker rooms had never had any updates other than painting rusted lockers since the school opened in 1974. Some residents commented when they came in to volunteer that the locker rooms looked exactly the same as they did when the business owner attended school decades ago, Oakville Athletics and Activities Director Becky Czuppon said.
To donate, contact Tiger Tailgaters President Nancy Tucker at (314) 412-3009 or c/o OHS Athletics, 5557 Milburn Drive, St. Louis, Mo. 63129.