By Gloria Lloyd
News Editor
glorialloyd@callnewspapers.com 
New County Executive Sam Page may have been the first county executive to ever sign a bill into law in South County this month, as he signed a bill surrounded by American government students at Hancock High School to reduce underage vaping.
Vaping, or electronic cigarettes, has increasingly become a problem at high schools throughout the area, and the Lindbergh Schools-centered anti-drug organization Step Up STL and Affton Southwest Precinct Commander Capt. Melissa Webb approached 6th District County Councilman Ernie Trakas, R-Oakville, last year to see if he would sponsor an anti-vaping bill to counteract underage vaping.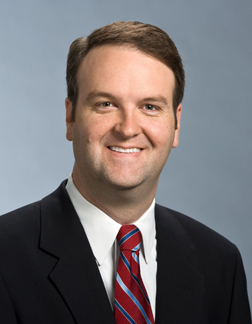 The county banned smoking for anyone under 21 three years ago, but since then, the rise in electronic cigarettes has countered some of that success, Page said.
Every school has seen problems with students vaping in schools, Hancock Superintendent Kevin Carl said.
"It's not a Lindbergh issue, it's not a Hancock issue, it's a school issue," he said. "The incident rate of vaping has gone through the roof. It's accessible, and right now it's just the trend."
The council unanimously passed Trakas' legislation May 7.
Every South County legislator attended the signing. Besides Trakas, Page was flanked by 3rd District Councilman Tim Fitch, R-Fenton, and 5th District Councilwoman Lisa Clancy, D-Maplewood.
The original bill criminalized possession of electronic cigarettes on school campuses, which drew opposition from other anti-drug organizations like the National Council on Alcohol and Drug Abuse, or NCADA, because they thought it could lead to criminal records for young people before they were out of high school.
Trakas went back to the drawing board and focused on enforcing existing laws that retailers can't sell e-cigarettes and vaping products to minors, while allowing schools the power to seize vaping products they find on students at school and fining retailers that sell within 1,000 feet of a school. The bill beefs up county enforcement raids and will likely result in a new staffer added to the Department of Public Health just for enforcement.
"It was important to go after the people that provide these poisons to our kids, as opposed to going after those kids criminally or by fines," Fitch said at the signing, referencing his 31 years in law enforcement and time spent as the county police chief.
To get feedback on the bill, Trakas contacted every county school district. Carl said area superintendents, including Mehlville Superintendent Chris Gaines, Lindbergh Superintendent Tony Lake and Bayless Superintendent Ronald Tucker, designated him as the one who would work with Trakas on the bill and collaborate to take the focus off punishing students.
"Young people should have an opportunity to really be knowledgeable and be educated, and I didn't feel that creating punishment and consequences and anything that would cause an underage vaper or smoker to have to go to court made sense," Carl said.
County officials hope in the end it will deter young people from ever starting to vape. As a medical doctor, Page explained that students' brains aren't fully formed until they're in their 20s.
Retailers face increasingly large fines if they are caught selling to minors, and a fourth offense yanks their license completely.
"Retailers were ignoring the ordinance that they check IDs with impunity," Trakas said. "This punishment has real teeth in it."
Although it took awhile to get to the final product, he's happy with it.
"It's a great example of how our democracy's supposed to work, with the citizens engaged in the government," including the students showing up to see the bill signed, he said.
And the organizers of Step Up STL were happy with how their efforts turned out too: Current volunteers and former Lindbergh Board of Education members Don Bee and Gary Ujka attended the bill signing, and volunteer Erica Hoffman presented cookies to Trakas the night the council passed the bill.
"I'm sure I'll enjoy every one of them," he beamed