UPDATED: Stenger defeats Dooley in Democratic race for county executive
Stream prevails over Pousosa to win GOP nod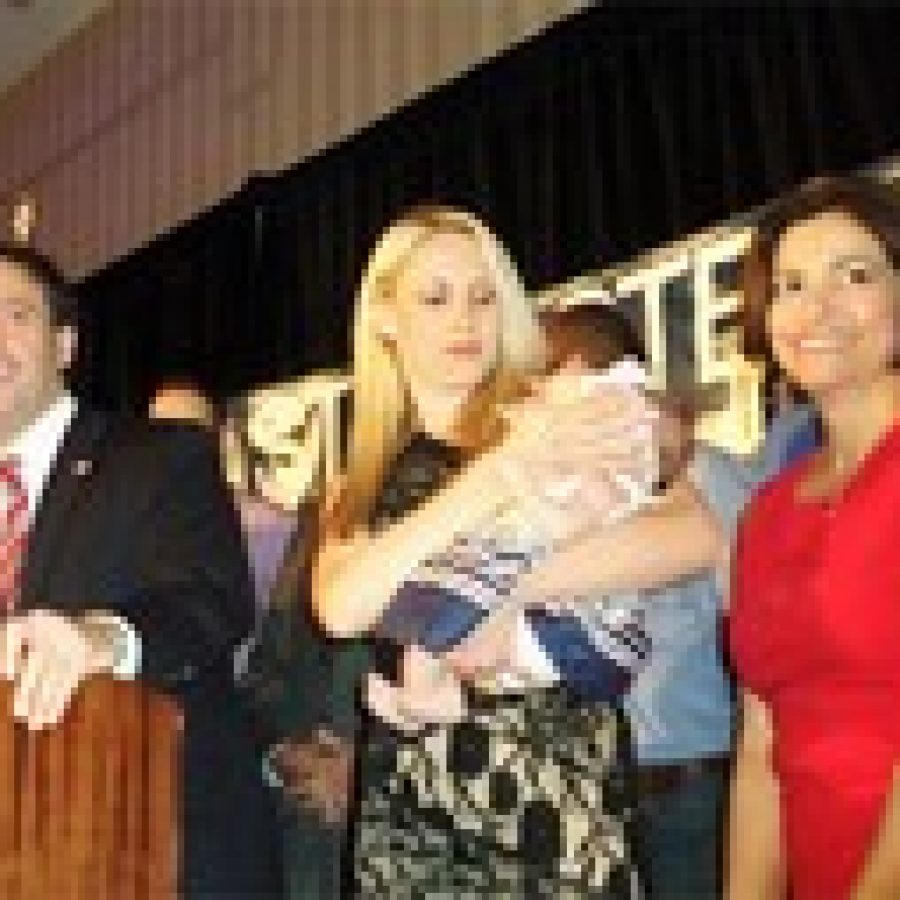 With all precincts reporting, 6th District County Councilman Steve Stenger of Affton has won the Democratic nomination for county executive, defeating incumbent Charlie Dooley of Northwoods in Tuesday's primary.
Unofficial results showed Stenger with 84,835 votes, Dooley with 38,972 and Ron Levy of Affton with 3,851.
In his victory speech at his watch party at the Sheraton in Clayton, Stenger promised, "Tonight is the beginning of the St. Louis County comeback."
The councilman thanked a long list of contributors and supporters for the landslide victory, singling out county Prosecuting Attorney Robert McCulloch and the police officers and firefighters who had supported his campaign, along with the many labor groups that switched their allegiance to Stenger from Dooley last year.
"I want to thank my friends in labor," he said. "I'm ready to work beside you to bring jobs to the county."
Stenger also thanked Dooley "for his service to our county for the last 35 years."
"Tonight is the beginning of the St. Louis County comeback," he continued. "We're going to work together to move our county forward, and the county is facing real changes. We aren't the county of perpetual growth that we once were. We can no longer rest on the successes of the 20th century … This campaign has never been about Democratic or Republican politics, it's been about restoring confidence in county government.
"It's humbling being before you tonight, and I will not let you down."
Earlier, Dooley conceded the Democratic race to Stenger, saying he wishes Stenger well after a blistering primary campaign.
"I really wish him well," Dooley told his watch party attendees at the Hilton Garden Inn in Berkeley, near Lambert Airport. "But I want to tell the people in this room that the voters of St. Louis County have spoken, I accept it and we're going to move on… I'm still going to come to work every day and do my job.
"This has been a highlight of my life, serving St. Louis County," Dooley continued. "We believe we have a lot to be proud of, a lot of accomplishments – but again, the people of St. Louis County have spoke, I respect that, and I wish Steve Stenger well… We just couldn't pull it across the finish line this time."
In the race for the Republican nomination for county executive, Rep. Rick Stream of Kirkwood defeated Green Park Ward 1 Alderman Tony Pousosa.
Unofficial results show Stream with 34,670 votes and Pousosa with 16,409.
Libertarian Theo "Ted" Brown Sr. of north county and Constitution Party candidate Joe Passanise of Creve Coeur also filed for the county executive's post and are unopposed in the primary.
Brown was a write-in candidate for Missouri governor in 2008, ran for county executive as a Libertarian in 2006 and 2010 and was a write-in candidate for county executive in 2002.
Passanise twice ran unsuccessfully for county executive as a Republican.
Stenger is serving his second term representing south county on the County Council. Dooley has served as county executive since the October 2003 death of County Executive George R. "Buzz" Westfall.
Dooley was elected to serve the remaining two years of Westfall's term in November 2004 and was elected to full four-year terms in November 2006 and November 2010.
Dooley is retired from Boeing, formerly McDonnell-Douglas. He is a former mayor of Northwoods and was elected in 1994 as the 1st District's county councilman.
He served in that post until the County Council voted unanimously to appoint him county executive after Westfall's death.
Stenger announced his candidacy for county executive Oct. 15 surrounded by labor and political leaders, including McCulloch, who had withdrawn his support of Dooley the week before.
Stenger, an attorney and certified public accountant who is a partner in the Clayton law firm Klar, Izsak & Stenger LLC, was first elected to the council in 2008, defeating Republican John Campisi on a platform opposing the creation of trash districts in unincorporated St. Louis County.
Levy unsuccessfully challenged Dooley in the 2010 Democratic primary for county executive.
He served on the Bayless school board from 2003 to 2004 and unsuccessfully sought the 96th District Missouri House seat in 2002 and 2004 as a Libertarian.
Levy also unsuccessfully sought the 96th District House seat in 2006 and 2008 as a Republican.
Other county primary races include:
• Incumbent McCulloch is the victor in the Democratic primary for prosecuting attorney after defeating Leslie T. Broadnax.
Unofficial results show McCulloch with 83,867 votes and Broadnax with 33,664 votes.
• Andrew Ostrowski defeated Jalesia "Jasha" F. McQueen to win the Republican nomination for county assessor.
Unofficial results show Ostrowski with 31,187 votes and McQueen with 13,850 votes.
Democratic incumbent Jake Zimmerman was unopposed in the primary for county assessor.
County Council
• First District — Democratic incumbent Hazel Erby, who serves as council chairwoman, defeated Wesley Bell and Alexander Jones Jr.
• Second District — Former Democratic state Rep. Sam Page prevailed over Republican Bob Saettele, a Bridgeton councilman, to fill the remaining two years on the seat held by Kathleen Kelly Burkett, who died in April.
• Third District — Republican incumbent Colleen Wasinger was unopposed. No Democrats filed for the seat.
• Fifth District — Democratic incumbent Pat Dolan and Gravois Township Republican Committeewoman Jennifer Bird will vie for the 5th District County Council seat in November. They were unopposed in the primary.
• Seventh District — Ballwin Alderman Mark Harder defeated former Ballwin Mayor Walter Young and Ellisville Mayor Adam Paul to win the Republican primary for the seat held by Republican Greg Quinn, who is serving his fifth term on the council. Quinn announced he would not seek re-election.
Democrat Steven E. Biggs was unopposed in the primary.