UPDATED: Redistricting scenarios concern some Mehlville parents
Mehlville scenarios to impact some on redistricting panel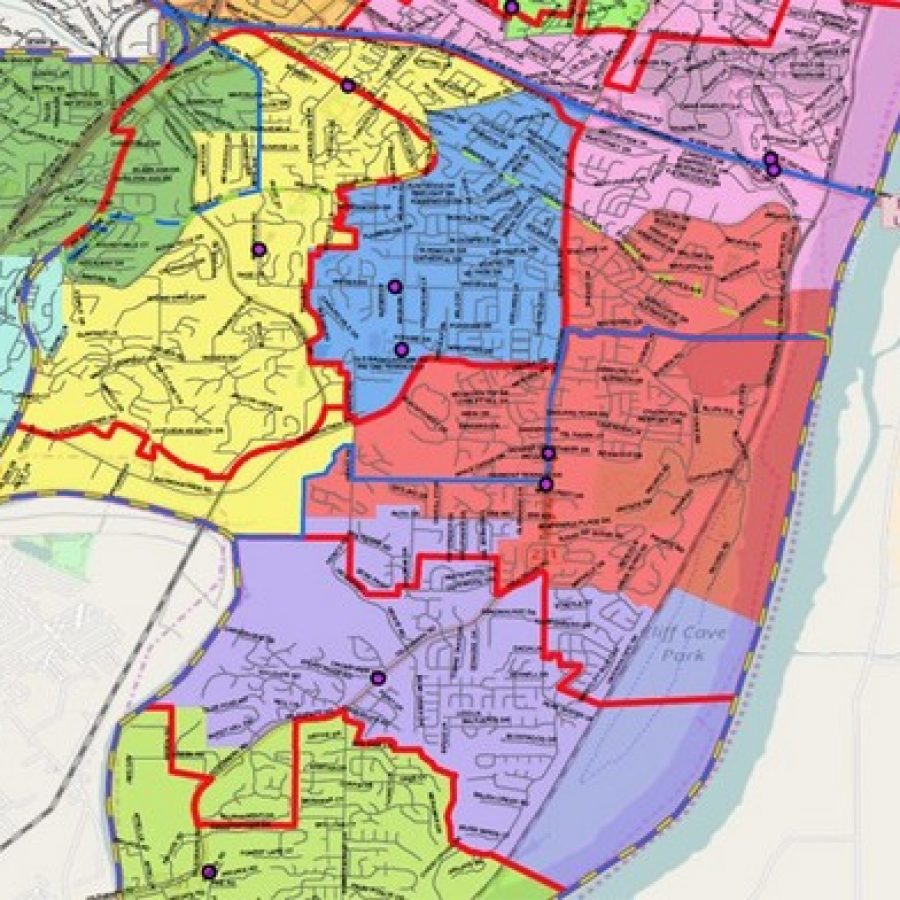 Some Mehlville School District parents whose children would have to switch schools in proposed redistricting scenarios are pleading with the Board of Education to keep their children where they are.
Two parents went to the Board of Education last week to request the Redistricting Committee revise its plans to send their children to new schools. Many other parents have made their case on the district's Facebook page and in closed Facebook groups with board members and committee members.
Because redistricting was primarily marketed as a way to balance elementary classrooms in the district, some middle- and high-school parents say they did not realize that it would affect their children.
Neighborhoods in Oakville flipping between the high schools have become centers of contention, as parents ask for the district to grandfather them into their current schools. The committee decided near the beginning of its deliberations that it would only recommend grandfathering incoming high school seniors.
Camelot Estates resident Carrie Hessler wrote on the district's Facebook page that she bought her house because it was in "Oakville's schooling system" and wants to stay in it.
"After canvassing my neighborhood today, I talked with many neighbors who purchased their homes recently because they were located in Oakville schools," she wrote. "There is potential that this redistricting could affect my property values and the resale of my home. I am very disappointed in the Mehlville School District …"
In a letter, Howard Marshall of Martigney Ridge, parent of an incoming Mehlville High junior, said he represents a group of parents of the Class of 2019 who don't want their children to be uprooted in the key year of high school that determines ACT scores and college admissions.
"We are extremely concerned that with the redistricting plan, the students who are in high school currently … who are making memories and decisions that will affect the rest of their lives, will just become collateral damage," Marshall said. "We are asking you, begging you, please do not deny the children in high school right now the experiences they are due."
At the same time that Marshall's group is contesting their redistricting to Oakville High, other parents are protesting that their children were redistricted from Oakville schools to schools on the Mehlville side of the district — Trautwein Elementary, Washington Middle and MHS.
James Moynihan told the board that he represents his subdivision, Royal Hills Estates, which is being split in both scenarios. The division comes despite the Redistricting Committee's attempt to keep neighborhoods together in redistricting maps, both to keep friends together and for the more practical purpose of not doubling up on buses through the same subdivision.
"As a community, we'd like to stay in the Oakville feeder system, ideally with our current schools of Blades, Bernard and Oakville," Moynihan said. "Under both scenarios, our subdivision is divided into two sections, one in Oakville and one in Mehlville. We wish for our community to remain intact and whole and not be divided."
Instead, to "minimize disruption," Moynihan asked that his subdivision's 27 children be flipped with those from nearby Mehlbrook Manor, where children are being rerouted from Mehlville to Oakville schools.
Mehlbrook Manor resident David Freemyer said he believes that his subdivision should be redistricted to Oakville schools, because it is an illustration of the district's odd feeder patterns that the committee hopes to fix: His children were part of a group of roughly 10 Blades Elementary students each year who are split off to attend WMS instead of Bernard, while "90 percent of their friends went to Bernard," he noted.
However, now that his current WMS sixth-grader and MHS sophomore are entrenched in the schools they were originally sent to, he said he was eager for school choice to help his family keep its current placements.
"We love Washington now that we know about it, but we were really surprised that we got sent to Washington, it's like, 'Why are we going to Washington?'" he said. "So I can see why you're doing that going forward, but for the people that have already been dislocated once to get pulled again, for a sixth-grader and a 10th-grader to get sent over to Bernard or to Oakville, I don't think they're very excited about it."
Parents or residents can fill out a survey on which scenario they prefer, and 160 people had participated at the time the Call went to press. Redistricting committee members said they had 51 pages of survey results to go over before public-input sessions from 6 to 7 p.m. Monday, Feb. 27, at WMS and Tuesday, Feb. 28, at Blades.
Superintendent Chris Gaines said he is asking the committee to not only consider revisions to the scenarios based on public feedback, but also outline a process for school choice and who should get a first shot at their preferred school.
The problem with grandfathering everyone who wants to stay at their current school is if it's done at the elementary level, it won't fix the overcrowding problems, and if it's done at the high school levels, it could impact the district for a decade or more if younger siblings are also grandfathered in, Gaines said.
If he was making the decision, he would "take a hard look at seventh-graders and fourth-graders," Gaines said, but it's not up to him.
"People say, 'Well, what's your decision going to be?' and I say I'm not making a decision. The committee's going to make a recommendation, and we'll go from that," he said, noting the committee has 20 parents and has worked for months on the scenarios. "Would you rather have me doing it … sitting in the office, or do you want to have people who are actually parents in your building and feel your pain?
"And some of these (committee members) are actually being moved in some of these scenarios."
The committee also has real-estate agents, who have spoken with Gaines about the impact redistricting could potentially have on the resale value of district homes — which is essentially none, Gaines said.
Homes are listed by school district, not individual schools, and the district has expensive homes in both the north and south side of the district, Gaines said.
"They have Realtors on the Redistricting Committee, and they're like, real estate is all about location, location, location," Gaines said. "So it's as much about what's immediately around you as anything else.
"And the Realtors say, 'When we list stuff, we list it by district.'"