UPDATED: Grand jury indicts Furrer on two felony charges
Prosecutors send Furrer's case to grand jury; mayor maintains innocence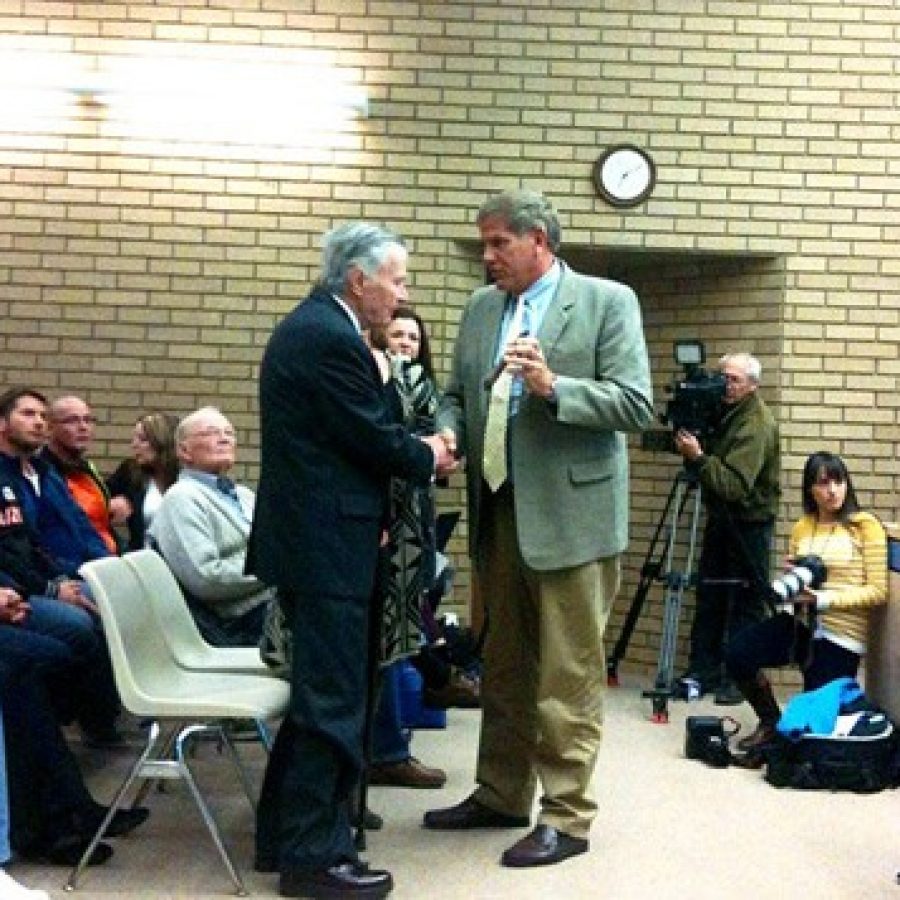 A St. Louis County grand jury decided there was probable cause to go to trial and indicted Sunset Hills Mayor Mark Furrer Wednesday for the same felonies he was charged with in October, one count of second-degree assault, a class C felony, and one felony count of first-degree property damage, Prosecuting Attorney Robert McCulloch's spokesman Ed Magee told the Call Thursday.
"I think it's great," said Randy Murdick, the bicyclist Furrer is charged with hitting and knocking off the road with his car. "And honestly — I've had the police report all along, and I knew once somebody started looking at that, the evidence starts speaking for itself. And I think (Furrer's attorneys are) going to be petrified when they see it."
The decision is not unexpected to Furrer's legal team, which talked to the Call about the impending grand jury decision and about the next steps for the case. Furrer maintains his innocence and has said he will "vigorously" defend himself at trial.
With the grand-jury decision handed down, "we'll start with depositions of Mr. Murdick and the witnesses and take their sworn testimony under oath," Furrer's attorney Thomas Magee of HeplerBroom said.
However, the first step toward trial will be finding out which county prosecutor will handle Furrer's case. Ed Magee said Thursday afternoon he could give no other details on the case at this time.
Although Mayor Mark Furrer's felony assault case was originally set for a preliminary hearing today — Dec. 11 — prosecutors changed course at the last minute.
Instead, a grand jury met Wednesday and decided whether Furrer's case will go to trial, in a closed process.
The mayor faces two felony charges for allegedly hitting a bicyclist and knocking him off the road July 29 in an alleged hit-and-run. Furrer denies hitting the cyclist, Randy Murdick of Fenton, but Murdick says eyewitnesses back his account.
The grand jury made a decision Wednesday, but a judge has not yet signed off on the paperwork and a decision will not be announced until Friday or Monday, Ed Magee said Thursday.
Informed of the last-minute switch by the Call, Murdick's attorney Michelle Funkenbusch talked to prosecutors, who she said told her that the change was made because of Furrer's high profile.
"They thought it would make a circus out of the preliminary hearing docket because so many people would want to be there," she said. "And based on the fact that the attorney for the mayor was going to have a court reporter be there and there's private cases as well, I guess they figured it was better to go to the grand jury."
Assistant Prosecuting Attorney Chelsea Mortimer was originally set to present the case against Furrer publicly today to Judge Dennis Smith, who would have decided if the case goes to trial.
On recordings of 911 calls first obtained by the Call, two witnesses can be heard describing the incident as a hit-and-run in which a man in a red convertible hit a bicyclist and then took off, but Furrer told the Call, "I did not hit the bicycle guy."
The Sunset Hills Police Department sent five police cars to the scene, but did not arrest Furrer or file any charges. Two days later, Police Chief William LaGrand turned the investigation of the case over to the St. Louis County Police Department. Detective Matthew Wilson recommended that McCulloch's office file the two felony charges against Furrer.
The investigation into Furrer's case was delayed because Wilson was also the lead investigator in the Aug. 9 killing of Michael Brown, and police turned their attention to the civil unrest in Ferguson after that shooting. Ed Magee said Wilson recommended the charges Sept. 2, and they were filed Oct. 1 after prosecutors asked investigators to review additional evidence that had to be subpoenaed.
Furrer has never been arrested or had a mugshot taken, but was instead issued a summons to appear in court, which Ed Magee attributed to the fact that most of the investigation took place afterward, not at the scene itself.
"In most cases, people are arrested right at the scene by law enforcement," Ed Magee said. "So the summons is since no one was arrested right at the scene on this case, not because he's the mayor."
However, when the mayor was eventually charged, McCulloch decided to issue a summons rather than arrest Furrer because he poses a low flight risk as a mayor, Ed Magee added.
"He's not going anywhere," he said. "He's still going to meetings, isn't he?"
Furrer has been at most city meetings recently, but he missed all city meetings in a seven-week span from August to October, including a police board discussion on keeping the Police Department that revolved around statements Furrer allegedly made about outsourcing police services.
Since Furrer was charged in October, the Sunset Hills Board of Aldermen has taken steps toward impeaching him by approving a vote of no confidence and is considering hiring an attorney for legal advice on impeaching Furrer and adding an impeachment ordinance to city code.