UPDATED: Four lanes of southbound I-55 now open
Three lanes of northbound I-55 are open to traffic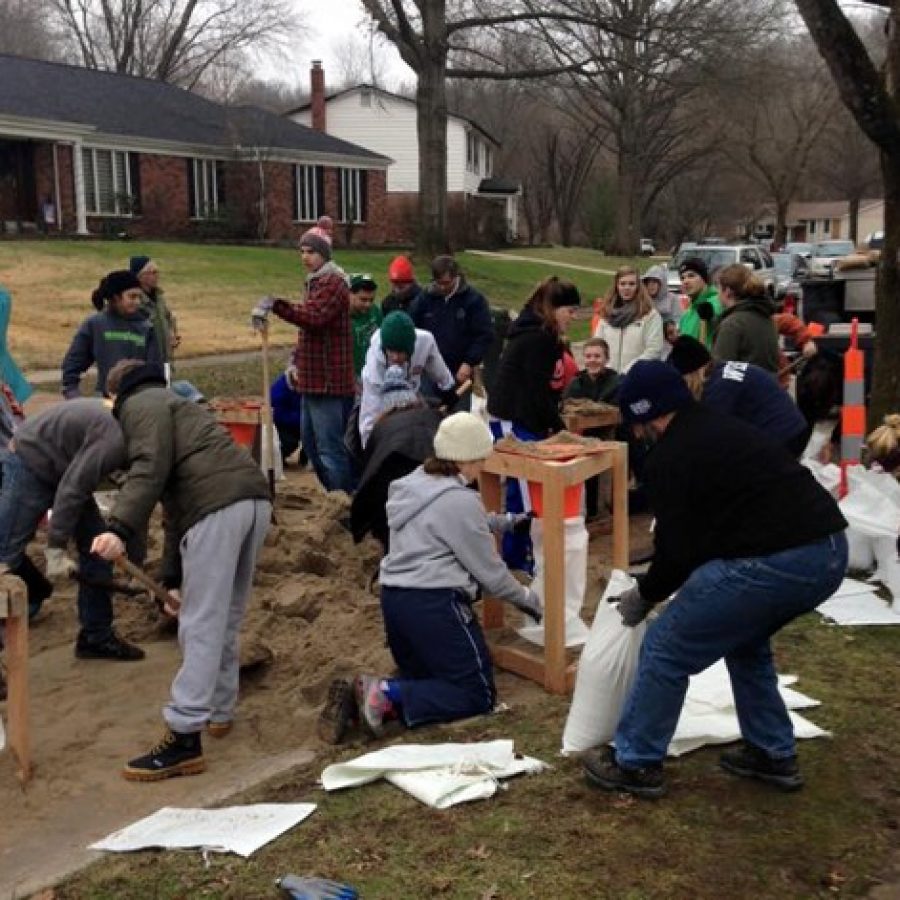 LATEST UPDATE: Four lanes of southbound Interstate 55 are open to traffic at the Meramec River, mile marker 193. Three lanes of northbound I-55 are now open to traffic.
Route 231 Telegraph Road and Route 61/67 Lemay Ferry are open to traffic in both directions across the Meramec River as well.
Both directions of I-44 remain closed in St. Louis County. The closure is between I-270 in St. Louis County and Route 100 at Gray Summit in Franklin County due to flooding of the Meramec River at Route 141. Local traffic can get to Bowles Ave only. The closure is between mile marker 253 and 274. With many other roads closed in the St. Louis area, open roads are experiencing extreme congestion.
Motorists needing to travel across Missouri are encouraged to use I-70 to I-49 in Kansas City to I-44 in Joplin or the reverse depending on eastbound or westbound travel.
With many roads under water throughout the state, drivers are encouraged to check MoDOT's Traveler Information Map, located at
, or call the department's toll free number, 1-888-ASK-MODOT, to get updated information on road conditions.
Flooding that rivals historic highs has overrun roads and bridges and taxed public services to the max in south county and throughout the St. Louis region this week.
Field crews from the United States Geological Survey said they are measuring record flooding, and the National Weather Service of St. Louis predicted that a record crest could come Thursday for area rivers. A near-record crest of the Mississippi River, the Meramec River and the River Des Peres made national news Wednesday, with local sandbaggers featured on the front page of the Wall Street Journal. Across the state, flooding caused 13 deaths, hundreds of road closures and more than 1,000 power outages.
Although the onslaught of heavy rain has stopped, flood waters continue to reach historic highs not seen since the floods of 1993 or 1982. Gov. Jay Nixon and County Executive Steve Stenger have declared states of emergency in the state and county, respectively, with Stenger taking an aerial tour of flooding in Fenton Wednesday.
Missouri American Water has asked residents in all of south county — 18 different areas and cities — to conserve water because the Meramec River flooding has overwhelmed the South County Water Treatment Plant, which can't keep up with extra demand.
The full list of affected areas can be found
, and it includes Oakville, Crestwood, Sunset Hills, Green Park, Grantwood Village, Lemay, Mehlville, Concord, Affton and Sappington.
The Red Cross has put out a call for volunteers to help staff a shelter in Valley Park. To assist, call (314) 516-2800.
To volunteer at sandbagging locations, check this article for updates or call the United Way at 211 to find a location near you. The current official sandbagging effort in the county is in north county at Rock Road, and Sen. Scott Sifton, D-Affton, said Wednesday anyone who wants to volunteer in that operation can message him on Facebook.
An updated list of closures from the Missouri Department of Transportation, or MoDOT, can be accessed at
, but the site has been down for much of the day. St. Louis County also has an interactive road map
.
At Stenger's request, the St. Louis County Port Authority
to fund zero-interest loans to assist county businesses affected by the flooding. Residents can call (314) 615-7692 to apply, in what Stenger called an easy application process.
Officials at the county Parks Department have also announced that Winter Wonderland at Tilles Park will be closed for the rest of the holiday season because the attraction is flooded. It was originally scheduled to remain open until Jan. 2.
Click
to watch a video of Rockwood Superintendent Eric Knost, the former superintendent of the Mehlville School District, visiting a flooded school in Eureka — which Knost called a "rather surreal" experience.
MoDOT closed Interstate 44 west of Sunset Hills early Wednesday when the intersection of Highway 141 and 44 in Fenton completely flooded. Stenger toured the area by helicopter Wednesday morning.
The lower-lying areas of Sunset Hills, including West Watson Road and Weber Hill Road, along with Tapawingo, are overrun despite two days of sandbagging by city employees and volunteers from throughout the city at two sandbagging stations at Watson and Weber Hill and the commuter lot at Gravois and Interstate 270.
In anticipation of the flooding, the city closed Weber Hill Road to Gravois on Sunday and Old Gravois west of Rahning Road Tuesday. The Police Department is recommending that Tapawingo residents exit their subdivisions through Pagada Parkway.
After a call went out on social media, more than 70 volunteers turned up to help on Wednesday, Sunset Hills Mayor Mark Furrer and Ward 1 Alderman Dee Baebler posted on Facebook.
Lindbergh Schools students helped fill 6,000 sandbags at the Forest View subdivision Wednesday morning, school district officials said.
"Thank you to the awesome 70+ volunteers that weathered the cold, sand, heavy bags and sharp ties to help Sunset Hills neighbors today!!!" Baebler wrote. "Represented were kind souls from St. Justin (the Martyr Church), U.S. Army, Webster Gardens Lutheran, Lindbergh Student Council, Rotary, friends and neighbors."
Furrer credited Ward 4 Alderman Donna Ernst for organizing the sandbagging and thanked the volunteers, especially the students from Lindbergh Schools who came out to help.
"Thank you, Lindbergh students and all the volunteers that have stepped up to sandbag," Furrer wrote. "We also want to thank Eric and Chik-Fil-A for providing the fabulous food and drink for all the volunteers. Donna Ernst, 4th Ward Alderman, is doing a great job organizing and running the operation.
Tuesday, volunteers filled over 4,000 sandbags at Weber Hill and Watson provided by the city before the road went under water.
In Ernst's subdivision, Forest View, she said the volunteering students saved at least five houses.
"I cannot possibly thank you enough for what you did for these neighbors," Ernst wrote to Lindbergh. "My children also went to Lindbergh and we will always cherish our memories of being a part of such a wonderful school district of great caring educators, and not just from the books. This outcome of students and some Lindbergh parents saved at least five homes from being flooded… Some of the students continued to help when we completed these homes and went to help at other locations. Please let the teachers and principals know what their students and parents did over their winter break…. If it wasn't for you these home owners would still be working and most likely not have been able to stop the rising waters."
Sunset Hills residents can sign up for alerts on dangerous weather conditions from the Sunset Hills Police Department through Nixle at
. The Call is also tweeting any alerts from the Sunset Hills police at @stlcall.
Furrer requested that residents resist the urge to slow down and sightsee at flooded areas.
"With so many roads closed and so much property underwater, please resist the temptation to sightsee," he wrote on his Facebook page. "Today I saw people driving too fast through flooded roadways, leaving huge wakes that rolled right up to businesses that were flooded – this only compounds the problem. Watch it on TV, but please stay away."
Cliff Cave Park is flooded, and Meramec Bottom Road is closed from Kerth Road to Wells Road with 108 inches of water, from Hagemann Road to Tesson Ferry Road with 168 inches of water and from Interstate 55 to Hawkins Fuchs Road with six inches of water.
Butler Hill Road is closed at Summerhedge Place with 168 inches of water. Hawkins Road is closed at Meramec Bottom Road due to 132 inches of water. Old Baumgartner Road is closed from Whispering Ridge Lane to Brookstone Terrace Drive with 66 inches of water and from Oakville Heights Court to Bichmont Place Drive with 48 inches of water. Brookstone Terrace is closed from Old Baumgartner to Brookstone South Drive with four inches of water.
Wells Road is closed from Suson Woods Drive to Meramec Bottom Road with 84 inches of water. Old Telegraph Road is closed after Telegraph Road with 144 inches of water.
Yaeger Road is closed from Windfall Drive to Chauveau Drive with a foot of water.
Water is completely broaching the road at Becker and Fine, near Rogers Elementary and Ameren's Meramec Energy Center power plant at 8200 Fine Road. Ameren did not immediately respond to a request for comment Wednesday on how the flooding is affecting the Meramec plant's coal-ash ponds. The county closure website lists 24 inches of water at Fine and Becker.
All cars heading to the power plant or Sherwood Country Club are being diverted onto Becker Road.
Arnold has set up command centers for Jefferson County flood response and sandbagging at 501 Jeffco Blvd. and in the Bayshore Subdivision. Mehlville Board of Education member Jamey Murphy wrote on Facebook that he was sandbagging all morning Wednesday on Starling Airport Road in Arnold, near the business owned by his father Jim Murphy.
"It was amazing how many people were helping out," Jamey Murphy told the Call. "One guy lives off Christopher and just graduated college. Another was a seminarian. A father and his kids just giving back. People were fighting for their homes and the community showed up in a big way. Was really amazing to watch. This group started out with about eight people and just kept growing."
River City Casino is open despite surrounding road closures and has updated directions on its website to avoid closed roads on the main page of its website,
.
River City Boulevard is closed from Lemay Ferry Road to Interstate 55 with four inches of water, and River City Casino Boulevard is closed from Lemay Ferry to Broadway with 24 inches of water.m