UPDATED: County officials launch campaign for sales tax
County GOP central panel agrees to oppose sales tax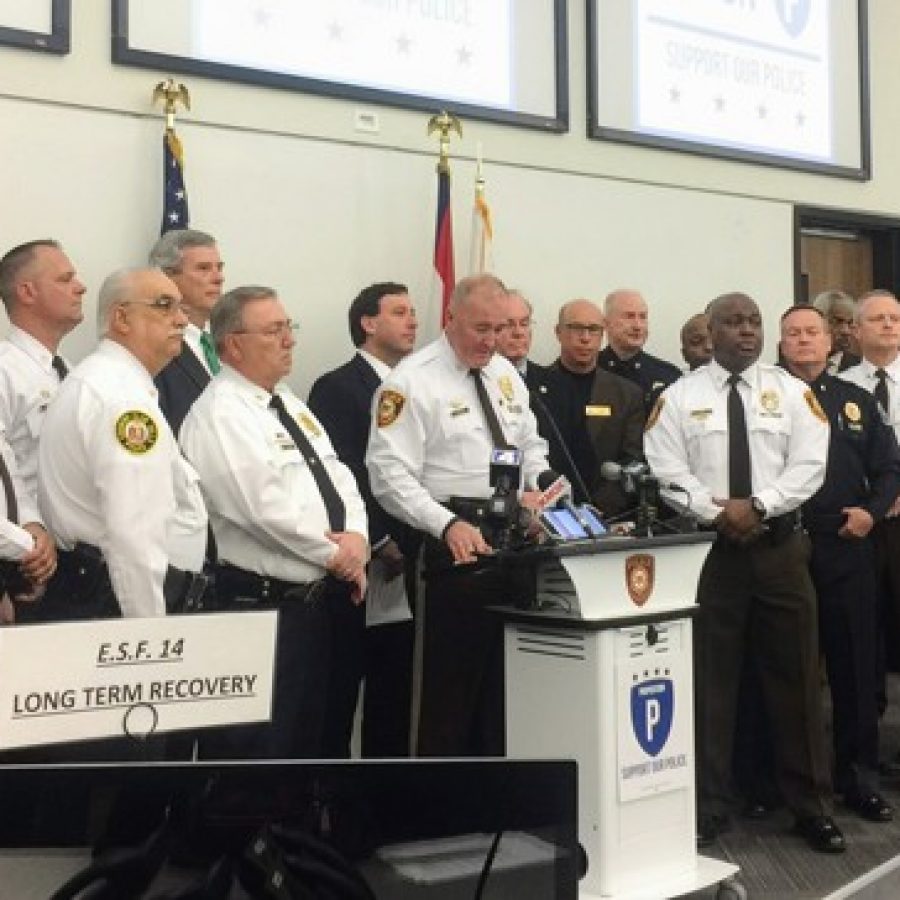 County Executive Steve Stenger and county police Chief Jon Belmar officially kicked off the campaign for the Proposition P public-safety sales-tax increase last week, but questions are already being raised about where the money would go.
"Proposition P will save lives," Belmar said at the official campaign kickoff at the county Emergency Management Center in Ballwin Feb. 8, surrounded by Stenger, county Prosecuting Attorney Robert McCulloch, Deputy Chief Kenneth Cox, precinct captains including Capt. Melissa Webb of the Affton Southwest Precinct and city police chiefs.
The countywide half-cent sales tax on the April 4 ballot would generate an estimated $80 million each year for "police and public safety," with $46 million to the St. Louis County Police Department and $34 million to every city in the county, divided by population.
Prop P gained its first official opposition the same day as its kickoff, when the St. Louis County Republican Central Committee voted to oppose the sales-tax increase primarily because there will be no official plan for how cities have to spend the money.
The county has not set out monetary specifics of its plan for the police tax, but Belmar "has a great plan to utilize these funds," Stenger said.
Belmar plans to use the money to raise salaries, recruit new officers, start using two-officer cars and add body cameras for every officer and dashboard cameras in every car. Other uses include training on peaceful resolutions, developing a computerized crime reporting system and keeping salaries competitive to attract the "best and the brightest," as Belmar says.
"Today is a great day for St. Louis County: Starting today, we, together, will make St. Louis County's neighborhoods more safe and our police officers more secure," Stenger said. "We've long been determined to enhance St. Louis County's policing, and Proposition P represents a coming together of the St. Louis County police, municipal police departments, Democrats, Republicans and community leaders throughout St. Louis County."
Two-officer patrol cars are a measure that "we know has saved lives and will protect our officers," Stenger said.
The County Council voted unanimously last fall to place Prop P on the ballot.
But county GOP committee members voted to unanimously oppose the sales-tax hike because not all cities have a plan for how they will use the extra money. At the same time, members unanimously endorsed pay raises for police and an "increase in police protection" in the county.