Union candidates prevail in Lindbergh
Majority of Lindbergh board comprised of union-backed members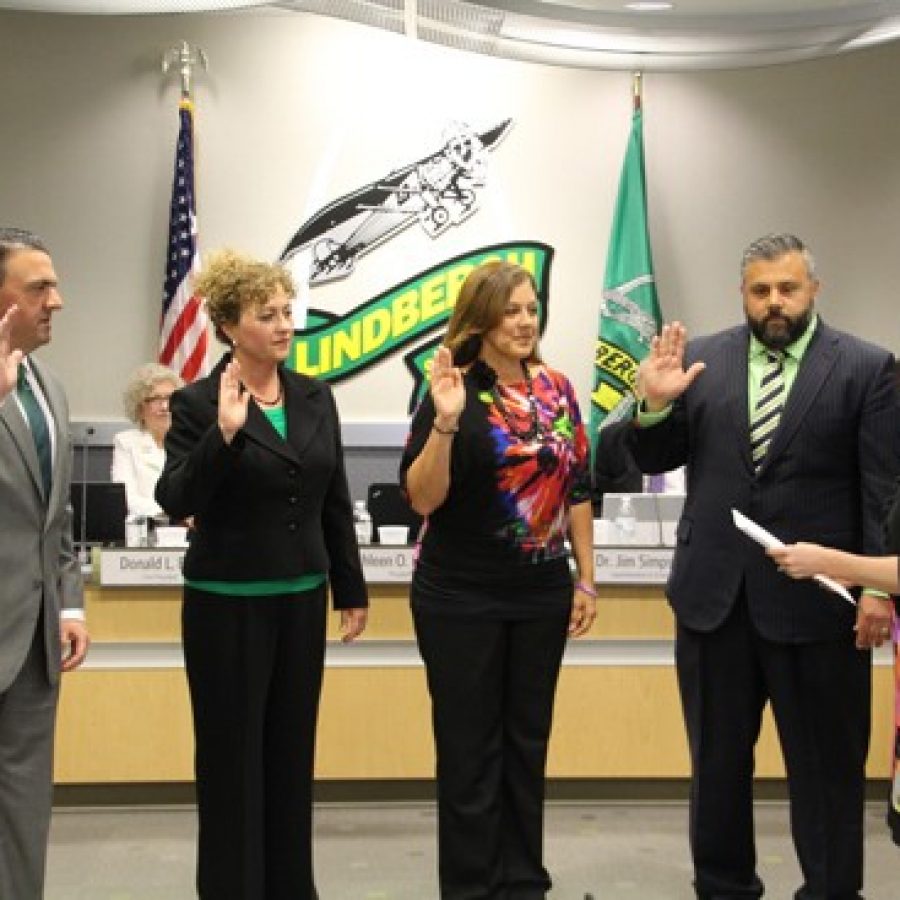 Lindbergh Schools voters completely overhauled the Board of Education last week, granting majority control of the board to a slate of teachers' union-backed candidates and ousting veteran board members, including the sitting board president.
With nine candidates seeking four seats, including seven for three three-year seats and two for a one-year seat, Cathy Carlock Lorenz was the top vote-getter for a three-year seat with 6,201 votes, or 20.52 percent.
Matt Alonzo came in second with 5,329 votes, or 17.63 percent, and Christy Watz came in next with 4,642 votes, for 15.36 percent. Voters ousted fourth-place finisher and incumbent board President Kathy Kienstra with 4,491 votes, or 14.86 percent, and incumbent board Treasurer Vicki Lorenz Englund with 4,402 votes, or 14.56 percent.
Challengers Jennifer Bird received 3,375 votes, or 11.17 percent, and Daniel Sampson received 1,703 votes, or 5.63 percent.
Mike Shamia won the race for the one-year seat with 6,089 votes, or 58.64 percent, compared to Martha Duchild's 4,250 votes, or 40.93 percent.
"It's a new/great day to be a Flyer!" Lorenz posted on Facebook the night of the election.
Although the results are not yet certified, the winning candidates were slated to be sworn in Tuesday night — after the Call went to press.
The winning slate came with a catchy slogan of who to vote for, "LAWS for Lindbergh" — Lorenz, Alonzo, Watz and Shamia.
With Jennifer Miller elected last year as a candidate backed by the Lindbergh National Education Association, or LNEA, five of the seven members now align with the union.
Helped by heavy 23-percent voter turnout in support of St. Louis County's Proposition P, the Lindbergh election was a stunning repudiation of the status quo, which over the last nine years under Superintendent Jim Simpson has led Lindbergh to top status among Missouri school districts and one of the country's hottest real-estate markets, while maintaining one of the lowest tax rates in St. Louis County.
It was also a striking turn away from the way the Lindbergh board has historically operated, with longevity and veteran board members typically prized by voters.
The election was a rare opportunity for an immediate takeover of the school board.
In a typical year, only two or three seats are up for grabs. However, due to the death last year of board member Kate Holloway too late for an election to be held, the board appointed Gary Ujka to a one-year seat. That seat is the one won by Shamia.
With Kienstra and Englund off the board, along with already-departing board members and longtime educators Don Bee and Ujka, the longest-serving member will be board Secretary Karen Schuster, who was first elected in 2012 and re-elected in 2015.
Her seat will be up for election next year.
The seven members of the new board will have just seven years of experience combined, compared to 34 years for the previous board — five for Schuster and a year each for Mike Tsichlis and Miller.
Kienstra was first elected in 2008 and served as president since 2013, when former board President Vic Lenz resigned to serve on the State Board of Education.
Typically, Lindbergh board officeholders have mentored their successors over a number of years until someone rises to the position of president, but among the new board, only Schuster has ever held an office.
Teacher pay has been an issue the last two years, and teachers are working to contract this year in objection to the pay raises they have received. Lindbergh High students staged a walkout and sit-in to support the teachers last May.
But the board, including Kienstra and Englund, refused to deficit spend to fund salaries as it struggled to balance hiring new teachers for surging enrollment with raises.
"We want to see the district make budgeting for teachers' salaries a priority," starting with the 2017-2018 budget that is set to be approved in June, LNEA President Kim Scronce said last year when she announced that teachers would work to contract.
"This decision should indicate how invalidated and underappreciated our teachers feel," Alonzo wrote in his Call candidate questionnaire. "Unfortunately, the administration and Board of Education forced teachers into a corner, leaving them with no other choice but to work contract-only."
Teachers waged a hard-hitting campaign on social media for the union-backed slate, including Facebook ads with the four candidates' pictures that stated, "It's about healing our community, not waging a war with teachers."
Three of the four elected candidates from "LAWS" have close ties to not just the union but directly to Lindbergh teachers or other school districts.
Shamia's wife, Meighan, is a Lindbergh teacher at Sappington Elementary School.
Parkway Middle School Assistant Principal Lorenz's sister Cindy is a Lindbergh teacher. Lorenz herself is a former Lindbergh High teacher. Their father, Philip D. Carlock, was a board member in the 1980s.
Alonzo is a teacher at Parkway North High School. During his campaign, he criticized Simpson for allegedly "making comments that belittle and undermine our students and staff." The board should place a tax-rate increase for teacher salaries before voters, he said in response to a Call questionnaire.
"Tonight, the future for the Lindbergh school district looks a little brighter!" Alonzo posted on his campaign Facebook page on election night. "I cannot say thank you enough to each and every one of you who have supported me through this process. This win is for you as much as it is for me."
Watz posted on her Facebook page, "I have heard this election was like no other in Lindbergh. There was real interest to get to know the candidates and real competition. In the end, I have to say after 'stretching out of my comfort zone' … I am ready to serve. It has been a great day in Lindbergh!! Change is here."
Noting that teachers had canvassed the district in favor of the slate, the Flyers Unite Facebook page posted the day of the election, "Lindbergh teachers have supported four people who will do great things for the district and involve the community, parents, teachers, and students in decision making."
Englund lost another race in November for the 96th District Missouri House seat against her frequent opponent Cloria Brown.
"Your love and devotion makes this Lindbergh school board loss a little less devastating," Englund wrote. "Congrats and good luck to yesterday's winners."