Two seek GOP nod for county's top post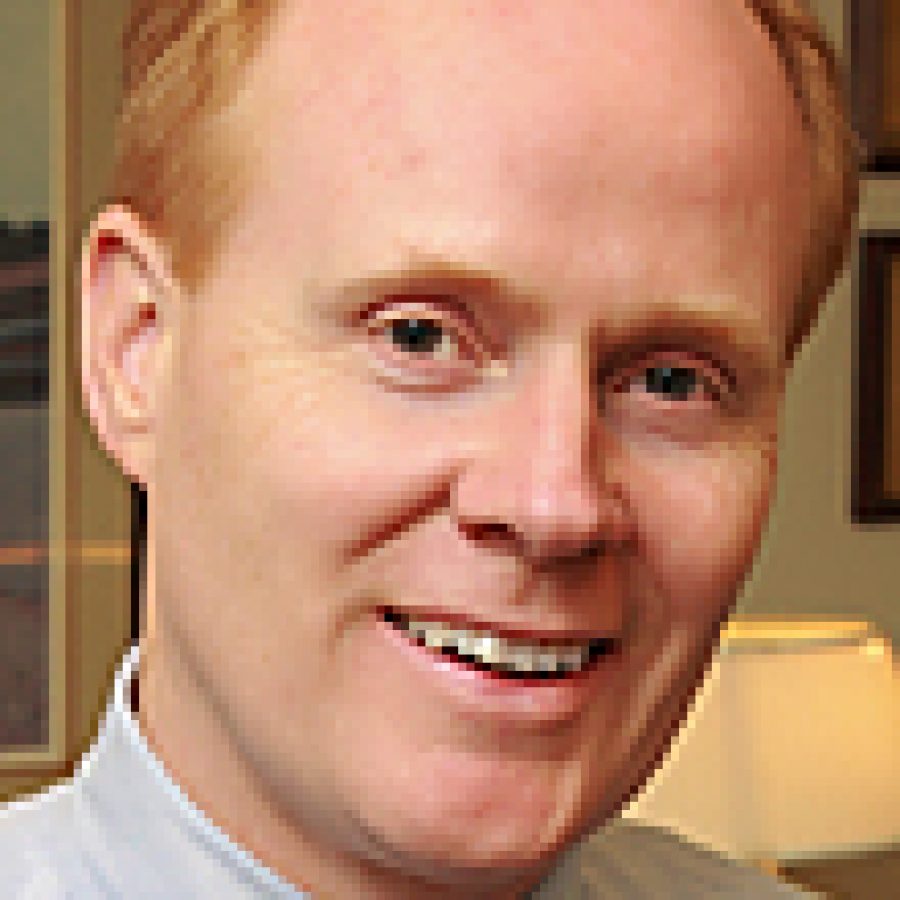 Two Republicans are vying for their party's nod for the county executive's post in next week's primary.
Bill Corrigan and Nick Farace are seeking the Republican nomination for the county executive's seat in Tuesday's primary. The winner will face the victor of the Democratic primary and Libertarian Theo "Ted" Brown Sr. in the November election.
Incumbent County Executive Charlie Dooley is being challenged by Ron Levy in Tuesday's Democratic primary.
Asked to identify the most important issue in the race, Corrigan said, "Job retention and creation. I will foster a collaborative, entrepreneurial spirit throughout the region and focus my efforts on attracting and retaining business, promoting private-sector jobs, collaborating with the outstanding research and educational facilities to retain innovation and talent and making government a better support system for economic growth."
Farace, a Florissant resident, did not respond to a Call questionnaire.
Corrigan, 51, 52 Godwin Lane, Ladue, is an attorney with Armstrong Teasdale. He and his wife, Ann, have two daughters.
Corrigan, who has not held elective office, said he is seeking the Republican nomination for the county executive's seat because "I've lived throughout our county and believe with the right leadership and vision we have everything it takes to turn St. Louis and the region into a center of economic growth and prosperity. I am a citizen with a passion for public service.
"I believe with my experience and leadership we can restore common-sense government to the county and engage the community in a way that can ignite job growth, tax reform and restore ethics to county government."
Corrigan gave the following responses to the Call's questionnaire:
What is your stance on Proposition 2, the charter amendment regarding an elected county assessor?
Corrigan said, "The county assessor should be an elected position. I established this position in June 2009 long before it be-came a general topic of discussion for the current administration. This issue should have been placed on the ballot years ago so the people of this county could make the decision themselves. Our property tax system is inconsistent and unfair, and I have created a total property tax reform plan that I will begin implementing on day one of my administration."
Do you agree with the County Council's 2001 decision to change its meetings to the evening from the afternoon?
Corrigan said, "Council meetings should occur when the meetings are the most convenient for county residents. I believe evenings, in general, are a good time for the people of the county. I would also be in favor of holding meetings at alternative times if that is helpful to citizens."
Do you support the trash-district program that has been established in St. Louis County?
Corrigan said, "I'm greatly concerned about the manner in which the trash-district program was established by the current administration.
"Because of the Dooley administration's actions, there are four separate lawsuits pending in the courts on this matter. Forcing the current program on residents without a vote is not serving the people."
What is your position on tax-increment financing and other tax tools?
Corrigan said, "For our region to grow, we must use every reasonable tool available. We need to jump start our local economy in a way that ensures economic stability for the long-term future. I believe we need to work more collaboratively with the 91 municipalities, regional and state government leaders to create economic incentives that are good for everyone.
"We shouldn't be competing against each other for economic growth. We should be working together to attract and retain businesses in the region and across the state."
Would you support an increase in the county's tax rate? If the choice was cutting services or increasing the tax rate, which would you support?
Corrigan said, "We must find a way to live within our means and still provide the essential services all residents rightfully expect. I will apply common-sense principles to managing the people's budget, just like citizens do when they manage their household budget. Government can't be all things to all people.
"It's time government lives within its means, particularly in tough economic times like we are currently experience."
What measures, if any, will you propose to encourage economic development in this area?
Corrigan said, "We must work collaboratively for our region to succeed. We need to attract talent to our area while keeping the talent we currently possess. We need to promote the strengths of our region, such as our biotech industry and attract venture capital funding to increase innovation and entrepreneurism.
"We need to work more collaboratively with regional educational facilities to retain talent and innovation. We need to become a center of innovation for the Midwest. I have developed a comprehensive, multipoint economic development plan that I will be unveiling later this summer."
What is your position on incorporation?
Corrigan said, "I think it's important to ensure that citizens across the county have a voice in their county governments, whether they have incorporated status or not. I would welcome and encourage all citizens to get involved in their county government.
"There are many opportunities for the 91 municipalities and the unincorporated areas to work more collaboratively together to promote economic growth, create taxpayer savings and enhance the quality of essential services, et cetera. Whether a community chooses to incorporate doesn't change the fact that citizens are important to me and that they have a strong advocate in me when I'm elected county executive."
What will you do to encourage the expansion of MetroLink to south county?
Corrigan said, "Public transportation is vital to the growth of our region. I believe if we are going to commit to a strong public transportation system, we need to ensure that all communities have access to its benefits in a way that is fair and fiscally responsible.
"I commit to working with the MetroLink leadership to put together a plan that is based on fiscally responsible, common-sense solution. I commit to having this plan completed by the end of 2011."