Thief cuts hole in roof to rob South County Church's Chicken
A thief went to great lengths to try to steal from both South County Church's Chicken restaurants, even cutting a hole in one of the fast-food restaurant's roofs in order to get inside.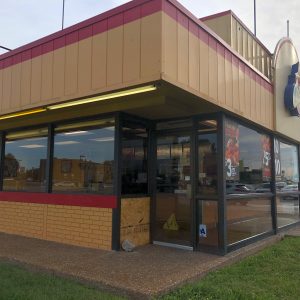 St. Louis County prosecutors charged Aaron Lewis, 27, Wednesday with two counts of second-degree burglary and stealing $750 or more for a theft and attempted theft at each of South County's Church's Chicken restaurants.  The St. Louis County Police Department does not yet have a mugshot to release of Lewis because he is currently in the custody of another agency.
The Church's Chicken at 5720 S. Lindbergh Blvd. in Green Park was the site of a destruction-of-property call Aug. 20, with the attempted break-in discovered and police called about 1:34 a.m., police said.
Detectives found that someone threw a piece of concrete at the Church's front window, shattering it, but not enough to allow them to get into the fast-food restaurant.
The next week, a thief tried to break into the Church's Chicken location at 1200 Lemay Ferry Road, this time by cutting a hole in the roof to gain entry.
Police were called to investigate at 8:40 a.m. Aug. 29, when the break-in was discovered.
The thief stole money from inside, but police did not say how much more than $750 it was.
The Church's Chicken in Green Park is located directly on Lin Ferry Drive, where a series of other overnight burglaries happened in July.
It still has a boarded-up area of its window with a rock next to it outside, but it was unclear if that was the damage from the attempted August break-in.