Sunset Hills panel recommends plan by Despotis be rejected
Attorney for developer believes Despotis would have strong court case for rezoning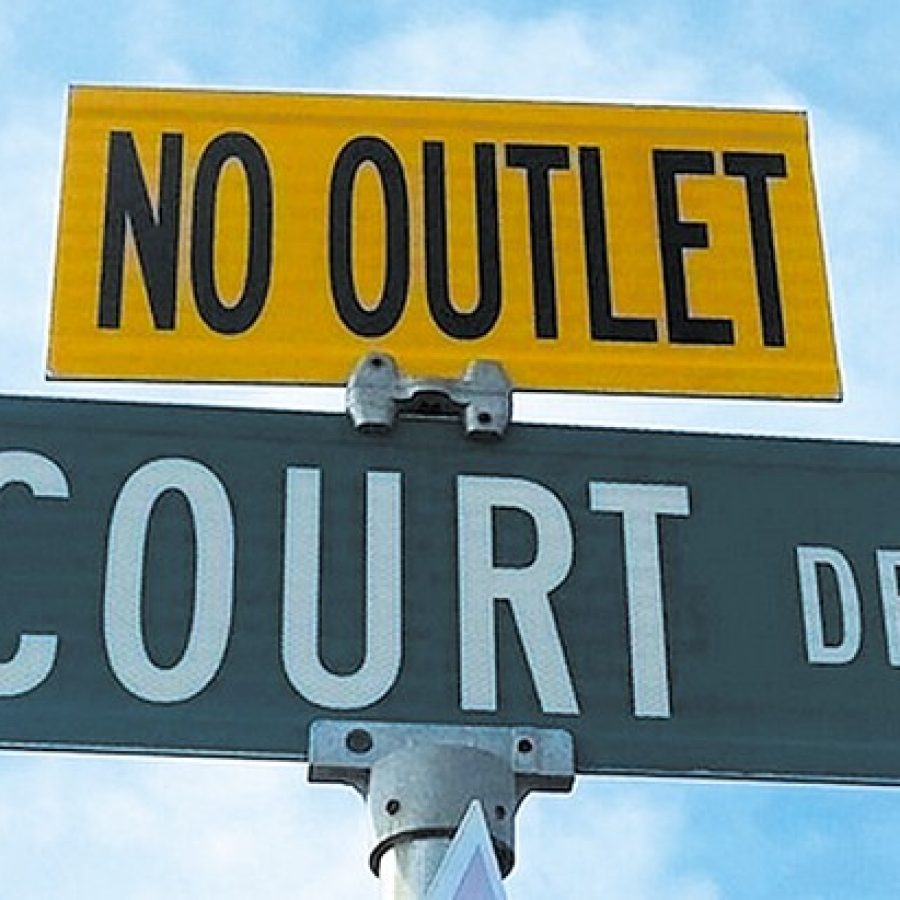 The Sunset Hills Planning and Zoning Commission voted last week to recommend that the Board of Aldermen reject a commercial development proposed near Court Drive and West Watson Road.
Dr. George Despotis' proposal seeks to construct a credit union with drive-up windows and an ATM on a 1.91-acre tract at the northwest corner of West Watson Road and South Lindbergh Boulevard.
The Planning and Zoning Commission voted 7-1 April 6 to recommend against Despotis' request for a zoning change to PD-LC(B) Planned Development-Limited Commercial from R-2 Single-Family Residential at 12405, 12411 and 12417 W. Watson Road.
Opposed to the zoning change were Chairman Pat Otto and commission members Joseph Niemeyer, Tom Ortmann, Terry Beiter, Al Koller, Tom Lynch and Dan Werner. Commission member Steve Young voted in favor of the zoning change. Members Bill Hopfinger and Roger Kaiser were absent.
The commission also voted 7-1, with Young in favor, to recommend the Board of Aldermen reject a preliminary development plan submitted by Despotis for the site.
Despotis was represented by Richard Randall of Pace Properties, Jim Hall of Hall + Associates and zoning attorney John King.
If the proposal ultimately is rejected by the Board of Aldermen, King told the commission that he believes Despotis would have a strong case in court to force the city to rezone the site to commercial from residential.
By consensus, the commission last month unanimously rejected Despotis' "concept plan" for the same development.
Randall, who said he represents the Olga Despotis Trust and seven other property owners, last month proposed a 4.5-acre commercial development in which the first phase would be the construction of a First Community Credit Union.
Hall noted that the proposal had changed since the concept plan was presented, including reducing the size of the one-story building by roughly 30 percent to just over 4,200 square feet from 6,300 square feet. The plan still incorporates a 50-foot-wide landscape buffer on the west side of the site, while only a 20-foot buffer is required.
During a period for public comment, eight speakers said they opposed Despotis' proposal.
Resident Mike Courtois told the commission that some city officials have characterized "what is being proposed on Court Drive is just an example of capitalism at work."
He continued, "… What I see going on I think can be nicely – is nicely spelled out in any dictionary with the definition, this one's from Webster's, it says … 'Outsiders, especially nonresidents or new residents who seek private gain from an area, often a distressed area, by meddling in its business or politics.' That's not the definition of capitalism. That is the strict definition of carpetbagging. I think these developers have no stake or interest in our community, other than as an opportunity for making money and to swoop in on a neighborhood after it's been devastated by an act of God, in my opinion is contemptible …"
Before the period for public comment, Young said, "I know you guys are aware of the extreme resistance to having anything but residential there … I'm on public record as (saying) I think your proposal is very good. You've tried to satisfy and get as close to the ideal development on that piece of property as you can. It's low density. It's one story — tremendous buffer. I mean, you did a really nice job, but I'm curious of the endgame …"
Randall said, "Well, we'd love for you to approve the plan. I'm not sure that will happen. But we will take it to the (Board of Aldermen) because, again, I've made a commitment to these homeowners, property owners, that I would take it through to the end and either get a final rejection by the Board of Aldermen or a 'yes,' and the end of the game after that, really my job is done. Maybe Mr. King will have to pick up at that point, depending on the outcome …"
For the process to proceed, King said the Planning and Zoning Commission and the Board of Aldermen must consider the plan.
"I daresay I don't have any doubt what's going to happen here in this matter. It appears to me that it's going to be, without any question, a denial by the planning commission, and I'm not going to say that about the (board) …," he said, adding that he has not talked to any aldermen about the matter. "I would assume that if this commission denies it that the (board) also will deny it. But we have to fulfill those two obligations before we can file suit and go forward in the way of a lawsuit …"
King said he believes Despotis would have a strong case in court, noting Chicago-based Houseal Lavigne Associates, the firm hired by the city to formulate the city's new comprehensive plan, recommended the Court Drive area be considered for commercial development.
"Yes, we disagreed and had them take it out," Otto told King.
King replied, "… We think that that gives us a pretty fair shot at getting it zoned (commercial) … because you've had an expert you paid for who said that this should be commercial."
He later said that neighborhood opposition to a proposal is not the basis on which zoning decisions are made.
"… That's not the criteria by which you zone property … It's what's the highest and best possible use …," King said.
But Beiter, who has an extensive planning background, said he believes it's appropriate for the commission to also consider market conditions. He cited Houseal Lavigne's comprehensive plan draft, which found the metropolitan region, particularly St. Louis County, is fully saturated by retail operations.
"The Sunset Hills market, both its local market defined in 5- and 10-minute drive times and its larger regional market defined in 15-minute drive times, is oversupplied in virtually every retail category," the draft plan states.
"So I don't understand why commercial would be appropriate on this site. I know it's a bank … but I don't know how the rest of it will be developed and neither do you," Beiter said.
"I don't either … but that's not before you …," King replied.