Sunday Night Lights brings football fun so children with cancer can live their dreams
By Jessica Belle Kramer
For the Call
Every year, Sunday Night Lights brings the Lindbergh Schools community together to support children battling cancer and other serious diseases. The event allows children to live their dreams of being a varsity football player, cheerleader, dancer or marching band member alongside their high-school buddies.
The annual event takes place this year Sunday, Oct. 13, at Lindbergh High School, 5000 S. Lindbergh Blvd.
Gates open to the public at 5:45 p.m. Guests can enjoy a full concession stand run by Student Council members, pregame festivities and the parade of hero athletes. A game of flag football happens after the main event.
The event is free for the participating children. Sunday Night Lights is a volunteer-based not-for-profit organization. The organization runs on donations and volunteers from the community. For more information about volunteering or donating, visit sundaynightlights.net.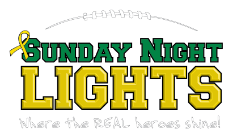 Sunday Night Lights was first organized in 2010 after Lindbergh High School freshman Jake Franzel was diagnosed with osteosarcoma, a form of bone cancer, in an effort to unite the Lindbergh community.
Sunday Night Lights was born, and it allowed Jake to fulfill his dream of playing varsity football "under the lights."
"Through (Jake), we understood that so many other kids have that same type of dream," Sunday Night Lights President Lori Krueger told the Crestwood-Sunset Hills Kiwanis Club this summer about the program.
Through Sunday Night Lights, children and their families can receive the same support Jake and his family did in their time of need.
Participants get an opportunity to live their dream on the field with the support of the entire Lindbergh community.
"When we posed our idea to the Lindbergh students, they just stepped up to the plate in a way that just takes your breath away," Krueger said. "(Students) are each buddied up with a Sunday Night Lights participant. They help, they encourage, they welcome, and they support this buddy participant on the field."
For student volunteers, the night is also a unique opportunity to make a difference.
"I get to go out and do band every Friday night," Lindbergh 2015 graduate and volunteer Amy Steinke-Maier said. "But these kids don't get to do that. As a kid, this is all they've dreamed of… These little kids are amazing. You can see in the light in their eyes that this night is not about cancer, it's not about their illness."
Donations go toward the costs of organizing the event. For example, this year several community businesses are donating so Sunday Night Lights can provide new jerseys for the participants that they can wear and take home after the game, Krueger said.
It takes the entire student body, staff member, coaches, faculty, support staff and community members working behind the scenes to bring Sunday Night Lights to life, Krueger said.
"This is an opportunity for the community to come together to raise awareness of what children with cancer and other serious illnesses are going through in their daily (lives)."