STRETCH students become puppet masters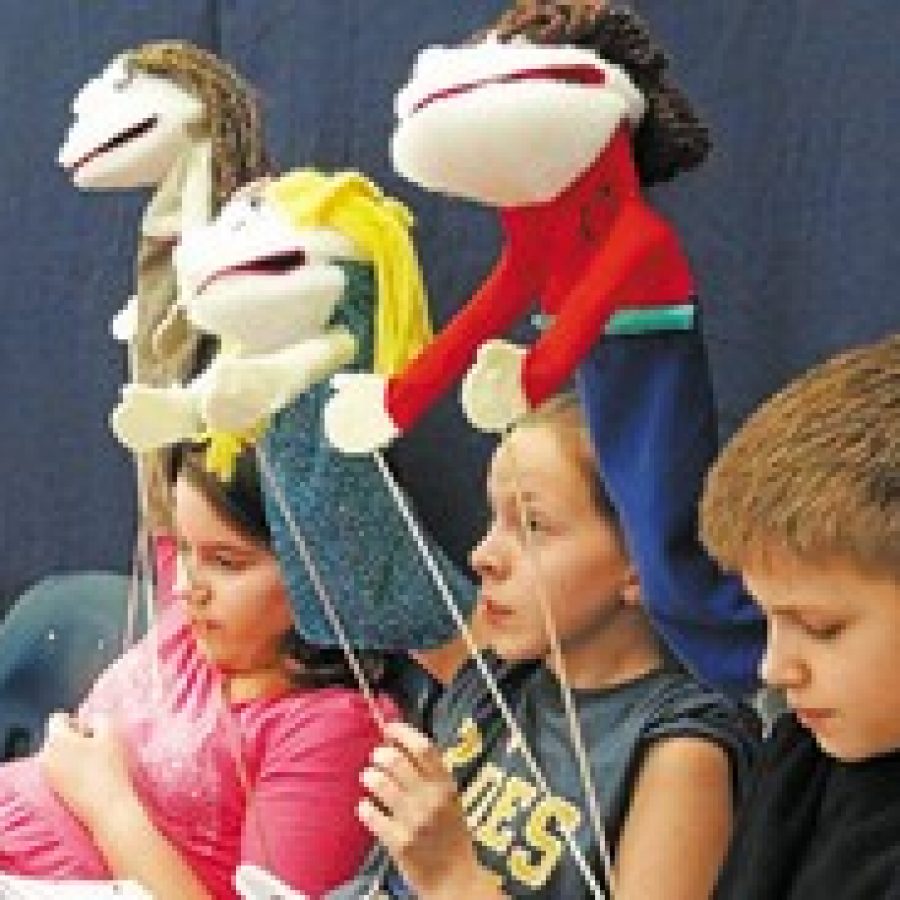 Fifth-grade students in Mehlville School District's gifted program, Supplementary Teaching Resources for Educationally Talented Children, or STRECH, worked for weeks on a play demonstrating the benefits of service.
STRETCH Exploration Teacher Linda Kernen said the production was part of a puppetry unit titled Stringing Together the Arts.
"The kids are assembling the most complex puppet," Kernen stated in a news release. "They've learned about all kinds — hand, rod, string, marionette. Now they've completed their hand and rod puppet, similar to Kermit the Frog Muppet Puppets. And they were using those to present a play we call 'Service Anyone?' so students can learn about the character word 'service.' We wanted to tie it to the character education component we have in the Mehlville School District."
Kernen said students worked on the production for about three weeks, and there was a lot going on behind the curtain.
"It's fun to watch them figure out how to get on and off the stage," Kernen stated, "and how to cooperate and make room for others."
Fifth-grade STRETCH student Ryan Dunham said, "I was a back-up singer in the play, and we got into the music so we were dancing. It's creative and fun."
STRETCH student Alex Mittendorf said play production is tiring.
"It's hard to hold your hand straight up for that long," Alex stated. "You can't put your arm down unless there are singers or dancers on the stage and you have to make sure your arm is all the way up."
"I was Morel the Mushroom in the play," STRETCH Student Lindsey Marshall stated. "We're learning that just because you don't get paid to do something doesn't mean you shouldn't do it."
STRETCH student Josie Fisher played Michelle, the character looking for service.
"You have to have a lot of expression, because she was kind of bossy," Josie stated. "I brought my script home a lot to practice."
Kernen gave the effort good reviews.
"Academically we're working on the creative aspect of our program," she stated. "This group has done just a phenomenal job creatively."