Stenger's time reduced from four years to two years, a month into his sentence
By Gloria Lloyd
News Editor
glorialloyd@callnewspapers.com
A month into former St. Louis County Executive Steve Stenger's federal prison sentence, his expected time behind bars has dropped from four years to two years.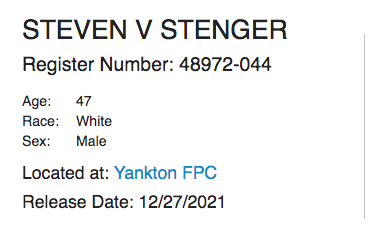 Stenger was sentenced to 46 months in prison and reported Sept. 23 to start serving his time at the federal prison camp in Yankton, South Dakota. At that time, the Federal Bureau of Prisons' inmate locator said his release date was "unknown." If serving all his time, that would have been July 2023.
But inmate records updated last week show Stenger's expected time of release as Dec. 27, 2021. Instead of a little under four years, that would mean Stenger would serve a little over two years.
It was unclear how the sentence was nearly immediately halved, other than Stenger's acceptance into the federal prison system's Residential Drug Abuse Program, or RDAP, for treatment of alcohol abuse. Successful completion of the program can take a year off a sentence.
At Stenger's sentencing in August, U.S. District Judge Catherine D. Perry did not agree to recommend him for RDAP because, even though she frequently makes such recommendations for defendants, she didn't believe his alcohol abuse rose to the level that required treatment. Instead, she said she would let the BOP decide.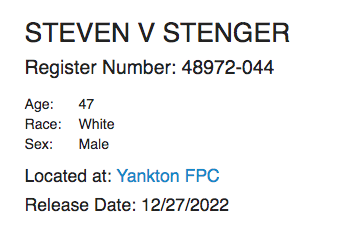 "There's obviously no indication of drug abuse, of illegal drug abuse, but there is an indication of alcohol," Perry said. "I simply don't think that this defendant is in need of that program, so I'm not going to recommend it."
A BOP spokesperson said they will not comment on specific inmates, but said Stenger's time was properly calculated and that under a new law, inmates can get 54 days a year off for good behavior. He will also spend six months in a halfway house.