Stenger to take oath of office as county executive
Retiring Councilman Quinn named director of revenue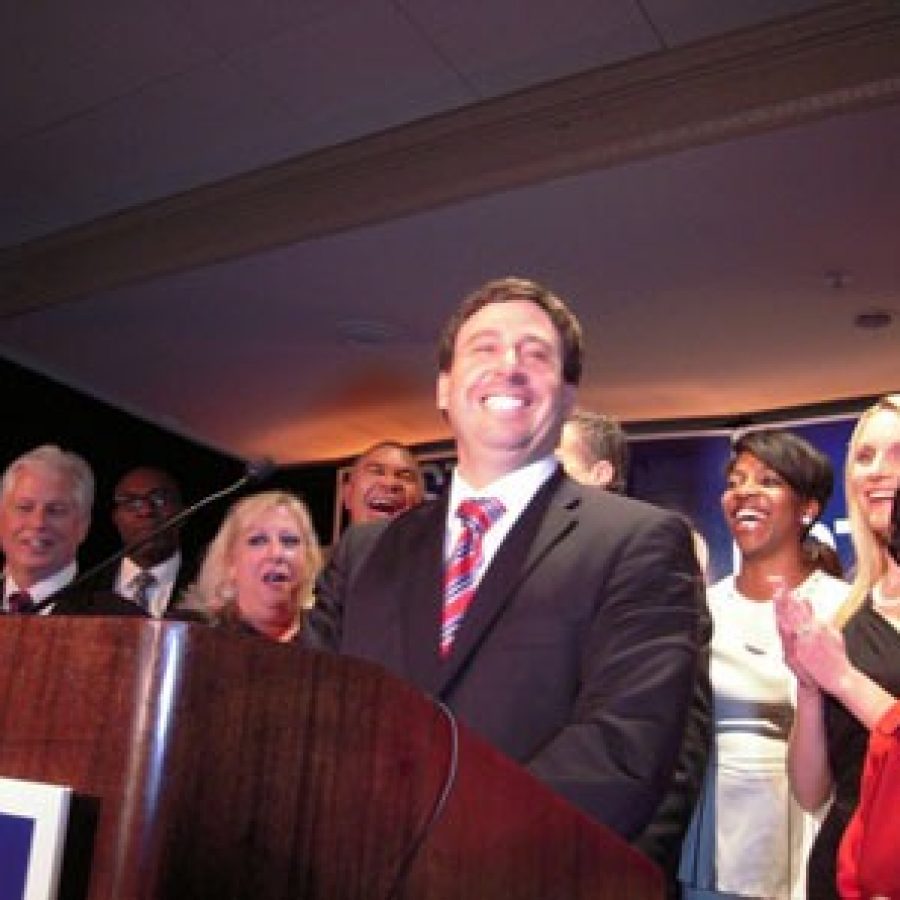 County government will look very different starting today — Thursday, Jan. 1 — when 6th District County Councilman Steve Stenger, D-Affton, will be sworn in as the new county executive, ending the 11-year tenure of his predecessor, Charlie Dooley.
Stenger will take the oath of office at noon today in Clayton.
Among the changes Stenger promises he will bring to Clayton, the incoming county executive told the Call that accountability, diversity, bipartisanship and merit will be the hallmarks of his administration, a "government we can all be proud of," instead of political patronage and scandals.
"All the people who made the bad headlines for Charlie and the county, they're all gone," said Stenger, 42. "The department heads that posed, really, the most problems to taxpayers were either asked to leave by me — or, knowing that I was coming, they left on their own."
So far, some of Stenger's key appointments to fill prominent county positions long held by Dooley's political appointees have been Republicans, including the new director of revenue, 7th District Councilman Greg Quinn, R-Ballwin.
After 23 years, Quinn, 65, is retiring as the longest-serving member of the County Council in history. He will be replaced today by Ballwin Alderman Mark Harder, who defeated Ellisville Mayor Adam Paul in the heavily Republican district's primary.
"Greg is the perfect person for that job," Stenger told the Call. "It's a job that requires a lot of integrity, it requires transparency, accountability — I really wanted to find somebody who could be a taxpayer watchdog, and you really couldn't find anyone better than Greg Quinn."
For decades on the council, Quinn has been viewed as the member most likely to vote against contracts or bids that he believes are not in the interest of taxpayers, as recently as his last meeting Dec. 16, when he was the sole dissent against a contract for $1.2 million in improvements to Forder Road. In recent years, Quinn and Stenger anchored a bipartisan alliance that united the majority of the council against many Dooley initiatives, including a 2011 attempt to raise property-tax rates and close half the county parks.
"That was probably my biggest accomplishment on the council," Stenger said. "And I did a lot of that with Greg Quinn."
Although the vast majority of department heads will be leaving, some will stay if a "careful analysis" of their service merits it, Stenger noted. One of the few left standing will be Department of Planning Director Glenn Powers, who has helmed the department for decades.
Many of the departing Dooley allies are familiar faces from county government dating back decades, to former County Executive Buzz Westfall's administration.
Besides Director of Revenue Eugene Leung, those leaving include Chief Operating Officer Garry Earls, County Counselor Pat Redington, Dooley's top adviser Mike Jones, South County Liaison Jonathan Boesch, county spokeswoman Pat Washington, Children's Services Fund Director Julie Leicht, Director of Procurement Rebecca Howe and acting Parks Director Tom Ott. Department of Highways and Traffic Director Sheryl Hodges and Department of Health Director Dolores Gunn announced their retirements soon after Stenger won the Nov. 4 election against Rep. Rick Stream, R-Kirkwood.
At various times Stenger has knocked heads with all of the above. He came to the council in 2009, already criticizing Earls and Redington over the county's trash districts. He publicly asked Earls to resign after health department Director of Administration Edward Mueth embezzled $3.5 million through county contracts and killed himself under what Stenger said was mismanagement and lack of oversight from Earls and Gunn. He condemned the Children's Service Fund for amassing an $80 million surplus when, Stenger said, children in north county and elsewhere are in need of its funds.
Although Leung escaped much of the public criticism his colleagues received over the past few years, his most prominent misstep came in 2012 when he hired a collector of revenue, Stacey Bailey, who was four years behind on paying her own county taxes. Bailey resigned as tax collector amid the ensuing uproar.
To prevent a repeat of that scenario or of Mueth's fraud, new and current county appointees will be required to undergo a background check to make sure they have paid their taxes, do not have a criminal record and are financially stable, Stenger noted.
Of the employees Stenger asked to leave, he specifically singled out Director of Procurement Howe. Howe oversaw the county's bids for trash hauling and played a part in looking into a subcontract that went to a company owned by then-Police Board Chairman Gregory Sansone for the police crime laboratory, as well as a role in the contracts and oversight surrounding the Mueth embezzlement from the health department, Stenger said.
In some cases, interim department heads will take over while the county conducts national searches for replacements.
Stenger tapped former television anchor Cordell Whitlock as the county's communication director and Mike Chapman as the county's director of operations, a position analogous to the position held by Earls.
Chapman is currently the legislative assistant for 3rd District Councilwoman Colleen Wasinger, R-Town and Country, and he previously served in positions with the federal government and as former Gov. Matt Blunt's homeland security director.
"I made a really careful analysis, and I did not let politics enter into my decision process in any way," Stenger said of the positions, which historically have often gone to campaign supporters of the county executive.
The Stenger transition team ran into some stumbling blocks in communication with Dooley, who appointed Earls as his point man for the transition. Stenger appointed former 6th District Councilman Jeff Wagener, D-Oakville, to serve as his representative in the few discussions that took place, Stenger said. While Stenger said personal conversations with Dooley during the transition might have sped things up, the Stenger team handled the transition on its own, and "St. Louis County will be up and running in fine fashion Jan. 1," Stenger said.
Just as Dooley did when he moved from 1st District councilman to county executive in the last county transition, following Westfall's death in office in 2003, Stenger will resign from the 6th District council seat he has held since 2009 after he is sworn in as county executive. By law, council members are prohibited from holding other elected offices.
The new 6th District representative will be elected by voters from candidates nominated by the district's Democratic and Republican township committees. That could happen as soon as the April municipal election, although the council determines when the special election will occur.