By Gloria Lloyd
News Editor
glorialloyd@callnewspapers.com
Former County Executive Steve Stenger pleaded guilty Friday to three federal corruption charges, agreeing to a plea deal with a recommended sentence of three to five years in prison. He will be sentenced Aug. 9 by U.S. District Judge Catherine Perry.
"Guilty, Your Honor," Stenger told Perry in a courtroom on the 14th floor at the Thomas F. Eagleton United States Courthouse in downtown St. Louis, where he used to practice law as a criminal defense attorney.
It was a bookend to a wild week in St. Louis County government: An indictment was unsealed Monday morning that had been handed down April 25 by a federal grand jury outlining charges of theft of honest services, bribery and mail fraud. Stenger resigned minutes later. He pleaded not guilty at his arraignment later that day and gave up his law license.
But with his attorney Scott Rosenblum at his side Friday morning, the man who had been county executive just a week earlier signed a guilty plea agreement before the court hearing acknowledging that everything in the 44-page indictment is true. Stenger admitted masterminding a pay-to-play scheme to land county contracts for his campaign donors, in exchange for their contributions to his campaign.
Stenger remains free on bond. As he walked out of the courthouse with Rosenblum to Stenger's Chevy Tahoe waiting at the curb, Rosenblum said the disgraced county executive would not answer any questions.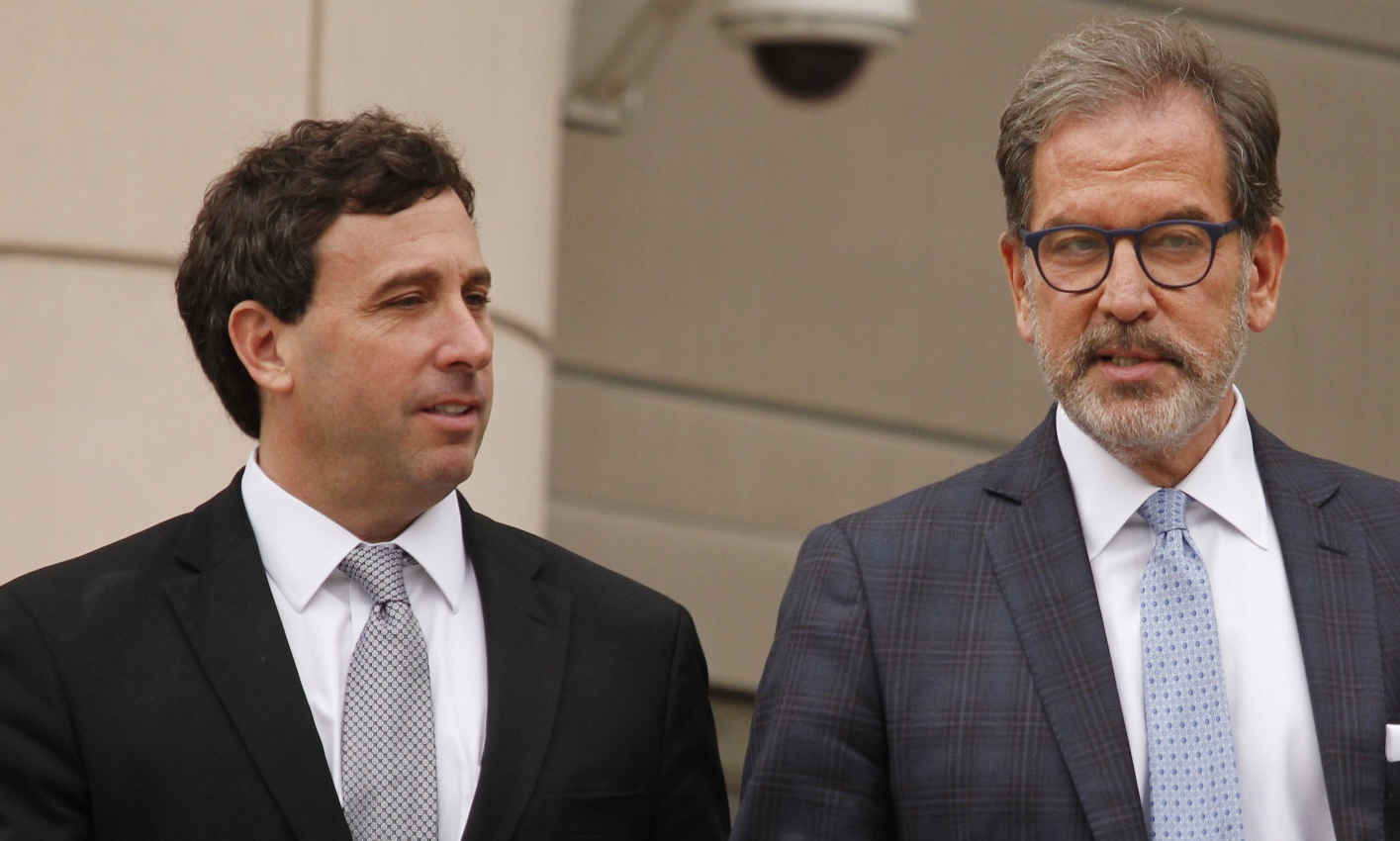 "Obviously today was a very difficult day for Steve and his family," Rosenblum said. "On the other side, Steve has many, many things of which he's very proud, especially in his role as a private lawyer and the countless individuals he's helped. Today obviously is not one of his most proud moments, but he has completely accepted responsibility for his mistakes in judgment, lapses in judgment, for his conduct while in office as county executive."
Stenger, a Democrat who began his political career as the 6th District County Councilman for South County, was first elected county executive in 2014 and again last year. As Stenger and Rosenblum got into the Tahoe, a woman from University City yelled at him, "You're guilty! I knew it! I voted for you! And you betrayed me and all the people."
Perry outlined the sentencing agreements contained in the 14-page plea agreement: Stenger's crimes started with a level 7 according to sentencing guidelines. Prosecutors added 12 because the offense was more than $350,000, added three because he was in a management position and was over five or more employees, added two because he violated the public trust and took three levels off because he accepted responsibility.
According to federal sentencing guidelines, that amounts to 37 months to 46 months in prison, around three to four years.
Perry is not bound by the agreement and could go above or below. She specifically said Stenger can object if she goes above the guidelines, and federal prosecutors can object if she goes below.
"I'm not bound by these agreements," she noted.
Two of Stenger's sisters, his brother Pete and his sister-in-law came to court to support Stenger, and he glanced over at his family at one point before the hearing started. His wife, Allison, did not attend.
The federal prosecutor overseeing the case, Assistant U.S. Attorney Hal Goldsmith, outlined for Perry all the evidence in the indictment.
Under the plea agreement, prosecutors will not charge Stenger for anything else they already have evidence for that happened between October 2014 and May 3, 2019.
After Goldsmith recited how prosecutors obtained thousands of text messages and hours of recorded conversations at Stenger's office and at his house, the judge quoted part of the plea agreement: "'The defendant admits and acknowledges as true all evidence.' Is that true?"
"Yes, Your Honor," Stenger replied.
She noted that as a convicted felon after pleading guilty, he would lose certain civil rights, including owning a gun and possibly losing the right to vote, run for office or sit on a jury. Stenger said he understood the consequences.
The former county executive gave up his right to appeal and promised to pay "full restitution" for all the charges, although he could contest the exact amount.
This is a developing story. Check back for updates.