Stenger is disbarred ahead of sentencing
Pictured above: Former St. Louis County Executive Steve Stenger exits the Thomas F. Eagleton U.S. Courthouse in downtown St. Louis May 3 after pleading guilty to three charges of theft of honest services/bribery and mail fraud. Stenger initially pleaded not guilty to the charges at an arraignment Monday, April 29, after an April 25 indictment was unsealed that morning, prompting Stenger to resign as county executive minutes later. Photo by Erin Achenbach.
By Gloria Lloyd
News Editor
glorialloyd@callnewspapers.com 
Former County Executive Steve Stenger, who touted his credentials as an attorney and CPA to get elected, is officially no longer a lawyer following his conviction on federal corruption charges.
Stenger's former Chief of Staff Bill Miller was also disbarred in July after pleading guilty in the pay-to-play scheme.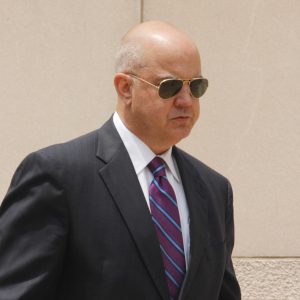 The former county executive was disbarred by the Missouri Supreme Court May 28, after voluntarily sending in an application to surrender his law license as part of his plea deal. He graduated from St. Louis University School of Law and had practiced as an attorney since Oct. 4, 1996.
Miller was disbarred by the Supreme Court July 9, after also voluntarily submitting a petition to surrender his license as part of his own plea deal.
Stenger filed a petition with the highest court in the state to voluntarily surrender his license the same day he pleaded guilty to three felony charges of bribery, theft of honest services and mail fraud May 3. He resigned as county executive April 29, just after an April 25 federal grand jury indictment went public.
The former county executive will be sentenced Aug. 9 and could face three to four years in prison.
"It is further ordered that the name of Steven V. Stenger be stricken from the roll of attorneys in this state, that he be disbarred, and that his right and license to practice law in this state is hereby terminated," the Supreme Court ruled en banc.
Chief Disciplinary Counsel Alan Pratzel said Stenger violated rules for attorneys by "committing a criminal act that reflects adversely on Applicant's honesty, trustworthiness and fitness as a lawyer"; "engaging in conduct involving dishonesty, fraud, deceit or misrepresentation"; "engaging in conduct prejudicial to the administration of justice"; and "stating or implying an ability to influence improperly a government agency or official."
Pratzel wrote in his report to the Supreme Court that "it is in the best interests of both the profession and the public" that Stenger no longer be allowed to practice law.
Stenger's frequent opponent on the County Council, Presiding Officer Ernie Trakas, is also an attorney. The two frequently quarreled about what the county Charter legally said the council and county executive could or could not do.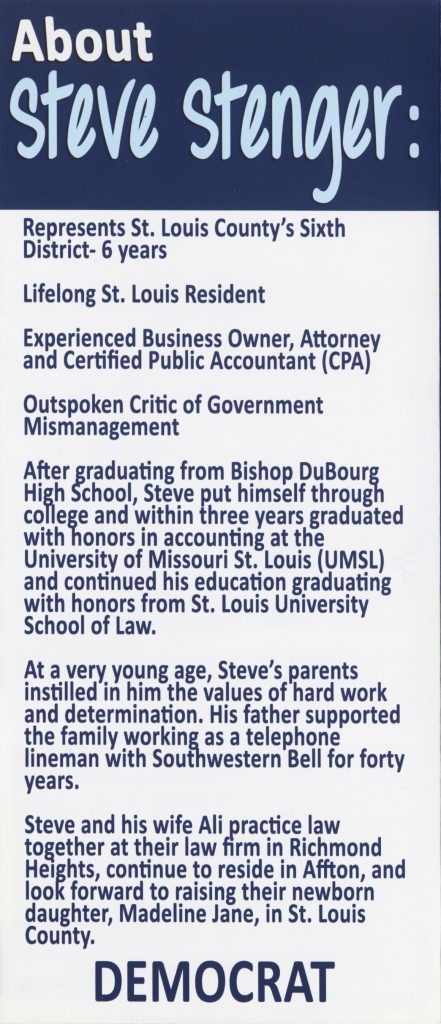 "You spend frankly an entire working lifetime pursuing that. So any time that's taken away, it's significant and likely devastating," Trakas said. "That's why professional individuals, whether they're doctors, lawyers, accountants, all have ethical rules and guidelines we have to abide by, and when you don't, there are consequences. I feel for him in that sense, but at the end of the day, we're all accountable for our actions… It's just a sad, sad part of the whole affair."
Stenger was a partner in his law firm Klar, Izsak & Stenger, where his wife Ali is now a partner. But he said he had no legal clients while county executive.
The order to disbar Stenger took 15 days to go into effect. Stenger's attorney turned in the law license by mailing it May 10, with court records noting what happened to it: "License Placed in Bin 1033."
In his petition, Stenger asked, "The undersigned respectfully requests that if this Voluntary Surrender is accepted by the Court then any order entered set forth a time within which Applicant may seek reinstatement as permitted…."
Under state law, a disbarred lawyer can come back into practice if they serve any punishment, are accepted back by the Supreme Court and retake the bar exam.
But the Supreme Court order did not mention any possibility or timeframe for Stenger to get his law license back.
And at the same time the court issued its ruling disbarring Stenger, it entered a note in court records: "License defaced."