Stenger accomplice John Rallo pleads guilty in federal corruption case
By Gloria Lloyd
News Editor
glorialloyd@callnewspapers.com
The businessman at the center of the pay-to-play federal corruption case that engulfed former St. Louis County Executive Steve Stenger pleaded guilty to bribery Tuesday and will likely serve time in prison.
John Rallo, 53, formerly of St. Louis County and currently from Utah, pleaded guilty to three counts of honest services mail fraud/bribery. Rallo donated to Stenger and recruited others to donate to him on the explicit promise of receiving lucrative county contracts in return, the businessman admitted in the 17th-floor courtroom of U.S. District Judge Richard Webber at the Thomas F. Eagleton U.S. Courthouse in downtown St. Louis.
"Are you pleading guilty because you believe you are guilty?" Webber asked Rallo.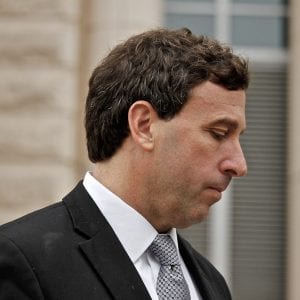 Rallo replied, "I am, Your Honor."
Webber accepted Rallo's guilty plea and set sentencing for Oct. 15.
Under the plea deal, prosecutors and Rallo calculate his crimes at a level 16 under federal sentencing guidelines, which would mean a prison term between 21 to 27 months if Rallo has no criminal history. Webber will not be held to that agreement. Stenger was calculated at a 21 because of his position of power, which equates to three to four years in prison.
He and prosecutors agreed that his crime was a base level of 7, with 12 levels added because it exceeded $250,000 and three levels taken off because he accepted responsibility after initially pleading not guilty in May.
Rallo faces a maximum penalty of 20 years in prison and a $250,000 fine for each count.  Restitution is also mandatory.   
The judge warned Rallo not to talk to anyone about the case unless his attorney, John Rogers, was present.
On their way out of the courthouse, Rallo and Rogers declined to comment before climbing into a waiting Range Rover with Missouri plates.
When Rallo lived in St. Louis County, he lived in Ballwin. But inside the courtroom, he gave his address as a $1.7 million house in the Salt Lake City suburbs. 
In a separate case, the state of Missouri is accusing Rallo of stealing $1.7 million from four investors, three in Missouri and one in Utah, for a failed food-related venture.
The Utah businessman is the fourth person to plead guilty in the Stenger public corruption case, and his court hearing was similar to the times the others pleaded guilty, with the federal prosecutor overseeing the Stenger corruption case, Assistant U.S. Attorney Hal Goldsmith, saying prosecutors have thousands of text messages dating back to 2014, thousands of hours of audio recordings, numerous documents, "substantial financial records" and firsthand witnesses both inside and outside county government, all of which would result in a guilty verdict if the case went to trial. He said prosecutors have witnesses from county Port Authority, the St. Louis Economic Development Partnership and the county Land Clearance Redevelopment Authority that would back their case.
The one bit of new information in Rallo's hearing came when Webber asked him how long he had been talking to his attorney about the case. Rallo said Rogers had been giving him legal advice on the case for "15 or 16 months," which roughly coincides with the time prosecutors said they began investigating Stenger.
In court, Webber asked the federal prosecutor overseeing the Stenger corruption case, Assistant U.S. Attorney Hal Goldsmith, to read the indictment.
But Goldsmith noted that the indictment was 37 pages long and asked to summarize it instead.
While Goldsmith read a summary of the case and evidence, Rallo looked down at a copy and read along next to Rogers.
 Rallo admitted to Webber that everything in the indictment was true. Prosecutors said the corruption and their case got its start in October 2014 at a dinner at Sam's Steakhouse in South County and continued through Dec. 31, 2018.
During that time, Stenger "schemed to defraud and deprive the citizens of St. Louis County of their right to his honest and faithful services, and the honest and faithful services of former CEO of the St. Louis Economic Development Partnership, Sheila Sweeney, through a pay-to-play bribery scheme. The purpose of the scheme was for Stenger to secretly use his official position to enrich himself through soliciting and accepting campaign contributions from businessman John Rallo and other individuals in exchange for favorable official action in the awarding of contracts and grants through St. Louis County and the St. Louis Economic Development Partnership." 
The allegations revolve around three separate schemes, Goldsmith said:
Stenger, in exchange for campaign donations and several fundraising events hosted by Rallo, unsuccessfully pressured county employees to land Rallo and his company, Cardinal Insurance, insurance contracts through St. Louis County in 2015 and 2016. 
Stenger demanded that Sweeney ensure that Rallo and what Goldsmith called his "purported consulting company," Cardinal Creative Consulting, obtain a sham 2016 marketing consulting contract through the St. Louis County Port Authority. 
Stenger made sure that Rallo and his company, Wellston Holdings LLC, were able to buy two industrial properties in Wellston that were held by the Land Clearance for Redevelopment Authority of St. Louis County in 2016 and 2017.  
The mail fraud charges come from three separate checks that Rallo mailed in 2015 and 2016 to a former Stenger campaign worker named only as "J.C." in the indictment as a payoff for get-out-the-vote work during the 2014 county executive election.
Throughout those four years, Stenger and Rallo worked to "hide, conceal and cover up their activities," while "aiding and abetting one another," Goldsmith said in court, including making false public statements.   
Asked if he disagreed with anything in the indictment, Rallo said, "No I don't, Your Honor."
Later in the hearing, after warning Rallo of the various civil rights he will lose as a convicted felon, Webber said, "You're obviously a very intelligent man, you answered everything quite responsibly."
The judge said he believed Rallo was "fully competent and capable of entering a guilty plea."
Goldsmith said he was fine with Rallo remaining free on bond pending sentencing since he had already surrendered his passport and met all the bond conditions set at his initial arraignment.
The Federal Bureau of Investigation and the Postal Inspection Service are still investigating the case with the assistance of the Internal Revenue Service Criminal Investigations.