UPDATED: St. Louis County Parks truck among equipment stolen in overnight burglary in South County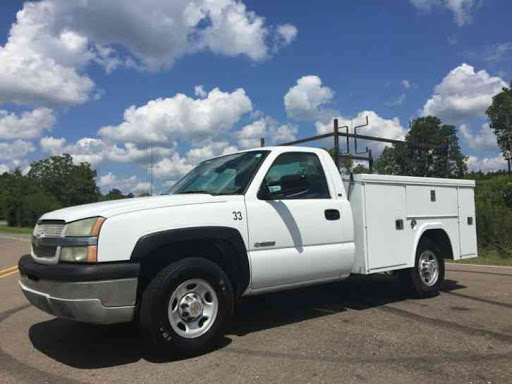 Editor's note: This article has been updated after the truck was found due to a citizen's tip.
A truck was among the St. Louis County Parks equipment stolen in South County in an overnight burglary investigated Tuesday by the St. Louis County Police Department.
Police from the South County Precinct were called to 347 CCC Road in Jefferson Barracks Park at 5:41 a.m. Tuesday, Dec. 15, to investigate a burglary.
"Numerous" tools, construction materials and a white St. Louis County Parks-branded truck were stolen in the burglary, which happened overnight, police said.
The parks-owned truck is a white 2004 Chevrolet 2500, similar to the one pictured above, with a utility-style rear and "St. Louis County Parks" written on its doors. The photo below is an actual photo of the truck, but the other picture shown above is included to give a better indication of what the truck looks like.
The license plate on the truck is St. Louis County Plate 109270.
Police originally put out a call for the public to locate the truck, and the truck was found from a tip by a member of the public in the city of St. Louis. The stolen truck was found in the 2800 block of S. 18th Street in St. Louis city.
Anyone who saw the truck is asked to contact the St. Louis County Department of Parks and Recreation or the county Police Department "without delay."
Police noted, "The intentions of the suspect(s) with the vehicle are unknown." 
To remain anonymous or potentially receive a reward, contact CrimeStoppers at 1-866-371TIPS(8477) if you have any information regarding the incident.