St. Louis County officer dies in off-duty car crash; had served in Affton Southwest Precinct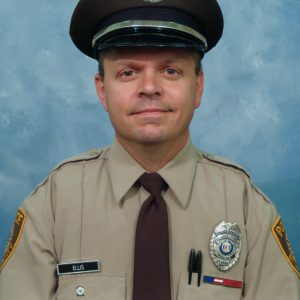 A St. Louis County officer who died Friday after an off-duty car crash in Illinois was a "dedicated police officer" and father of five children who had served in the Affton Southwest Precinct during his eight-year career.
St. Louis County Police Department Officer James "Mitch" Ellis Jr. was one of two people who died from his injuries after being hit during a head-on three-car crash Thursday night near his home in Hecker, Illinois.
Ellis, 49, was currently assigned as a patrol officer in the Jennings Precinct. He had joined the department in January 2011 and served in the Affton Southwest and Central County precincts.
He is survived by his wife and five children.
In August 2012, Ellis earned a Lifesaving Award for performing CPR on an unresponsive man.
The late officer was an active duty United States Marine from November 1992 to August 1996. He enlisted in the U.S. Marine Corps Reserve from 2001 to 2005. He was deployed to Iraq as a squad leader from January to November 2004.
St. Louis County Police Chief Jon Belmar stated in a news release, "On behalf of the entire department, I wish to express our sorrow and sympathy over the tragic death of Officer Mitch Ellis. Our hearts and deepest condolences go out to his family and friends. Officer Ellis was a dedicated police officer, loyal friend, and devoted family man. We are greatly honored to have worked with him and have him as part of our family."
The Illinois State Police released details of the three-vehicle, double fatal crash early Friday.
The crash happened about 11 p.m. Thursday on Illinois 159, 600 feet south of Brick School Road in St. Clair County.
Police say Dale L. Claybrone Jr., 23, from Chicago, Illinois, was driving a 2016 Hyundai Sonata on 159 and passed a 2013 semi tractor-trailer on the left, striking a 2009 Dodge Caravan minivan driven by Ellis in the opposite direction head-on.
The Hyundai spun back into the northbound lanes and was hit by the semi.
Besides Ellis, the other person killed in the crash was the passenger in the Hyundai, Ariah Claybrone, 24, from Memphis, Tennessee.
The driver of the semi, Jude A. Greco, 50, from Caseyville, Illinois, refused medical attention, but all others involved were taken to local hospitals.
Ellis and Ariah Claybrone were pronounced dead after they arrived at the hospital.
Dale Claybrone was taken to a hospital with serious injuries and remains hospitalized, the state police said.
Charges are pending investigation, the ISP said.