St. Louis County Library will hand out free books along with drive-thru meals
St. Louis County Library will provide free books to families attending drive-thru meal service starting at 10 a.m. Monday, May 11. Each family will receive a bag containing three new books – one for pre-K readers, one for elementary-age readers, and one for teenage readers.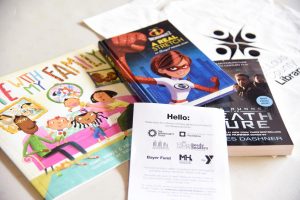 The books are intended for families to keep and do not need to be returned to the library. Supplies are limited.
All branches of the library are currently closed due to the coronavirus outbreak.
St. Louis County Library Director Kristen Sorth said in a news release, "We are thrilled to provide new books to families during this challenging time. We are thankful to our partners for working with us to find creative ways to encourage kids to keep reading. Also, the books are just in time for Summer Reading Club."
The books were donated by a number of local agencies, including the St. Louis County Library Foundation, The Opportunity Trust, Gateway Regional YMCA, Literacy Initiative, Missouri Humanities and Ready Readers.
See a gallery of the books and the workers preparing them at the end of this article.
The books will be distributed during SLCL's drive-thru meals program at the following branches from 10 a.m.-12 p.m. each Monday and Wednesday, while supplies last:
Weber Road Branch, 4444 Weber Road, St. Louis, MO 63123-6744
Bridgeton Trails Branch, 3455 McKelvey Road, Bridgeton, MO 63044-2500
Florissant Valley Branch, 195 New Florissant Road, S. Florissant, MO 63031-6796
Indian Trails Branch, 8400 Delport Drive, St. Louis, MO 63114-5904
Jamestown Bluffs Branch, 4153 N. Highway 67 Florissant, MO 63034-2825
Lewis & Clark Branch, 9909 Lewis-Clark Blvd., St. Louis, MO 63136-5322
Natural Bridge Branch, 7606 Natural Bridge Road, St. Louis, MO 63121-4905
Prairie Commons Branch, 915 Utz Lane, Hazelwood, MO 63042-2739
Rock Road Branch, 10267 St. Charles Rock Road, St. Ann, MO 63074-1812