St. Louis Aquarium and St. Louis Wheel will reopen Monday with new safety, cleaning protocols
The St. Louis Aquarium and St. Louis Wheel will reopen Monday, June 8, after receiving clearance from the city of St. Louis.
The aquarium, Wheel and other retail and restaurants at Union Station will resume regular hours next Monday with enhanced social distancing, safety and sanitizing protocols to protect the health of both employees and guests, the complex's managers said in a news release.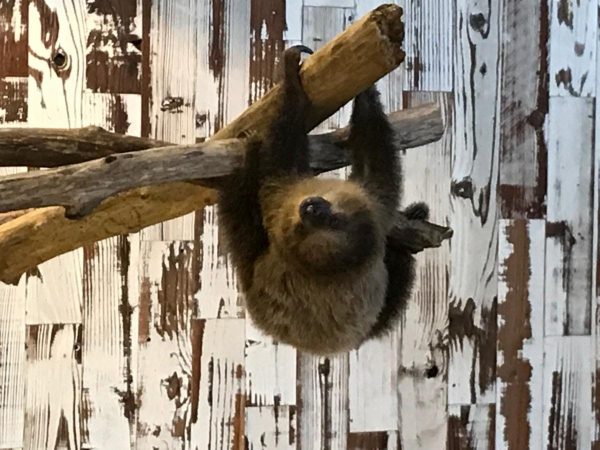 Union Station and its attractions have been closed since mid-March in accordance with the shelter-in-place orders both the city and the state implemented due to the COVID-19 pandemic.
The aquarium will resume regular hours from 9 a.m. to 5 pm. Monday through Thursday and 9 a.m. to 8 p.m. on Friday and Saturday.
To keep within the city's regulation for reduced business capacity, all guests, including annual pass holders, will be required to reserve timed tickets in advance. No same day tickets will be available.  Advance reservations will ensure guests' admission on the day of their visit.
Guests who are unable to make their previously reserved time slot can contact the aquarium and have their tickets exchanged for another date.
Along with changes in ticketing, the aquarium will also require all employees to wear masks, along with any visitors over the age of 9, at the direction of the city's Department of Health. Guests who are unable to wear a mask due to medical reasons will be exempt.
Guests can remove or lower their masks when they are able to maintain 6 feet or more away from other visitors or when eating and drinking.
Additional protocols include a one-way flow through the aquarium, sanitization of high-touch surfaces, hand sanitizer stations, floor decals to help maintain 6 feet of separation and no cash payments. The hand sanitizer stations will be located at the entry, exit and restrooms, along with other areas throughout the aquarium.
Employees will be screened daily to make sure they do not have fevers or other COVID-19 symptoms. Guests will have to walk through an infrared scanner to verify their temperature, as well as complete a survey to confirm their health.
The aquarium said it will be "maintaining its existing standards of cleanliness" by "continuously" cleaning all high-touch surfaces such as windows, doors, railings, restrooms and elevators. Hard surfaces throughout the attraction, lobby and restrooms will also be cleaned continuously.
Floor decals will limit the number of people who can participate in touch pools and interactive areas.
For now, the Fish ID touchscreens, Scavenger Hunt touchscreens, the Train Experience and the Virtual Sandbox will not be available due to their "high touch nature" and the difficulty in maintaining social distancing while using them.
St. Louis Wheel set to reopen
The St. Louis Wheel will also resume operations next Monday with regular hours of 10 a.m. to 10 p.m. daily with additional safety protocols, extra sanitizing and extensive new training for employees.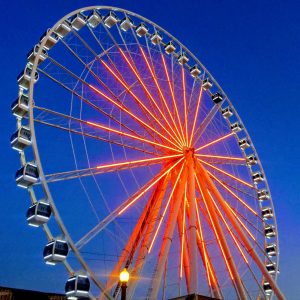 All employees will wear masks and guests are encouraged to do the same, and employees will wash and sanitize their hands frequently. Employees will also be screened daily to verify that they do not have COVID-19 symptoms and guests will be required to take a survey to confirm their health, along with verbally confirming their health status while employees refer them to a posted list of symptoms.
Hand sanitizing stations will be available throughout Wheel Park, the area around the Wheel. The wheel's gondolas will be sanitized between groups, and hand sanitizer stations will be placed near the wheel. Pavement markers will space guests 6 feet apart. Gondola loading and unloading cycles will be spaced to allow for physical distancing between guests and between cleaning cycles.
Other indoor attractions at Union Station, such as the ropes course and mirror maze, will also reopen June 8 with decals to mark 6 feet of personal space. Gloves will be offered to guests and the areas will be sanitized throughout the day.
The aquarium gift shop and Wheel retail kiosk will reopen but will limit the number of guests allowed inside. Cash payments will not be accepted.
Restaurants Trainshed and 1894 are expected to reopen next Monday with regular hours, with reduced capacity and enhanced sanitizing and health checks.
Soda Fountain reopened at reduced capacity and with added safety protocols last month.
The outdoor attractions, such as the mini-golf course and St. Louis Carousel, will also reopen next week.
Golf equipment will be cleaned between visitor uses and signs will be placed to remind guests to maintain appropriate social distance. Entry to the course will be regulated.
Carousel animals will be thoroughly disinfected after each use and riders will be limited to allow for proper social distance.
Tables in the Wheel Park and chairs surrounding the Union Station Lake will be spaced for social distancing. The Lake Fire and Light Show will resume June 8 as well.
The Wheel Park playground will remain closed at this time.
For more information about the wheel's reopening and the aquariums reopening, visit www.thestlouiswheel.com and www.stlouisaquarium.com.