St. Dominic Savio Catholic Church wins quilt contest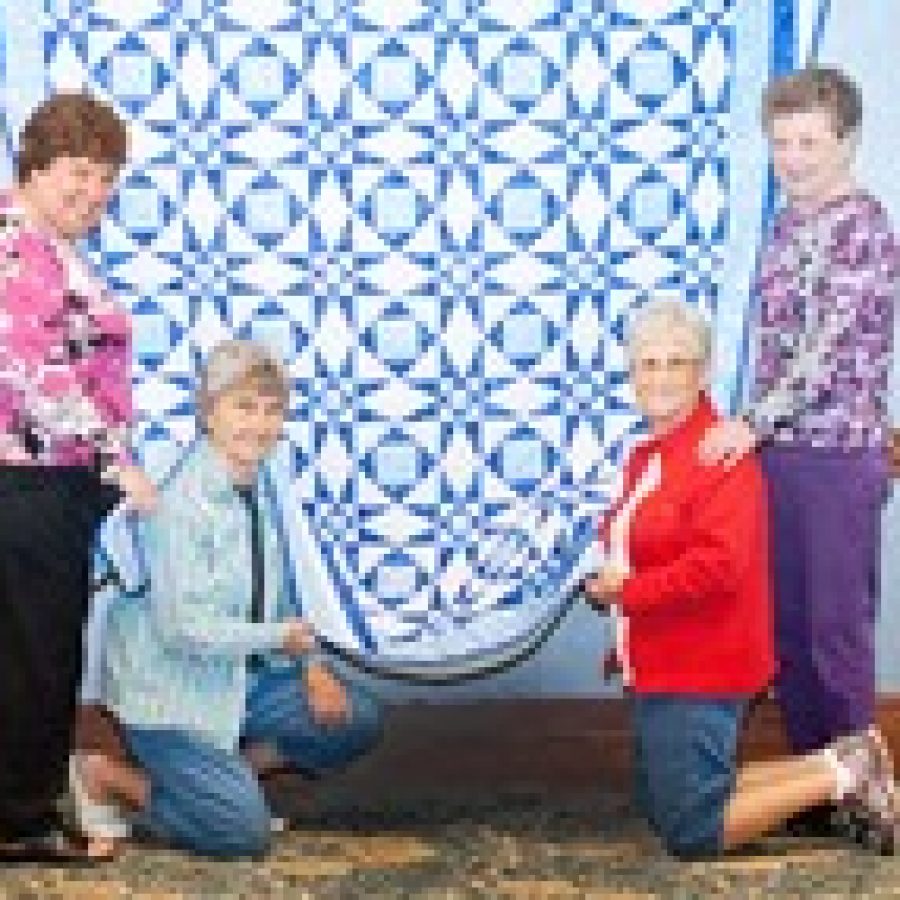 After hours of work, thousands of stitches and eight days of public voting, St. Dominic Savio Catholic Church of Affton topped the list to win a $1,000 cash prize and the fifth annual Quilt Contest at Fountain View, Friendship Village Sunset Hills.
Receiving a new $500 award this year, St. Matthias the Apostle Catholic Church of Lemay placed second in spirited voting, which drew more than 450 visitors despite outdoor distractions from exceptional autumn weather and sports, a news release stated.
St. Dominic Savio's winning quilt exhibits a seasoned pattern in white and multiple shades of blue, called Stormy Seas, said Hilda Ruppe, one of the quilters. Ruppe also said the $1,000 first-place check would go to her church pastor to use at his discretion for financial needs with many parishioners out of work.
Ten local churches, up from nine last year, participated in the competition with the quilts on view from Oct. 6 to Oct. 13 in the Fountain View dining hall.
After a second-place finish last year, St. Dominic Savio moved up to win the competition over seven other churches, plus St. Matthias Apostle Catholic Church, second place this year, and St. Paul Catholic Church, Fenton, the 2011 and 2012 winner. Fountain View, the free-standing assisted living community on the FVSH campus, sponsors the annual contest.
Sarah Dalrymple, Fountain View residency counselor, said the contest ended with a strong weekend of voting.
"Only 5 percent of the votes separated the two winners," Dalrymple stated in the release.
She indicated that voting totaled slightly less than last year and cited good weather and sports distractions, as well as an earlier schedule for the quilt show this year.
To encourage voting, Fountain View sponsors a public open house each year at the start of the show and mid-week entertains the greater Friendship Village Sunset Hills resident community.
Other activities during the week included a quilters' coffee at which more than 60 quilters this year traded quilting ideas, tips and information after a historical presentation on quilting by Mary Ebbesmeyer of St. Dominic Savio Church.
Competition rules allow for the entry of quilts produced by participating church quilting clubs or by individual church members and bar mass-produced and purchased quilts. Fountain View and Friendship Village residents display their handiwork some years, but are also barred from the prize competition.
Besides the two winners, participating churches for 2013 included St. Paul Catholic Church, Fenton; Our Lady of Providence; Most Sacred Heart Catholic Church, Eureka; St. Bridget of Kildare, Pacific; St. James Catholic Church, Catawissa; St. Justin Martyr; St. Simon the Apostle Church; and Calvary Presbyterian Church.