UPDATED: Sperreng evacuated, nothing found as police search school after threat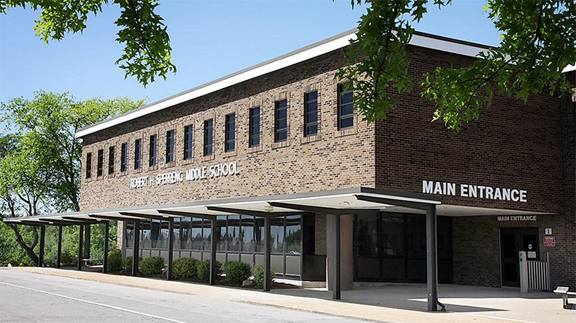 This is a developing story. Check back for updates. Last update 3:48 p.m.
Students have returned to class after being evacuated after a threat at Sperreng Middle School in Lindbergh Schools after the school received an unspecified threat inside the building around lunchtime Thursday.
The St. Louis County Police Department finished a "thorough search" with its officers and K-9 dogs that did not find any type of threat inside the school, the district said.
Police did not offer more details. The school is located at 12111 Tesson Ferry Road.
Parents who received text messages from their children from inside the school said that the school received a bomb threat.
In a letter to parents, Principal Mark Eggers wrote that a typed bomb threat was found in the boys' locker room at the school just before noon.
"At this time, we do not have any reason to believe this threat was credible, and law enforcement has assured us that it is safe for students and staff to attend school on Friday as regularly scheduled," Eggers wrote. "However, we will have additional security presence on campus tomorrow as a precaution.
"Keeping Sperreng students safe is our greatest responsibility as educators, and it is something we take very seriously. Thank you for trusting your students to our care, and for your patience and understanding today as we responded to ensure that all of our Sperreng community stayed safe."
After the threatening note was found, all students and staff were safely evacuated to the back fields of the school and stayed outside and inside the nearby South Side Church of God while police searched inside.
"This action was taken in an abundance of caution while police conducted a thorough investigation of the school, and ultimately confirmed that there was never an any actual threat in the building," Eggers wrote.

The principal applauded the school's teachers and staff for their "calm, professional manner" during the incident and making sure that all students stayed safe.
"I am proud of our students," Eggers said. "They did a great job, showed much patience and followed directions the entire afternoon."
The Lindbergh Facilities Department provided bottled water to students, and Dierbergs provided hundreds of popsicles as the students waited, which were delivered by the organization StepUp.
Due to the timing of the evacuation, eighth-grade students did not get to lunch today.
Earlier updates: 
Lindbergh officials deferred requests for comment to their website, which currently says: "Sperreng students and staff are now returning to class, following a thorough investigation by St. Louis County Police. The police have confirmed that there is no threat and it is safe for students and staff to re-enter. We will dismiss students at the regular time this afternoon, following normal procedures. We appreciate your patience this afternoon."
The website initially had a popup message on the situation that stated that all students and staff have left the building safely and asks for parents to not come to pick up their children. The district plans to call parents and post updates on its website as more information is available.
The full website message was:
"St. Louis County Police are on scene at Sperreng Middle School this afternoon investigating a report of a threat inside the building. All students and staff have safely evacuated the building. Sperreng parents, please do not come to school to pick up your children while police are on scene. We will send additional information by phone to Sperreng parents and post updates here as information becomes available. Thank you."