Simpson to hand over 'crown jewel' of a school district to his successor
Superintendent proud of district he hands to successor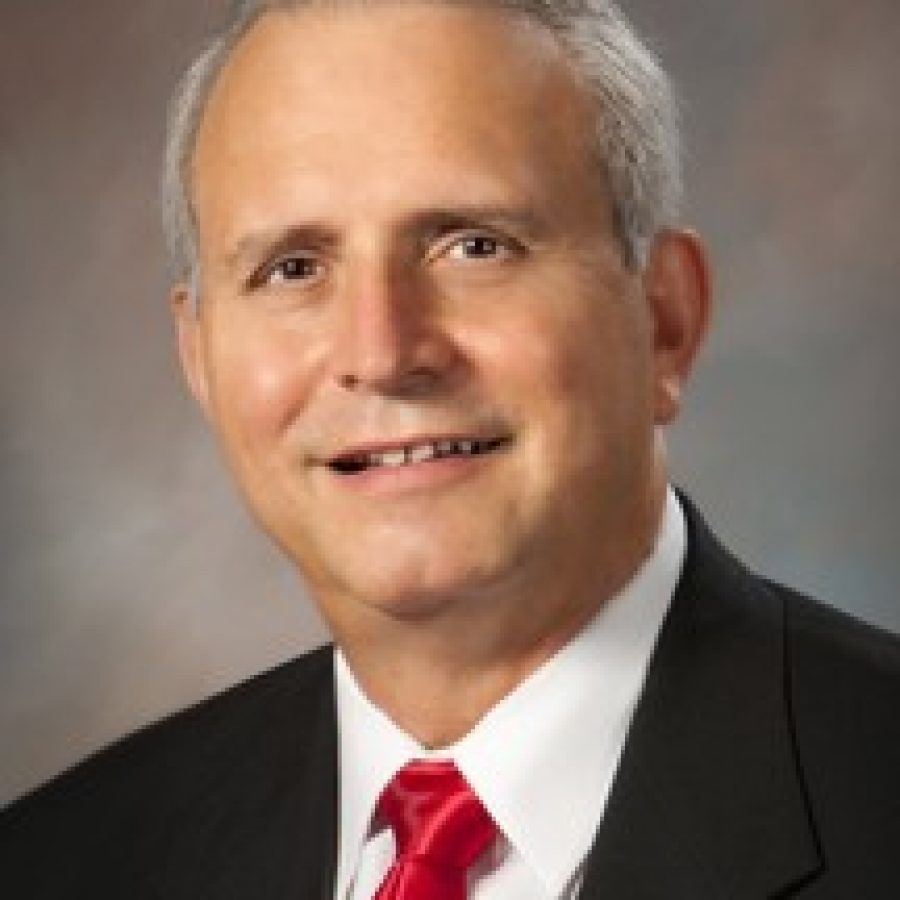 As the Lindbergh Board of Education begins the process of selecting a firm to assist in the search for a new superintendent, Superintendent Jim Simpson believes he will hand over "a crown jewel" of a district to his successor.
Simpson, who has served as superintendent since July 1, 2008, announced in January 2016 that he would retire at the end of the 2017-2018 school year.
Responses to the school board's request for proposals, or RFP, for superintendent search firms were due Monday — after the Call went to press.
Board members are slated to discuss the responses received during a special meeting at 7:30 p.m. Tuesday, Sept. 26, in the boardroom at the Early Childhood Education building, 4814 S. Lindbergh Blvd.
After reviewing the RFP responses, the Board of Education is scheduled to select the firms it wishes to interview.
A special meeting is scheduled Monday, Oct. 9, for board members to interview the search firms.
At that meeting, the board tentatively is scheduled to select a firm to assist in the search for Simpson's successor.
As proposed, the board plans to hire a new superintendent in January.
An educator for 29 years, Simpson came to Lindbergh after serving as superintendent of the Joplin School District for seven years.
He had eight years of business experience as a minerals exploration geologist before receiving his teacher certification from Southeast Missouri State University.
Simpson received his master's degree from Southeast Missouri State and his doctorate degree from the University of Missouri-Columbia.
His successor will be "one lucky superintendent," Simpson told the Call last week.
"I'm really proud of how this district will be for the new superintendent. It will be a crown jewel for the new superintendent — no doubt about it," he said. "There will be one lucky superintendent that gets Lindbergh, let me tell you."
The new superintendent will take over a district with solid finances and sky-high academic achievement, Simpson said.
"They're getting (a district) where the finances are good. They're getting one with the academics sky high," he said. "They're getting one with facilities all in place, one in which we've redone the sending zones successfully. It's one thing after another that we have in place for the superintendent. So there's not a whole lot of heavy lifting for the new superintendent in terms of immediate needs."
But that hasn't always been the case, as Simpson recalled the Great Recession when district officials were forced to make $7 million in painful cuts over two years.
"We came through it in stellar fashion in terms of making a lot of cuts, a tremendous amount of cuts … and so we balanced the books. We did what we had to do," he said. "Lindbergh has been very successful and we have prospered incredibly based on how we handle our finances. And I hope that always stays that way. It's worked so well for us.
"So many districts get into financial trouble, and Lindbergh has avoided that by certainly just following basic financial axioms and one of those is: Do not spend more than you have."
Long term, however, Simpson said his successor will face some challenges, primarily with enrollment growth.
"There's challenges for the new superintendent and, of course, those challenges are dealing with growth — how to handle the growth over the next decade — with a big focus on a high school that's going to be the largest enrolled high school in the state of Missouri, and it's at the end of its life span in some ways — parts of it, certainly," he said. "So there's lots to be discussed, and, of course, always a need for more money."
At the Sept. 12 Board of Education meeting, Assistant Superintendent for Human Resources Brian McKenney reported that the district's first-day enrollment for the 2017-2018 school year increased by 141 students compared to last year's official enrollment.
At the elementary level, first-day enrollment totaled 3,158, an increase of 78 students compared to last September's official enrollment.
Middle school first-day enrollment totaled 1,614, up 47 students compared to September 2016.
Enrollment at Lindbergh High School totaled 2,105 students, an increase of 16 students compared to last year's official enrollment.
For the current school year, officials projected an increase of 182 students. Because enrollment will continue to increase throughout the school year, Simpson said he would not be surprised if student growth meets or exceeds that number.
"So there's no guarantee in anything, but I'd say that number might be pretty close to target by the time the last day of school happens," he said. "But we were 141 new (students) on day one and let me tell you when you start looking at 141, that's a lot of kids. And in five years, you've got an elementary (school)."
In advance of opening the district's newest elementary school this year, Dressel, the Board of Education voted in March to approve new elementary-school and middle-school boundaries, effective for the current school year. Under the approved boundary plan, 786 elementary students moved to different schools, while 350 middle-school students moved.
"As a matter of fact, our elementaries that we have right now, we brought them down to capacity based on the opening of Dressel, although we opened Dressel at capacity," the superintendent said, adding that first-day enrollment at Dressel was 649 students, just under its capacity of 650 students.