Simpson: Lindbergh budget balanced, honoring tradition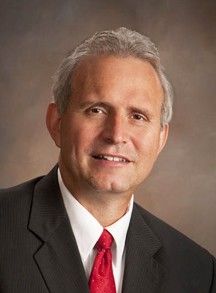 By Gloria Lloyd
News Editor
glorialloyd@callnewspapers.com
Continuing the trend of recent years, next year's proposed budget for Lindbergh Schools shows a slight surplus, with most new money in the $84 million budget paying for student growth and raises.
The Board of Education was set to consider the budget when it met Tuesday night — after the Call went to press.
The $4,882 projected surplus for the budget isn't much of a surplus, but Superintendent Jim Simpson told the Board of Education at a budget workshop last month that Lindbergh typically never presents a budget with a deficit.
"An unbalanced budget means you are going bankrupt," he said.
Lindbergh always uses the current year's budget as a starting point, Chief Financial Officer Joël Cracchiolo said at the May 15 workshop. Next year, $42.5 million will go to the Teachers Fund,   $29.6 million to the general fund, $2.4 million for capital projects and $9.2 million for debt service.
The district is unique among county school districts in having to fund continued student enrollment growth, Cracchiolo said. New positions added to address the needs of an increasing number of students include a social worker and a nurse at  Lindbergh High School along with extending the terms of elementary secretaries to year-round instead of just 10 months. 
The district is also adding reading specialists and librarians at elementaries.
The budget doesn't fund every need the district sees this year, but it's a matter of prioritizing, the CFO said.
"Growth, growth, growth," Cracchiolo said. "We wouldn't have all these if there weren't so much growth."
As part of higher police salaries under Proposition P, the district's contract for school resource officers, or SROs, is up 22 percent. 
Technology purchased under a previous bond issue now has to be replaced and will become a permanent line item in the school budget.
As of June 30, the district's reserves will stand at 33 percent. 
"We don't spend down fund balances," said Cracchiolo, who was presenting her first budget. 
"That's another Lindbergh tradition, we've never borrowed money to make payroll when a lot of our neighbors do."
Revenue is up $1.67 million this year. 
Expenses increase by $1.66 million this year, with $1.64 million of that coming from $809,000 in teacher raises and new positions due to growth and $313,000 in raises for non-teachers to match the teacher raise. 
Teachers and the board already came to an agreement on 3.1-percent raises this year, which were mostly funded by $123,000 saved from a large increase in the number of retirements. 
A total of 27 teachers retired, many more than usual. When higher-paid veteran teachers leave the district, those teachers are typically replaced by new teachers earlier in their careers who make less money. 
The savings funded all but $56,000 of the teacher raises.
Overall, the district employs 449 teachers and 367 other staffers, for 816 total people on the payroll.
The district began phasing in during 2017-2018 from a "hold harmless" district, which means the district is primarily locally funded, to a formula district. The district will fully phase in as a formula district in the 2018-2019 school year, Cracchiolo said in her budget message. With the nearly $1 million in extra money from the state, the district is funding an additional 12.34 teachers and staffers.
The board will consider a revised budget in December that finalizes costs for teachers. 
That can't be known yet since with the district's growth, it typically has to hire teachers as late as August as more students show up for certain classes than were expected. 
"We try to limit our expenditures on anything other than the classroom," Simpson said. "It's not wants, we make it critical needs. But I assure you those hotspots will occur this August."
Simpson gives a warning on Lindbergh's future budgets
This will be Simpson's final budget as Lindbergh superintendent. 
He retires June 30 after a decade in the district. 
He will be succeeded July 1 by Tony Lake, who is currently the chief operations officer of the Blue Valley School District in Overland Park, Kansas.
He ended his final budget workshop with his thoughts on Lindbergh's traditional approach to budgeting and finance. Most of Lindbergh's board is only seeing their second budget in the district since a four-member teachers' union-backed slate was elected last year. 
Lindbergh has a long tradition of balanced budgets, Simpson said. 
"I'm hopeful that Dr. Lake will have excess revenue at some point, but I never did," he said. "It's always right to the penny, within $5,000, $10,000, it's always right on the bullseye…. We've kept a balanced budget, which helps us all sleep at night. An unbalanced budget is a ticking time bomb. An unbalanced budget means you are going bankrupt — and Joël will be able to tell you what year that will be."
If the district ever sinks below $15 million in reserve, it would have to borrow money to make payroll in November and December, before tax revenues for the year come in. 
Preventing a situation like that has been "Lindbergh's cherished tradition," Simpson said.
"Every board member who's ever sat in your place has sort of taken the oath that we will never borrow money to make payroll," Simpson said. "And if you ever do, you will find out how many former board members you have because that is something that they've sort of crossed their heart on and said that's Lindbergh's way of doing business. We don't set that financial trainwreck in motion, and we don't set that ticking time bomb in motion."
Spending down the reserve on a one-time expense is different than committing the district to a recurring annual expense like salary hikes without a plan to fund them, Simpson said. 
"One great thing about Lindbergh is that we've always been incredible financial stewards of our money, we've never had issues with anything in terms of losing sleep," Simpson said. "That's rare, because many, many school districts see all kinds of drama from money shortages and money missing and money not where it should be and also money being spent in ways that embarrass the district. Lindbergh's never had any of that. 
"It's the most rock-solid financial district I've ever known, but I like it because like I said, it allows us all to sleep at night and not have to go through all of that drama because of those issues with money. 
"So kudos to all the former financial people that have come before us and our present financial people that keep that tradition of stewardship alive because that will allow us to concentrate on educating students and stay off the front page of the paper for things that might be embarrassing to us. 
"That's not Lindbergh's way."