Shelton leads Mehlville High to victory
Lindbergh still looking for its first win; Panthers to face Seckman this week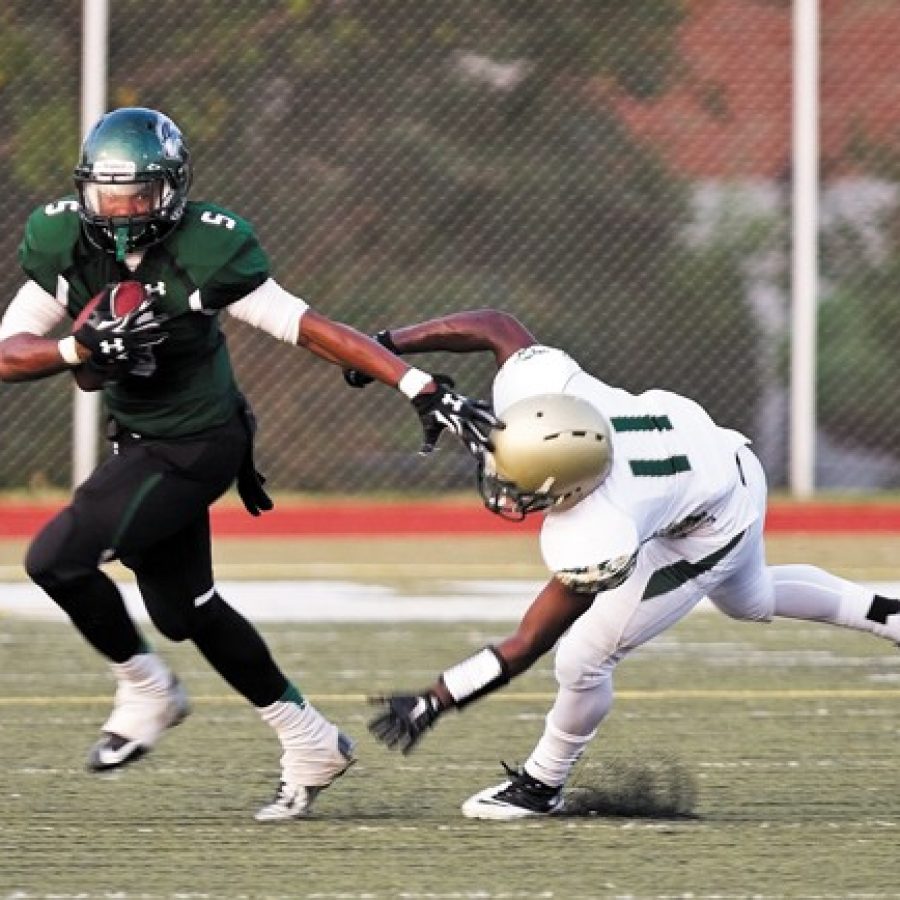 Thanks to an amazing performance by running back Jabari Shelton, the Mehlville Senior High School football team notched its first win of the season last week, defeating the Lindbergh Flyers 42-21.
Friday night's victory over the Flyers also was the Panthers' first win since they toppled Northwest in Week 7 of last season.
Mehlville head coach Kent Heinemann told the Call that his running back made all the difference in this contest.
"We played well tonight. I'd say the story of the game tonight was our running game," he said. "Our guys up front did a really good job of giving us a push. Jabari Shelton had an unbelievable game on the ground … He had over 200 yards and six touchdowns."
The Panthers' struggles this season stem from a number of factors, but Heinemann said his team was able to fight back Friday night.
"One similarity is we still made some mistakes tonight, but the difference was that we overcame those," he said. "We kind of put ourselves in some bad situations. We went up early on them and we let them climb back in and they took the lead."
At halftime, Lindbergh had the lead at 21-7.
"The thing that we have not been able to do was take advantage of big plays," Heinemann said. "We got that turnover and we scored right then. We punched it right in, and that kind of got that momentum back on our side and we let the boys up front do their thing.
"Jabari had a great game, and our defense played great, had a lot of pressure on their quarterback. We created a lot of turnovers. So it was a nice team win."
Both clubs have been struggling and were 0-2 heading into the contest. Flyers head coach Tom Beauchamp's reaction to the game's outcome was simple.
"We didn't play very well. That's the bottom line, and Mehlville was very hungry," he said.
This Friday, Lindbergh has another opportunity to climb into the win column when the Flyers face Parkway South. But some things need to change if the Flyers want a victory, according to Beauchamp.
"We've got to get ready. I mean we are 0-3," he said. "We've got to get hungry and be ready to play … We are playing at our house. So that's a good thing. We always seem to play better here most of the time."
Mehlville will host a struggling Seckman team for its homecoming bout Friday, but it will not be an easy task to secure another victory, Heinemann said.
"They are struggling, but last year they played pretty tough," he said. "They've always got some pretty tough kids. I'm hoping we can get some momentum off this win and a have a great week of practice and get after it."