Sampson, Watz among candidates running for four seats on Lindbergh school board on April 4
Last in a series: Nine candidates are seeking four seats in Lindbergh race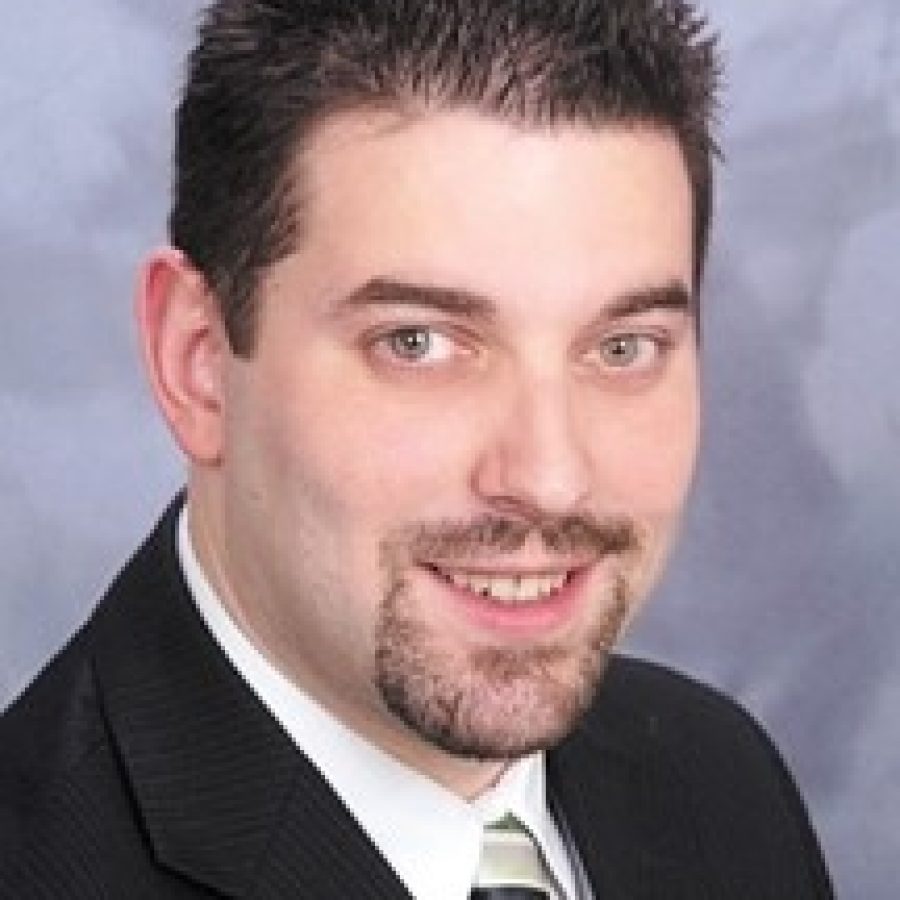 Last in a series
Lindbergh Schools voters will fill four seats on the Board of Education in the Tuesday, April 4, election.
Nine candidates, including four backed by the Lindbergh National Education Association, are vying for the seats.
Three three-year seats are up for election that are currently held by board President Kathleen "Kathy" Kienstra, Vice President Don Bee and Treasurer Vicki Lorenz Englund. Kienstra and Englund are seeking re-election.
Also seeking election to the three-year seats are union-endorsed candidates Matt Alonzo, Cathy Carlock Lorenz and Christy Watz, along with Jennifer Bird and Daniel Sampson. Bee is not seeking re-election.
Union-endorsed candidate Mike Shamia and Martha Duchild are vying for a one-year seat held by Gary Ujka, who is not seeking election.
This article will feature Sampson and Watz. All of the other candidates have been profiled in previous issues.
• "Growth. Our student population is growing and at the moment our district is doing the best we can to handle the overcrowding in the elementary schools. We are exceeding 100 percent capacity in all five of our currently operating elementary schools," Sampson said.
• "Growth of our district — the number of new families moving into our district is more than our buildings or budget can sustain at the current time," Watz said.
Sampson, 34, 4636 Bridlewood Terrace, Concord, is a senior technical consultant at Byrne Software Technologies. He and his wife, Dawn, have three children.
Sampson, who twice has unsuccessfully run for the school board, said he is seeking election because "I am invested with three young children. I want to see their education continue to nourish them in the coming years. We have many tough decisions approaching, a new superintendent, a seventh elementary, teacher salaries, a high school to handle three-four grade levels and security to protect them. These will require dedication and community members willing to listen and keep students first. I am dedicated to studying the facts, making sure all are heard so the best choices for our district are upheld and our education maintains its excellence in this district."
Watz, 47, 10224 Quail Run Drive, Concord, is a career coach to family and friends and a district volunteer. She and her husband, Joseph "Jay," have three children.
Watz, who has not held elective office, is seeking election "because I am invested in Lindbergh. My three children attend Lindbergh schools. I have lived in the district for 15 years. I have volunteered for 10 years in the district. In addition to those reasons, I have 15 years of corporate business experience in people relations. I would like to continue my service at a higher level to build a better Lindbergh community."
Sampson said, "It is their right to do so. My hope is that with time we can work together to achieve mutual positive results."
Watz said, "The teachers are the backbone of our school district. If they have decided to work to contract, there is obviously a breakdown in communication. The line of communication needs to be opened so that respect can be felt by both administration and teachers."
Sampson said, "Yes, Dr. Simpson's effort as our superintendent speaks volumes. Lindbergh is a top-rated district for a reason and reflects directly from Dr. Simpson's guidance. With that said, none of us are without fault, and recent comments made, although they may tarnish his relationship with teachers, should not take away from what Dr. Simpson has achieved and maintained within our district."
Watz said, "I believe Dr. Simpson seems to have a very good understanding of finances. He has led our district to receive multiple awards to become a top nationally ranked school district. The announcement of his retirement allows us to look for another superintendent who would have some of the same qualities, yet lead our district through a challenging time of growth and create a new vision for our school district."
Sampson said, "Yes, as there was little funding available, the board offered what they could to the teachers. There has been miscommunication and misinformation regarding the ongoing salary debate between the BOE and teacher LNEA. Full transparency was not always adhered to."
Watz said, "I would have chosen a different process. I would have opened up communications and formed the committee the teachers asked for. There continues to be a breakdown in communication. The stakeholders that are suffering the most are the students."
Sampson said, "Yes, those issues are currently handled by the Superintendent Dr. Jim Simpson and should continue to operate as such. This should be revisited as need to ensure this is the best method."
Watz said, "I believe every stakeholder deserves a voice in their school district. Certain decisions need to be made from a business perspective. Hours of operation are estab lished to be able to serve thousands of students within a tight timeframe, class size and teacher assignments are dictated by enrollment, caps need to be taken into consideration. These decisions need to come from a district level to benefit all students.:
Sampson said, "Yes, as far as I have seen. I would like to present more options and to be more transparent than we already are. We are not above reproach and I want to see the board be able to present clear evidence when questioned are topics asked from our community."
Watz said, "Having not served on the board, it is my perception that the board has adhered to Missouri Sunshine Laws. If I am elected, I have every intention to provide full disclosure and compliance with the Missouri Sunshine Law not because it's a legal obligation; because it's the right thing to do."
Sampson said, "Yes. Parents should first and foremost be the educator when it comes to their children's sexual education. Sex education is an important life lesson and should be taught with abstinence in mind. Some students unfortunately do have the ability to have this education given to them outside of school in proper channels. We need our teachers to be honest and respond to students' questions with factual information at age appropriate levels."
Watz said, "Our schools currently have a program in place that follows the statues recommended by the state of Missouri. As a member of the Board of Education, I will have to adhere to the laws of the state of Missouri."
Sampson said, "Yes, as long as it provides factual information to students helping them understand those lifestyles and the issues related to them. Promotional material should not be included."
Watz said, "A library is a center for learning. Age-appropriate materials are selected for our students to educate themselves. I fully trust our librarians provide the appropriate materials for the needs of our students."
Sampson said, "Yes, currently. However, I would like to continue to have teachers' input involving the process to keep it fair and to help determine if that teacher is succeeding in educating students in the classroom. If that means tweaking the process, I am open to that discussion."
Watz said, "Coming from a corporate background, I am a proponent for performance-based evaluations when competencies match the vision and mission of an organization."
Sampson said, "Continue with what is working and tweak items to enhance the education our teachers provide the students. Class size is also critical; we cannot allow the growth to overwhelm our class sizes if we expect our teachers to be able to provide the same attention and level of detail to all students. Showing support to our teachers and increasing their salaries without deficit spending. Our board needs to work together and focus on the tough decisions that need made in the coming year. We need a strong superintendent to replace Dr. Simpson when he retires."
Watz said, "In order to maintain/or improve our standing we need to provide a positive, innovative, learning environment for our students. It will be important to create a plan for growth while retaining our talented staff."
Sampson said, "I voted yes, and still stand by that today."
Watz said, "I voted yes. A great school district is key to a great community in which to live."
Sampson said, "My family and I were not residents of Missouri at that the time of that vote. If we were, I would have supported it."
Watz said, " I voted yes. A great school district is key to a great community in which to live."
Sampson said, "Not applicable, as this is a nonpartisan office."
Watz said, "Not applicable to a school board position."
Sampson said, "Effective communication is the foundation, understanding the issues and policies that require the Board's attention. Additionally, keeping the focus of all decisions for what is best for the students should be the No. 1 priority."
Watz said, "I am a fact-based person. Our decisions should be based on what is best for our students, staff and community."
Sampson said, "A minimum of 15 to 20 percent of the yearly budget, enough to run all district activities from July through December without borrowing. The more in reserves the better rates we receive. The reserves directly affect our Moody's Aa1 rating — the highest possible for a school in Missouri."
Watz said, "I know our CFO has a percentage of what is safe to keep in our reserves. I would work closely to understand the expenses and when expenses are paid to understand what percentage is necessary to avoid any costly short term borrowing."
Sampson said, "Until a vote is cast and a majority is decided, all members should have the ability to speak freely to the media and public regarding their stance on a topic. Once the vote is in, the board should follow the majority vote and support that topic without dissension. The board should act as one voice to maintain unity and support throughout the district."
Watz said, "My understanding of a Board of Education is to act as one voice. BOEs make decisions together. Therefore, yes, the president should be the one reporting to the media."
Sampson said, "I believe they need to be required to keep the same standards as public schools. If a family decides to go that route instead of the public school in which they reside, they should not be able to take away tax dollars from the district to support that decision."
Watz said, "I am not afraid of charter schools. Charter schools are designed to be an alternative to families who are not happy with their current education. We need to continue to work hard to keep our district attractive to families, with Schools of Character, Blue Ribbon schools, high rankings in Missouri and across the nation, so families will choose us over a charter school, if they should come to south county area."
Sampson said, "I am not in favor. This program would take funding away from public schools that would normally be part of the operating budget. With education cuts already happening, public funding is more critical to the success of our district than ever before."
Watz said, "I understand the financial impact the voucher system would have on our district. I believe we need to keep our focus on being an attractive school district to families offering Schools of Character, Blue Ribbon schools, high rankings in Missouri and across the nation. We should continue the same path of high test scores, regain our teacher satisfaction, retain high quality teachers and provide innovative education."
Sampson said, "Short term, growth, and the classroom sizes in the elementary schools. Long term, teacher salaries, additional funds for a seventh elementary (and) room for students as they reach grades nine through 12."
Watz said, "As stated above — growth, spending/budgets, hiring a new superintendent and continuing to build our community."
Sampson said, "Unknown at this time, studies would need to be done to see if this is in the best interest of our district. If an extension were to occur, the school year would also require additional funding to keep the district operating which in turn would lead to higher taxes to cover the budget."
Watz said, "I see no need to extend it. Our calendar encompasses the days required by state regulation."
Sampson said, "Money to be withdrawn from savings followed by cut backs of non-essential operations, and if still necessary, increased taxes so interruption within the classrooms is avoided at all costs."
Watz said, "It is important to listen to our community, assess what's going on in our schools and create a plan that best fits the needs of our stakeholders. We need to ensure our students have a positive, innovative, learning environment that allows them to achieve a bright future."
Sampson said, "Yes, if the following five criteria were met: 1) Funding for a seventh elementary would be available or supported along with this tax increase. 2) Solutions for the high school in terms of the growth that is coming to continue to keep classroom sizes optimal while maintaining our aging school. 3) A study completed showing the community is in favor of the tax increase to support putting it on the ballot. 4) This increase needs to be able to fund itself and not just be a single increase that we then need to find out how to support in subsequent years. 5) We keep a balanced budget, no deficit spending."
Watz said, "With the growth of student population, it is going to be critical for the next Lindbergh school board to assess spending and make responsible financial decisions based upon the needs of the district."
Sampson said, "Non-essential operations first, analysis of the current budget, establish cuts without affecting the classrooms."
Watz said, "Our district has been making cuts over the past 10 years. I would need more information from those directly involved to decide if cuts were necessary or where they could be made."
Sampson said, "More awareness to the decisions that led to votes for or against an item the residents are split on. All board meetings should be available live so those who are unable to attend can watch without physically attending and after the meetings are done. Increased transparency within the constraints of our current staff to provide information to our community."
Watz said, "I have not served on a board of education before. Therefore, I would need to better understand the guidelines and details of how a board operates."
Sampson said, "Those wishing to keep students' education first."
Watz said, "Lindbergh NEA — Lindbergh teachers' union."
Sampson said, "Physical gender."
Watz said, "We need to accommodate the needs of all students. Our district worked through this situation a year ago and has defined guidelines that seem to be working well."
Sampson said, "No, I do not support this. It is a selfish act on behalf of Crestwood. It was unnecessary to support this project. The owner was fully aware of what he was purchasing at the time of his bid. Lindbergh will not suffer the blunt of this negligence. Nine million dollars for up to 23 years will be diverted from the school due to this TIF."
Watz said, "I understand why Crestwood made the decision it did. They are looking out for their community with hopes business will come back; finances will be generated and jobs created. I am certain if they had any other options, they would have taken them. While it is not an ideal situation for our district, I trust they made the best decision for their community."
Sampson said, "TIFs were designed to assist in the development where areas addition incentives were needed to make development financially feasible, like Gravois Bluffs. TIFs have been abused in recent years and now seem oh too common and now primarily just line the pockets of developers with more money. The district is affected as a result with public funds being diverted for years depending on the TIF and the amount financed."
Watz said, "My knowledge of TIFs are from information gained at Lindbergh Leadership meetings with Dr. Simpson. They seem not to be the best option to finance. For our district, there is lost revenue until the TIF is paid off."
Sampson said, "Focus on keeping classroom sizes optimal and provide proper rooms for the students to learn in."
Watz said, "We need a long term plan to handle our growing community. Communication is key, making sure all stakeholders are vested in the plan (and) keeping in mind how everyone is affected — students, staff and community."
Sampson said, "No, deficit spending should never be an option."
Watz said, "It is important to be fiscally responsible. We should avoid deficit spending. Deficit spending on recurring expenses is a very risky way to run a budget."
Sampson said, "No."
Watz said, "No, I do not have any family members that work for Lindbergh. I am not related to any other board member."
Sampson said, "No."
Watz said, "Yes, an administration position — one time."
Sampson said, "Our district would benefit from a fair leader, someone who has vision and is a strategic thinker. Given our current concerns, we require a creative problem-solver with effective communication abilities and good community relation skills. In addition, the superintendent would demonstrate high character, competency in public education, and strong supervisory skills. This person should have an understanding of budget and finance, be able to delegate effectively, and demonstrate flexibility and adaptability. He/She should desire to continue to learn, have goals, and understand the culture in the district."
Watz said, "It's important to have input from all stakeholders before we begin our search for a new superintendent. We want to make sure the qualities we are looking for are supported by our community. From my perspective, strong community presence, leadership, academic excellence and fiscal responsibility are important."