Room of Blues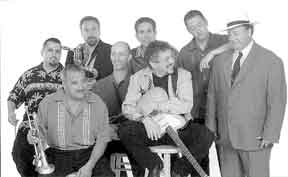 By ALAN SCULLEY

For the Call

Roomful of Blues is back with a re-vamped lineup featuring a new singer and four other new musicians.

This isn't exactly earth-shattering news for long-time followers of the veteran blues band. If there's been one constant in the 35-year career of Roomful, it's been change – at least when it's come to personnel.

"I think we counted over 50 people who have been in the band," said band lead-er/guitarist Chris Vachon, who joined the Rhode Island-based group 14 years ago.

But Vachon said he hopes the latest edition of Roomful – Mark DuFresne (vo-cals/harmonica), Rich Lataille (sax), Bob Enos (trumpet), Mark Early (sax), Mark Stevens (keyboards), Brad Hallen (bass) and Jason Corbiere (drums) – manages an extended run.

"The chemistry we have right now is really, really good," Vachon explained. "I don't think we could be any happier playing together. We don't even really have to think about it. We're just meshing together. So it's been really good."

The latest lineup marks the end to a transition that began in 1997 when five members of the band – including singer Ray Norcia and two mainstays of the band's horn section, sax player Doug Games and trombone player Carl Querfurth – left the group during a short stretch of time.

The band, though, quickly found replacements in singer Mac Odom, trombonist John Wolf – a St. Louisan who recently has been playing with the Soulard Blues Band – and sax player Kevin May and re-corded a strong 1998 CD, "There Goes the Neighborhood."

But soon after the CD was completed, the lineup continued to evolve, with a main departure being drummer John Rossi, who had held down that slot since 1970. By the time of the 2001 CD, "Watch You When You Go," the lineup had taken on four new members – all of whom would leave the lineup over the next year or so.

The departure of singer Odom represented a particularly notable move, in that his R&B roots had brought a distinct new facet to the group's music. But Roomful found a ready replacement in DuFresne, whose command of big-band singing ap-pealed to Vachon.

"He had sent us a package just before we hired Mac," Vachon said. "And we listened to him and we liked him and stuff, but we had just hired Mac. And then when Mac was ready to leave, we were looking around and we just said: 'Well let's try Mark. He might do it.' And sure enough, he did. So it worked out good for us."

Looking back at the many lineup changes of the past five years, Vachon said it's actually been a process of finding players suited for the Roomful style, which includes swinging 1950s-era jump blues and the sophisticated but more traditional style of B.B. King as two key influences.

"I think some of the guys who were in the band at the time didn't have the same background as most of us did," Vachon said. "I think it took us this long to get guys in here who were actually doing it because they really knew about the music and really liked it.

"We had a lot of jobs and we put people in there that I think maybe were sort of just looking for a gig. I think that's the only way I can explain it," he added.

The latest lineup is showcased on the new CD, "That's Right," the band's first release under a new contract with the Chi-cago-based blues label, Alligator Records.

And as Vachon hinted in mentioning the musical backgrounds of the current members, the CD represents a step back to the big-band, jump-blues sound that first earned Roomful considerable notice.

But unlike most Roomful CDs, which have included several original songs, "That's Right" is entirely comprised of cover material as the group draws on a varied range of sources, including Eddie Bo ("I'll Keep On Trying"), T-Bone Walker ("I Know Your Wig Is Gone") and Little Milton ("I'm Tryin'") for songs.

"We had just sort of revamped the whole band and we really didn't have time to do a lot of writing or anything," Vachon said, noting that he believed the group needed to get a new CD out to showcase the new lineup. "There wasn't really enough to worry about it, so what we decided to do was kind of like a concept thing, where we were going to pick out some favorite stuff we always had, that we always liked. And that's why we did it.

"Our next record, obviously, will be leaning more toward original stuff because we usually do that. But we had a lot of fun doing this. I hope it comes through that way," he added.

Roomful of Blues plays Tuesday, March 25, at Generations Nightclub, Lindbergh Boulevard and Watson Road. Tickets for the 8:30 p.m. show cost $12.50 in advance and $15 at the door.