Retired firefighters say farewell to No. 1 house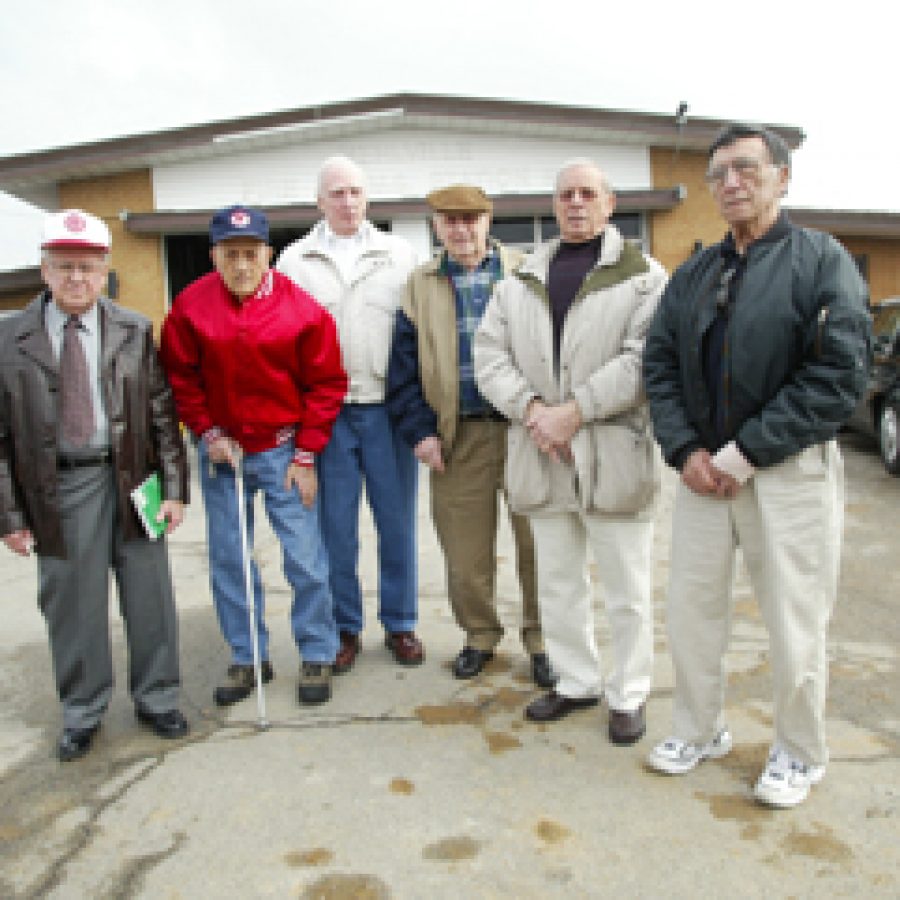 By BILL MILLIGAN
For the Call
Mehlville Fire Protection District residents lost an old friend earlier this week when the state assumed ownership of the No. 1 firehouse, 7409 S. Lindbergh Blvd.
Built in 1957, the No. 1 house served as the first home of the Mehlville Fire Protection District and its administration offices. The firehouse has been one of the busiest in the 52-square-mile fire protection district, but a road-widening project at the intersection of Lindbergh Boulevard and Lemay Ferry Road most likely will close its doors forever.
"The structure itself could have lasted another 50 years," said Clifford Zelch, the professional district's first fire chief.
Zelch and five other firefighters who served at the No. 1 house took a final look inside the building last Friday. The six have a combined 200 years of service to south county.
"We feel sad about the closing of this fire station, but progress means changes," Zelch said. "When I was hired, I had to get this one and two others built."
Zelch said it originally cost taxpayers $75,000 to build. The firehouse was built with laminated beams to support a wooden, tongue-and-groove roof that did not require interior roof support beams.
"That was shipped in from California," Zelch said. "Today, it would be real expensive to put in."
The No. 1 house was constructed at the intersection of Lindbergh and Lemay because an antenna on the building's 120-foot hose tower and the building's 690-foot elevation offered unimpeded radio access to the district. The first publicly funded central dispatch system in Missouri served residents of Arnold, Imperial and Crest-wood as well as Mehlville.
The No. 1 house served as a chief's office, housed emergency rescue units, was used for public meetings and CPR classes and since 1971 has been home to a paramedic unit. The Army once used the facility to train local fire departments how to recognize different sizes and types of bombs they might encounter. Utility companies of every description used the facility for training, said Tony Lucas. Lucas worked at the No. 1 house from 1962 to 1993.
The men taking a last walk through recalled at least one birth that took place at the fire house and argued over whether a certain firefighter had died in his sleep there or at another fire house.
Firefighters remembered having good times at the fire house.
"One of the men was sleeping and we put shaving cream in his hand," said former shift commander Joe Fiordimondo, who served from 1957 to 1984. "When they tickled his nose with straw he would reach up and hit himself in the face. He had that shaving lotion all over."
"Joe had a big heart," said Robert Hipp, who served from 1958 to 1988. "When you worked for him you had to be generous."
"Because we had so much traffic outside the station we wound up helping a lot of people who just stopped in," Fiordimondo said. "One night we had a family of eight come through, two parents and six kids. They came in about 8 p.m. It was cold.
"They had no shoes. All the men got their warm clothes and gave them to them," Fiordimondo said. "We collected all the money we had and gave it to them. We called Mr. Dohack (a restaurant owner across the street) and he took them over there and fed them.
"We got them a bus ticket and took them to the stop right over here," he said nodding his head toward the intersection of Lindbergh and Lemay Ferry. "We got them clothed and shoed. Put them on the bus and sent them home to Ohio. We did that many times and every time the men would chip in and help them."
But good deeds didn't exempt anyone from practical jokes.
"I was teaching a course in CPR one year and we had a mannequin for instruction," Fiordimondo said. "We got an alarm and I told the men to make sure they cleaned up the CPR while I was gone. They did. When I got back I was ready to go to bed. I thought somebody was in my bed. I said: 'Get the hell out of my bed.' Here they had put the mannequin in my bed."
Fiordimondo recalled that sleeping wasn't always comfortable in the fire house.
"One morning I thought someone had tied my blanket to the post because I woke up cold and I couldn't pull my blanket over me," he said. "It was frozen to the wall. The entire wall was white on the inside."
And there were the emergencies that came knocking.
"One day a guy drove in here like a mad man," Hipp said. "He had a guy in his car who had been cut with a chainsaw."
"Yeah, I was on duty that day," Fiordi-mondo said.
"You talk about a mess," Hipp said. "Some-thing got caught and that saw just went straight up the front of him."
"We had a man come in once, clutching his son to his chest," Lucas said.
"One little arm was hanging over his dad's arm and the legs over the other," he recalled. "The guy was clutching the boy so hard. When we got him to let us see his son, the boy had a storm door handle stuck in his arm."
Lucas made a stabbing motion with his hand toward his forearm, saying, "This kid was about 6 or 7. His dad holding him so tight was the only thing that saved his life. Otherwise he would have bled to death."
"We had so many cases that came to us," said Ray Guhe, who served from 1957 through 1984. "We collected a lot of money for muscular dystrophy here and we did Red Cross, and police first aid training. And so many people stopped and asked us directions."
"I remember one family stopped and asked directions to Springfield," Zelch said. "This was before the interstate highways were built and I recall the men standing out there giving them detailed directions. About three hours later the family was back. They said they needed directions to Springfield, Ill."
Things didn't always go according to plan, either.
"One day I was out front cutting grass and we got a call," said Richard Ems, who served from 1956 to 1989. "They were supposed to let us know. Well, the pumper went out and got around the corner before anyone asked if they had a back step man. They didn't have one."
And some mysteries may never be re-solved.
"Which one of you guys took your crew out and forgot to open the door all the way?" asked the former chief.
"That was at three house," Fiordimondo said.
"No it wasn't. It was right here," Zelch said. "They called me up and said: 'Chief, I think you ought to get down here.' "
"That was Cronin, at three house," Fiord-imondo said as everyone laughed.
"Nobody's ever admitted they broke that door," Zelch said.
A new No. 1 house will be constructed on Dovedale Lane on the west side of Le-may Ferry across from Mehlville Senior High School.