Residents divided on whether to sell park to expand JB Cemetery
Park lovers say Sylvan Springs not long-term solution for cemetery space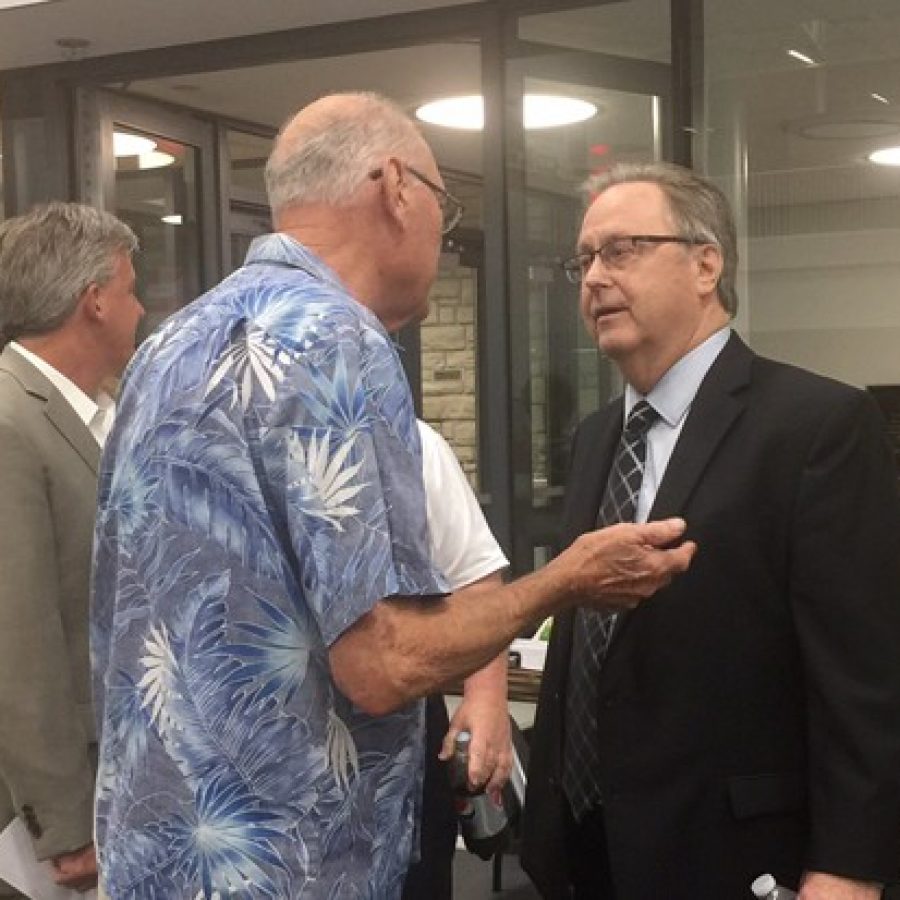 County officials looking for clear consensus on whether to sell half of Sylvan Springs Park to expand Jefferson Barracks National Cemetery didn't find it at a public hearing Tuesday night.
In a show of hands at the end of a nearly three-hour public hearing at The Pavilion at Lemay, 42 residents told county and federal officials they favor selling the park and 59 opposed the move. Dozens of public speakers were evenly divided on the issue, with a slight edge for those who don't want to sell.
Veterans Affairs, or VA, estimates that Jefferson Barracks, the fifth-busiest national cemetery in the country, will run out of gravesites by 2025 if it is not expanded.
County Executive Steve Stenger supports turning over 38 acres of the 72-acre park to the cemetery, but he has said public input will drive whether the county moves forward with the plan.
A second public hearing will be held at 7 p.m. Thursday at The Pavilion at Lemay, 305 Gregg Road. Sixth District County Councilman Kevin O'Leary, D-Oakville, was the only member of the council who attended Tuesday's public hearing, along with Department of Parks and Recreation Director Gary Bess, Department of Planning Director Glenn Powers, land-use manager Gail Choate and cemetery director Jeff Barnes.
O'Leary told the Call he will not take a position on the sale until he hears what the public wants.
The crowd of more than 250 was divided between military veterans and green-space supporters who asked the county not to sell the park, which has been appraised at $1.7 million — although some veterans sided with the park.
To the first speaker of the night, World War II combat veteran and Kirkwood resident Harrison Ochs, 93, it all comes down to one thing.
"It's wrong to deny them a grave," he said.
But a series of park supporters disagreed, including Open Space Council Executive Director Kat Dockery, who said much of her family was in the military, but she believes that all of Sylvan Springs could be lost to the cemetery for what would only be a short-term solution. Federal officials estimate the sale would extend the life of the cemetery from 2026 to 2046.
"I'm concerned that we're going to end up losing all of Sylvan Springs in the next decade," she said. "I think it's short-sighted … The reality is we've got to find a bigger open space for this purpose."
At least 15 property owners surrounding Sylvan Springs attended the meeting, with many saying their homes will be jeopardized if the federal government begins to expand the cemetery into their backyard.
Lifelong Jefferson Barracks resident Joe Foerster said he grew up on the military base, lived in the barracks, played in the park as a child and now lives next to Sylvan Springs.
"It's a double-edged sword for me," he said. "I know the cemetery needs more space. But my mom is the first house by the park, and I'm the second house …. You guys don't have any answers as to what's coming up. You say, 'We want the 38 acres,' but you guys haven't thought this plan through very far, either. What about Sheridan Road?"
Sheridan Road cuts between the cemetery and Sylvan Springs, and Bess had no answers for public speakers who asked if the road would have to be closed or if an expanded cemetery would have a public road going through the middle.
It's difficult for those details to be worked out before the county knows a sale will happen, Powers noted.
Several speakers said before any park is sold, all options should be considered, including purchase or seizure of the land currently occupied by Wal-Mart at Interstate 255.
But when a Sylvan Springs neighbor suggested that solution, a man called out from the audience, "The veterans don't want to be buried in the Wal-Mart parking lot!"
When residents asked for more specifics on the sale from cemetery director Barnes, he said he could provide few details of the decision-making process because it is happening in Washington, D.C., not locally.
Although federally owned land surrounds the nearby VA Hospital, VA officials believe it is easier to pursue more land through the county than trying to convince Congress to transfer federal land from one division to another.
But after 2046, the federal government has no plan for how to gain more ground. Park supporters repeatedly brought that up to say the Sylvan Springs takeover is only a short-term solution that eventually will leave county residents with no park and no room in the cemetery.
"No one opposed to this is anti-veteran. Every single person I've talked to wants to honor you. We just don't see this as anything but a stopgap effort," said Marty Koch, who worked for the Parks and Recreation Department for nearly 30 years. "We see park land as being somewhat sacred. I respectfully ask that before we do this, every single other option is looked at. Believe me, if I thought this would solve the problem, then I would be 100 percent in favor of it. But I don't think it solves anything."
Veteran Steve Keck said he is against the park plan because by the time he would be buried in Jefferson Barracks, the cemetery will have again run out of room even if it expands into Sylvan Springs. He urged Barnes to find a longer-term solution that would allow veterans his age to be buried in the cemetery.
"I will be alive in 30 years when this happens," Keck said. "Move it out farther."
But Tuesday night, Barnes said there is no Plan B for cemetery expansion if the Sylvan Springs option falls through.
Buying Sylvan Springs is Phase 1, Barnes said, and "there's no phase 2. What they're focused on is this 30 acres."
Calling Barnes the "fall guy for the federal government," 25-year resident and south county native Mary Schmidt said she loves the cemetery and the park and resents having to lose either. She blamed the federal government for not buying the Wal-Mart land before it was commercially developed.
Although some of the dozens of public speakers said they don't know how to fix the problem, others were adamant that the county has a duty to turn over the land even if it only saves the cemetery for a few more years.
To get the most public feedback possible, Stenger asked that public hearings on the project take place in Lemay, not Clayton.
Tesson Ferry Township Republican Committeeman John Judd urged that residents in favor of selling the park contact every member of the County Council so that they are not just the "silent majority."
"Yes, I walk my dog in this park," said Arnold Baum, a 26-year military veteran. "But please don't ask me to hurry up and die within the next five years so I can be buried next to my father."
Vietnam veteran Terry Barr said his parents are both veterans buried in the cemetery, but he wants Sylvan Springs as it is.
"When I'm walking in the park and when those guns go off in the cemetery, I salute," he said. "But we don't need to expand into the park. It has the oldest bunch of oak trees in St. Louis County. Once they're gone, they're gone forever. The government needs to buy the property going to Telegraph and give the veterans the entrance to the cemetery that we deserve."
Both the park and cemetery are in Lemay, and the area's committeepeople from both sides of the aisle showed up to support turning the park over.
Sylvan Springs is a "small sacrifice," said Republican Committeeman Alan Leaderbrand, who also said the ball needs to get rolling on a long-term solution.
"The solution is to get ahold of your congressman," he said. "It's not going to be solved in St. Louis County."
But to Democratic Committeewoman Sally Hodges, the solution is simpler than that.
"Just honor them," she said. "We can vote and get up here and talk and have these meetings, and that's thanks to them."
Some of the veterans faulted park supporters for opposing what they called a no-brainer.
"What are we going to do with the veterans?" said veteran Thomas Allen. "Are we going to put them on a barge and send them down the Mississippi River to Biloxi? I just don't understand the opposition for a military cemetery."
Referring to people whose homes might be taken for cemetery land in the future, Allen continued, "War is hell, isn't it? But sometimes the government has to do things that people don't like. I will be out there supporting the VA."
Some of the military veterans pushing for the sale noted that park lovers can find deer and green space in the cemetery.
"Shame on the preservation people — how about preserving Jefferson Barracks?" said John Nagel, who works at the cemetery. "The wildlife is absolutely incredible. It's like the Discovery Channel."
Denise Bellville Allen said she lives across Telegraph Road from Sylvan Springs, and the country has a duty to veterans, but veterans also have a duty to the children who play in the park every day.
"We are forgetting the children," she said. "There's houses all around us, and those children need a place to play. We serve this country not for ourselves, but for all the children of tomorrow."