Relationship strained between police chief, mayor
Mayor requested resignation of police chief, Baebler says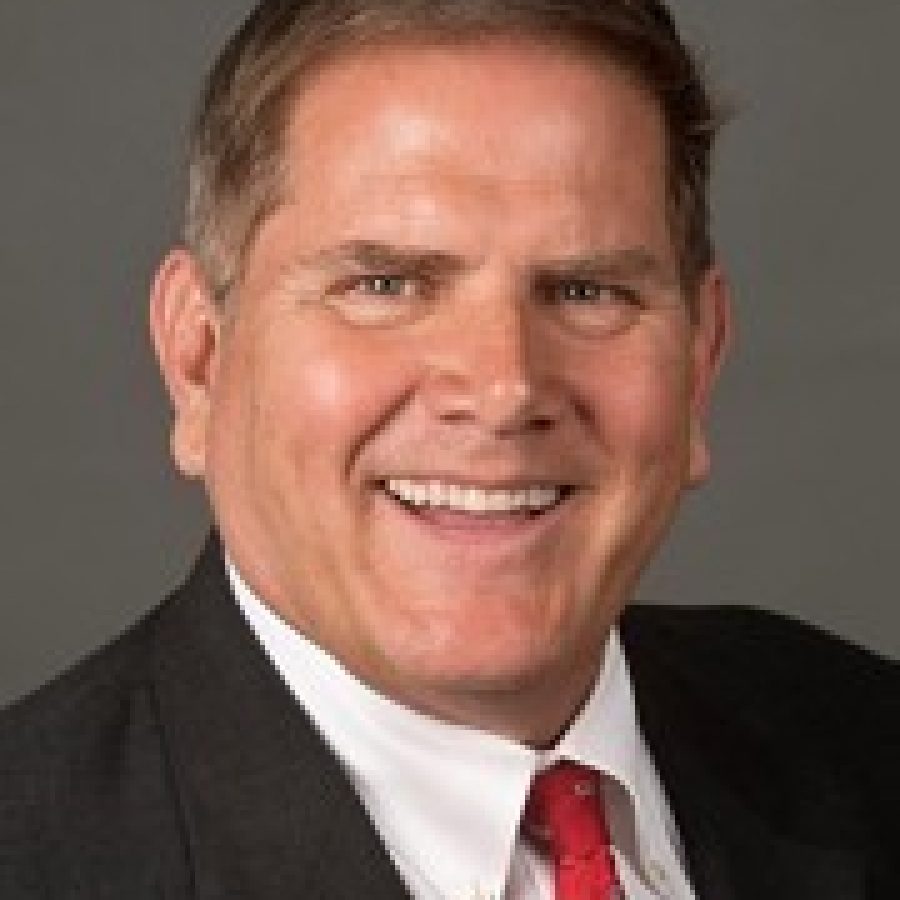 After the accusation that Sunset Hills Mayor Mark Furrer hit a bicyclist with his car went viral earlier this month, some observers worried whether the Sunset Hills Police Department could conduct an unbiased investigation of the city's mayor, since a police department could be biased toward a mayor who oversees it.
However, a meeting of the Police Advisory Board last week indicated that Police Chief William LaGrand and Furrer have a strained relationship, with LaGrand reporting that Furrer asked him to work nights rather than days starting Aug. 25 — an idea that LaGrand and all the members of the police board strongly objected to and that the board unanimously adopted a resolution opposing.
"They acted like it was a demotion. It was a pretty bizarre meeting, to tell you the truth," Furrer told the Call. "You would have thought I asked him to cut the grass or something. I don't see anything wrong at all with somebody getting out of their comfort zone.
"People like it when they see their supervisors or their boss taking an interest in their job.
"Nights are when a lot of police activity happens. If you're a chief sitting in your nice comfortable office all day, I think it's easy to lose sight of that. He doesn't really get out in the evening, and he's been the chief for years. I didn't think it was such a big deal, but evidently in (the police board's) little world, it's not done."
LaGrand typically works from 8 a.m. to 4 p.m., but his police officers work around the clock on different shifts, Furrer noted.
Although Furrer told the Call he never intended for LaGrand to permanently work at night and that LaGrand misunderstood his intent, the idea that LaGrand work 12-hour night shifts did not go over well with the police board, which unanimously passed a resolution that said the chief could work a few night shifts a month, at his own discretion, and that the chief reports to the Board of Aldermen, not the mayor.
The police board includes Chairman Frank Pellegrini, Ward 1 Alderman Richard Gau, Robert Althoff and Kerry Collins.
Furrer, Ward 1 Alderman Dee Baebler, Ward 3 Alderman Kurt Krueger, Lt. Greg Zveitel and Bill Craig also attended the meeting.
Although Furrer classified the police board dustup as a misunderstanding by LaGrand and a "non-event," Baebler told the Call that the meeting was just the first public indication of an ongoing rift between the mayor and the chief that began when Furrer asked the chief to resign soon after the new mayor took office in April — a request that LaGrand declined.
LaGrand, who is near retirement age, has been the city's police chief for 23 years. His salary this year is $114,542, up from $111,828 last year.
Asked if he had requested the police chief to resign, Furrer declined to discuss the matter with the Call, citing a personnel issue.
The mayor has been open with the Board of Aldermen about his intentions toward the chief, however, Baebler told the Call.
"Mark made no secret of his request, it wasn't like it was confidential information," she said. "He's been very open with all members of the board … It's been one thing after another, if you can imagine."
After a constituent asked her whether it was true that the mayor wanted to fire the police chief, Baebler sent an email to her Ward 1 constituents that confirmed that Furrer had asked LaGrand to resign when the mayor took office and that LaGrand had turned him down.
"False information about Chief LaGrand working a second job on company time has been passed around various meetings," Baebler wrote to her Ward 1 constituents. "The employment records confirm that he did counseling work after hours and on the weekend — not on city time."
LaGrand has a degree in counseling and does part-time counseling work on nights and weekends for Catholic Charities.
As to the suggestion that LaGrand work night shifts from now on, Baebler said she and several of the aldermen consider the idea "ludicrous."
"(LaGrand has) been here for over 20 years, and after 20 years, this is the first time since the inception of Sunset Hills that a police chief has been told to work night shifts," she told the Call. "It's very shocking."
Whether Furrer has the authority to tell LaGrand when he should work or what he should do on his job at the Police Department is currently being studied by City Attorney Robert E. Jones, Baebler said.
Although the city ordinance governing the police chief and the Police Department specifies that only the chief and the Board of Aldermen can make changes in department policy, state statutes governing fourth-class cities appear to give the Sunset Hills mayor more power than city ordinances do over city personnel and the Police Department.
Furrer himself has been conflicted over whether he wields power over the Police Department or not.
When he talked to the Call after the July 29 bicyclist incident — in which Fenton bicyclist Randy Murdick said Furrer ran him off the road with his car — Furrer said, "(The Police Department) is in a different building from me, and they don't report to me. They report to the Board of Aldermen. I don't even vote — I only vote if there's a tie or something. It's not like I control (the Police Department)."
After last week's police board meeting, however, Furrer told the Call, "The Police Advisory Board is just an advisory board — I'm basically the overseer of the Police Department, so whatever the Police Advisory Board says, that's just advisory.
"They can't tell me not to do it. To a certain extent, they overstepped their bounds as far as that goes."
Pellegrini has been on the police board for 25 years and was part of the committee that first hired LaGrand in 1991.
"The chief has been there for 23 years, and he's done a very good job," Pellegrini said. "He's been a good administrator, he's been a good supervisor, he's instituted a lot of programs that keep us current with technology and with high-quality training for our people — he's been responsible for bringing that all to Sunset Hills. And we've got a great Police Department."