Procrastinator's guide to finding eclipse glasses in St. Louis
Libraries hand glasses out free starting Saturday morning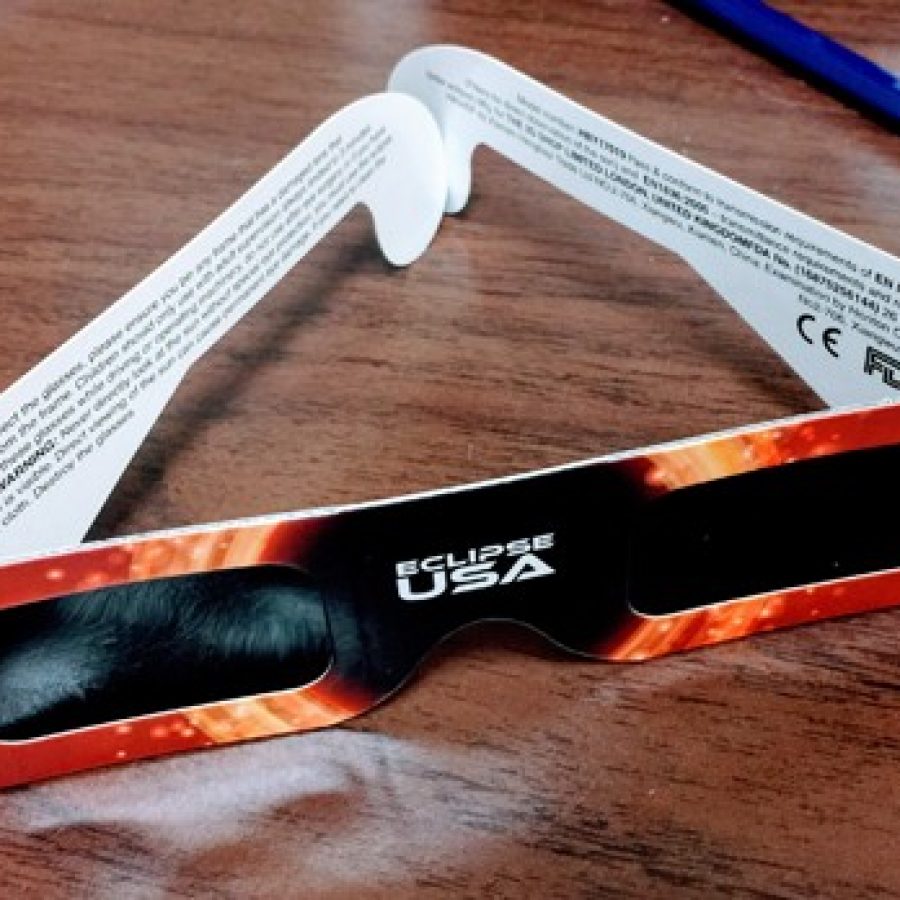 F
Where can I find eclipse glasses?
That's the question as phones have been ringing off the hook around St. Louis today as last-minute procrastinators seek a safe way to view the Great American Solar Eclipse set for Monday, Aug. 21.
When a Call reporter asked around Friday, the only semi-local organization in St. Louis that still had the glasses on hand was the Kimmswick Visitor Center, 314 Market St., Imperial. But they were going fast, a worker said.
If you haven't heard by now, you have to wear special glasses during the partial eclipse in the 1.5 hours leading up to the roughly two minutes of totality that starts, depending where you are, at 1:17 p.m. or l:18 p.m. Monday, and the 1.5 hours afterward. Only during the two minutes of totality is it safe to look at the eclipse without protective eyewear.
Staring directly at the sun without glasses could cause severe injury, including blindness, NASA warns.
And if you have glasses, NASA cautions that companies, many in China, are printing fake logos on counterfeit glasses. Those glasses will not protect you against the sun. To make sure your glasses are legitimate, look for the ISO number 12312-2 printed on them, along with an American manufacturer and address. The five NASA-approved suppliers can be found
.
In some cases, those seeking the special glasses may have been affected by a mass recall of pre-ordered glasses Amazon issued last weekend if it could not confirm the glasses' origins. The recall caught agencies and businesses ranging from the Cedar Hill Fire Protection District to Laumeier Sculpture Park to Ideal Pediatrics off guard. They are asking people who got their glasses not to use them because they are not safe.
The latest warning comes from the Missouri Department of Natural Resources, which sent out an advisory Friday that a specific brand of glasses and viewers sold at state parks cannot be confirmed as safe. The "PMS Promo Mart" brand was sold at parks and historic sites throughout the state. Buyers can receive a full refund.
The list of where glasses are sold out is much longer than where they're available. The St. Louis County Parks and Recreation Department sold more than 15,000 eclipse glasses at its recreation centers, and is now sold out except for a supply that will be given out at its big eclipse event at Jefferson Barracks Park Monday. Glasses are sold out at gas stations, Papa John's in south county, nearly all Schnucks in south county and Jefferson County, Dierbergs, Menard's, Lowes, Dirt Cheap, Garner's Market in Affton, Irene's Floral Designs in Oakville, the Arnold Recreation Center, St. Louis Community College at Meramec, the Ulysses S. Grant National Historic Site by Grant's Farm, the Arch museum gift shop at the Old Courthouse and the Cahokia Mounds gift shop.
But if you've procrastinated, here are some last-minute ways to get your hands on some glasses to see the celestial event everyone will be talking about for years to come.
Local branches include:
Grant's View Branch

9700 Musick Road, St. Louis, MO 63123
Cliff Cave Branch

5430 Telegraph Rd., 
Oakville, MO 63129        
Oak Bend Branch
842 S. Holmes Ave., St. Louis, MO 63122
Weber Road Branch

4444 Weber Road, St. Louis, MO 63123
Pre-Eclipse Safety Event, Firehouse Bar & Grill, 3500 Lemay Ferry Road, Aug. 20, 2017, noon to 3 p.m.
Solar eclipse information, safety glasses and snacks available.              
Free, but donations always appreciated.
Fore more information, visit:
If all else fails, you can make a homemade pinhole viewer. Instructions from NASA are
.